First Easy Lift hybrid sale
By Euan Youdale27 June 2018
Easy Lift has delivered its first fully updated R420 hybrid tracked platform to one of its customers in Hong Kong.
The Easy Lift R420HY will become part of a rental fleet, with operator supplied. It reaches a working height of 41.4m and a side outreach with 120kg of 16.5m.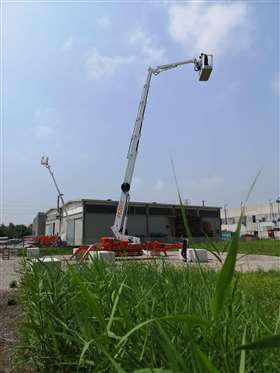 The maximum capacity is 230kg, while the weight of the hybrid version is low at 8500kg. The machine is equipped with two-speed gearboxes, high-sensitivity Danfoss distributors, fixed console on the basket, Scanreco radio control and self-levelling stabilisers.
The model has three power sources: combustion engine, electric motor and Lithium battery. The combustion engine is a Stage 5 Hatz, which complies with legal requirements in the EU and US. The 220 V electric motor is also available with 110V and 380V.
The 200 Ah Lithium battery pack is produced in Italy and has an innovative electronic battery balancing system that operates throughout the discharge and recharge cycle. Another feature is the Easy-Hers system (Easy Lift Hydraulic Energy Recovery System) that uses oil not used during normal operation of the platform to recharge the Lithium battery, reducing charging costs and consumption of fuel.