First Genie SX-150 delivered in India
By Lindsey Anderson08 September 2017
Mumbai, India-based ABC Infra Equipment has taken the delivery of the country's first Genie SX-150 boom lift.
The Genie SX 150 was handed over by Gary Eglin, senior service manager, APAC Genie, to Praveen Sharma, managing director of ABC Infra Equipment. The company, which is a member of Crane Owners Association of India and Aerial Platforms Association of India, said the unit will be used at large industrial plants along with general construction and maintenance at shipyards and refineries.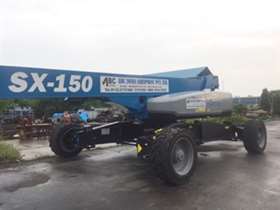 "This will further strengthen our fleet of ultra booms," Sharma said. "While 90 percent of our boom lift fleet is from JLG, we have added a few big booms from Genie in the last three years. Having attended ConExpo in Las Vegas earlier this year, we got great insights about the quality products made by Genie and hence we decided to go ahead with the purchase.
"Customer demand for boom lifts with working heights over 40 metres has increased substantially in recent times. In order to meet this demand, we have opted for the Genie SX-150, as it offers 48 metres working height and 24.38 metres outreach and impressive 21.34 metres of outreach at 36.6 metres platform height."
ABC Infra Equipment is a family owned rental business.