Genie India celebrates 15 years
By Leila Steed16 April 2019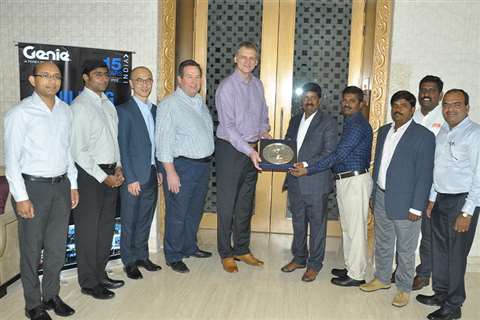 Aerial platform manufacturer Genie India is celebrating its 15-year milestone.
In a statement from the company, James Barr, Genie vice president for APAC, Terex AWP, said, "With the 15-year milestone, Genie looks forward to continuing its legacy of productivity and promoting safe work at height as we reaffirm our mission of building the future of India."
A Terex brand, Genie India first began operating in India 2004 with a range of products and aerial worksite solutions. Daniel Ho, Terex AWP vice president, Asia, said, "At a time when the construction industry was relying heavily on traditional scaffolding, the Genie TZ-50 trailer-mounted boom lift was introduced to the Indian market as an alternative method of working at height." He added. "As Genie introduced more products with advantages over scaffolding, the market acceptance grew rapidly."
Genie's products have been used in numerous high-profile construction projects. In 2010 the Indian city of Delhi was chosen to host the 2010 Commonwealth Games, causing a surge in infrastructure construction and thereby increased demand for working at height solutions. Genie said it deployed almost 50 MEWPs to construction projects related to the event venues, including stadiums and airports, and that this further strengthened relationships between Genie and local dealers, Maco and Sendhamarai.
According to Genie, forecasts say India's construction sector is expected to be buoyant over the next 20 years, with $650B USD investments in urban infrastructure — India's construction market is expected to rank third globally by 2030.