Heavy lifting: Lift off!
By Christian Shelton11 February 2019
Big news in the heavy lifting sector is the launch of a 5,000 tonne capacity super heavy lift ring crane, the SGC-250, from heavy lift and transportation company Sarens. The crane is soon to be transported to the UK, where it will play a key role in the construction of the Hinkley Point C nuclear power station, in Somerset, south west England. It will be based there for around four years in a contract worth UK£20 million (US$ 25 million). Sarens will be working for joint-venture clients Bouygues Travaux Publics of France and Laing O'Rourke Construction of the UK (BYLOR).
Mark Rowlands, Sarens' project manager, says, "Hinkley Point is an extremely prestigious project, not only in the UK and Europe, but also globally. The eyes of the world will be watching how Sarens performs."
The SGC-250, will lift more than 600 prefabricated concrete elements, including the five major parts of each unit's steel containment liner and dome, as well as steel structures, and reactor equipment ranging from 50 to 1,150 tonnes at radii up to 165 metres. A 600 tonne Terex Demag CC 2800 will also be on site to assist as a rigging crane.
Once the crane has arrived in the UK, it will be transported overland on around 280 trucks from Ghent in Belgium. Narrow roads around the site mean only around ten trucks a day can enter the site, Sarens says, so a purpose-built access road is planned.
On site, 6 km of rail track will be laid to allow the crane to travel between three lifting locations without having to be dismantled or put back together. Also on site will be 52 tower cranes. To minimise disruption to them and other construction work the SGC-250 may be lifting during the night. For this it's fitted with a collision avoidance system. Another challenge for night-time working is the need for light which, in this case, will disturb a protected species - the local bat population.
New depot
To aid Sarens' work at Hinkley Point the company has also opened a new crane depot nearby. It is in High Bridge, just a few kilometres from Hinkley Point C. The depot is located in a secure area that currently has the capacity to hold five cranes, with the possibility of future expansion. The site also features a small office and welfare facilities for crane operators.
According to Sarens, the Hinkley Point depot will supply cost-effective, timely service to customers working on the HPC project which, in total, is expected to be ongoing for the next 8 to 10 years. It will also serve additional projects across South West England and clients will have access to a range of equipment, including three new Demag telescopic cranes with a capacity of 100, 160, and 220 tonnes.
In other Sarens news, the company is using one of its 1,600 tonne capacity Demag CC 8800-1 crawler cranes, made by Terex Cranes, in China, and another one in India.
In China, the CC 8800-1 is being used with its Boom Booster kit on a joint venture with state-owned logistics company Sinotrans, where it will be utilised across a range of projects including module yards, oil and gas projects, and offshore wind farm operations. The CC 8800-1 will be joined by one of Sarens's 1,250 tonne capacity Demag CC 6800s. Sarens says the two cranes work well in tandem when heavy lifting.
In India, Sarens has moved another of its CC 8800-1s there permanently. "We are receiving requests to perform sophisticated lifts, particularly from the fertiliser and oil and gas markets," says Navneet Jain, Sarens regional deputy director, Asia Pacific. "The expansion of our capacity by moving a CC 8800-1 to India will provide the best solutions to the needs of our clients, further strengthening our fleet of equipment. The market response is excellent and the industry has welcomed the move."
Fertiliser plant work
On arrival in India the crane was immediately deployed for a series of lifts at a fertiliser plant in Ramagundam, with a Demag CC 2800-1 lattice boom crawler acting as a tailing crane. Assembly of the crane at the site took seven days and one of its biggest lifts was a 425 tonne urea reactor, which was 53 m long and 3.8 m in diameter.
To perform the lift, the reactor was upended with the CC 8800-1 in an SSL 84/72 configuration at a radius of 24 m. A CC 2800-1 assist crane was used in SSL 54 configuration. After lifting the reactor, the CC 8800-1 operator slowly slewed and walked the heavy load into position. The CC 8800-1 is also being used to execute five more key component erections.
Sarens was commissioned for the job by RFCL (Ramagundam Fertilizers and Chemicals) through the project's EPC (engineering, procurement and construction) contractor, Bridge and Roof Company. In total, approximately US$750 million will be invested in the project when it is completed in late 2018 or early 2019. The plant will produce 1.12 million tonnes of urea annually.
Sarens used one of its CC 8800-1 crawler cranes for a series of lifts at a fertiliser plant in Ramagundam, India. The crane will remain in the country indefinitely
Gantry additions
Sarens is not the only company with new heavy lift equipment; international high-pressure hydraulics specialist Enerpac has announced the latest additions to its hydraulic gantry product line: the SL100 and SL200 Super Lift hydraulic gantries. According to Enerpac, they offer higher lifting capacities and accurate load positioning from 100 to 200 tonnes, respectively, on a narrow 610 mm track gauge.
With two-stage lift cylinders giving a maximum lifting height of 4.75 m (SL100) and 6.7 m (SL200), typical applications include transportation and installation of presses, machine tools, electrical transformers, and injection moulding machines.
Enerpac says they are designed for safe lifting in confined or limited access spaces and that they are easy to mobilise and demobilise.
The gantries include self-contained hydraulics which Enerpac says allows quicker and safer deployment. Each gantry leg has self-propelled wheels for travel along the narrow gauge track, together with Enerpac's Intellilift synchronised control system which, the company says, provides wireless control, unrestricted operator positions and automatic synchronisation for lifting, lowering and travelling.
"With significant growth in a number of industrial sectors, the SL100 and SL200 models were designed to meet the need for greater lifting capacities and new applications," says Peter Crisci, product line director for Enerpac's Heavy Lifting Technology product line.
Additional components and accessories are available, including header beams, lifting anchors, side shifts and skid tracks. There are also tarpaulin covers and transport frames for side shift units, slings and shackles.
Enerpac says all of its gantries are CE and ASME B30.1 compliant and tested at maximum capacity and maximum extension and tested under witness of Lloyd's Register. "Safety is one of our top priorities," adds Crisci.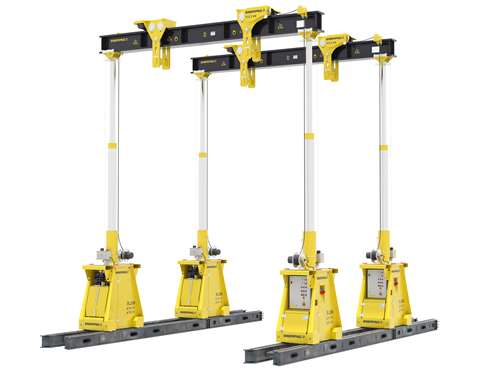 Enerpac's SL100 and SL200 hydraulic gantries
Ring crane upgrade
Returning to super heavy lift ring cranes, international heavy lift and transportation specialist Mammoet has increased the capacity of its 200,000 tonne-metre class PTC 200 DS.
The crane is already the largest in the Dutch company's fleet. It has been upgraded so that it can lift a 2,000 tonne structure in one piece rather than in multiple sections. The work will be carried out for Indian oil refinery owner Reliance Industries and will take place at the Jamnagar Refinery in Jamnagar, India. Mammoet says it is the largest refinery in the world. This approach is much faster and will help minimise downtime of the refinery during turnaround and maintenance work, Mammoet claims.
Mammoet has also announced its completion of work at a Gulf Coast polypropylene plant undergoing expansion. For maximum efficiency Mammoet decided to use its Liebherr-made LR 13000 crawler crane, which has a lifting capacity of 3,000 tonnes, located in one central position to carry out all lifts.
Following the first round of lifts at the plant, Mammoet reconfigured the crane with a 72 m luffing jib on the end of 96 m of main boom to execute 16 lifts ranging from 38.5 to 482 tonnes. The heaviest lift was a purge bin. It was lifted from the support saddles and tailed using one of Mammoet's 600 tonne capacity Demag CC 2800 lattice crawlers, made by Terex Cranes in Germany. Next the load was swung through 180 degrees and placed in an existing housing. The lift was made inside the scheduled three-hour window. Several of the lifts were made with the crane set at almost 129 m radius.
Eddie Ramos, project manager, says, "Mammoet safely installed all major equipment using only the LR 13000. By applying different boom configurations to extend its reach, the crane could carry out the lifts from one location," he says. "This, in conjunction with the knowledgeable crew on site, saved time and minimised disruption to surrounding works, ultimately helping to meet the client's schedule."
Project completion is due in the first quarter of 2020.
Four new Mega Jack 300 towers for work in Europe
UK-headquartered global heavy lift and transportation specialist ALE has expanded its 300 tonne capacity Mega Jack 300 fleet with four new towers that will be available for civils projects throughout Europe.
The Mega Jack 300 jacking system was launched in 2018 and ALE describes it as "a compact and versatile system that offers a superior solution to traditional climbing jacks, across a wide variety of applications".
The system was designed in-house by ALE's R&D department with the aim of providing a cost-effective solution to jack up heavy modules on sites where either space, or time to do the job, is restricted. A set of 16 towers has already been used in Kuwait to jack up hundreds of pipe rack modules more than five metres high.
The four new towers will be delivered to ALE in the UK where they will first be used on a number of forthcoming bridge projects. They bring the total amount of towers in the group's global fleet to more than 20.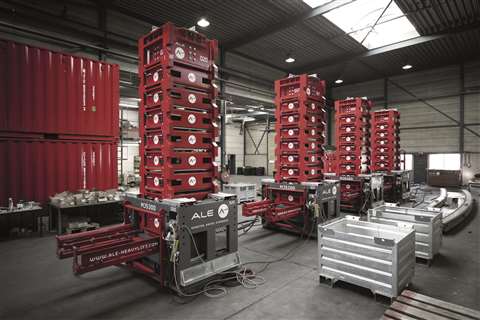 Huisman upgrades Biglift's Happy Star
Heavy lift shipping company BigLift comissioned Dutch specialist Huisman to upgrade two Huisman-built 900 tonne capacity heavy lift mast cranes onboard its heavy lift vessel 'Happy Star' to capacities of 1,100 tonnes. Huisman has now completed the upgrade and said it gives the vessel capabilities unmatched in the world fleet of heavy lift vessels.
The upgrade of both cranes was realised by the implementation of a 20 falls reeving modus (previously 16 falls) and modifications of the top of the boom and the main hoist block, explained Huisman. The 1,100 tonne cranes retain the possibility to sheer back to the original 800 tonnes (14 falls) and 900 tonnes (16 falls) in order to maintain full flexibility. Also, the available fly jib can still be used. A new rope, equipped with a fast reeving socket, is used to reduce the conversion time considerably.
The recent upgrade was executed at the Huisman Service and Assembly location in Schiedam, the Netherlands.