Hiab has a good year
By Alex Dahm04 March 2018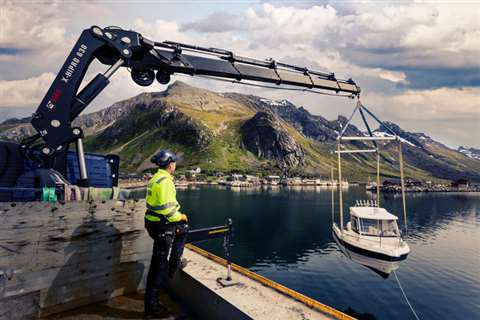 Hydraulic crane manufacturer Hiab had a good year in 2017 with sales of €1,084 million (US$ 1,322 million), up 5 per cent on the €1,036 million ($1,264 million) of 2016.
Orders were up an even more impressive 10 %, from €1,016 million ($1,239 million) in 2016 to €1,116 million ($1,361 million) in 2017. Operating profit was up 13 % from €138.8 to €157.1 million ($169.3 to $191.6 million).
For Hiab parent company Cargotec, including port crane brand Kalmar and ship crane maker MacGregor, it was more of a mixed picture. Sales overall were down 7 % from €3,514 million ($4,287 million) to €3,280 million ($4,001 million). Operating profit, however, was up from 5.6 % to 6.9 %, including restructuring costs.
Commenting on the results Mika Vehviläinen, Cargotec CEO, said, "2017 was as a year of changes in our industry. We saw large-scale consolidation, as shipping lines formed alliances and reorganised cargo handling routes. The shipping market was still recovering from severe overcapacity. The on-road load handling market was strong both in the US and in Europe.
In terms of orders received, the year was twofold for us: orders received declined in Kalmar and MacGregor, but the strong development in Hiab continued. In Kalmar, the development in the project business did not meet our expectations. MacGregor's orders grew during the second half of the year. The activity improved in the merchant ship markets, but remained well below historical averages. Hiab's orders received grew in all our main markets supported by the good level of construction activity, and the development was strong especially in Europe."
In 2017 Cargotec made three acquisitions: Argos, which is a leading loader crane manufacturer in Brazil; Rapp Marine Group, acquired by MacGregor to strengthen its offering for the fishery and research vessel segment; and the port services business of Inver Engineering in Australia, acquired by the Kalmar segment. Vehviläinen commented, "Our balance sheet is strong, enabling further acquisitions."
Vehviläinen forecasts that operating profit, excluding restructuring costs, will again improve in 2018.