International Tower Cranes success in Berlin
By Laura Hatton01 November 2013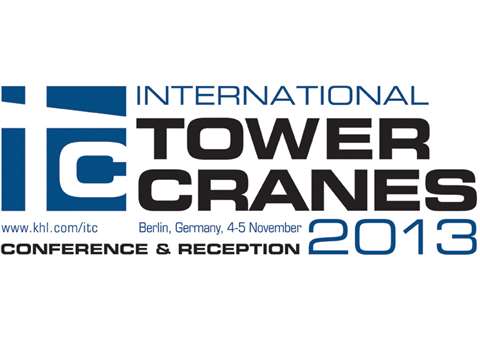 The third International Tower Cranes conference opened at the Kempinski Hotel Bristol in Berlin, Germany, 4-5 November 2013.
Around 140 delegates from around the world registered for the one-day conference and networking event organised by International Cranes and Specialized Transport magazine, a KHL publication.
Today's conference began with a presentation from Chris Sleight, editor of IC's sister publication International Construction. In his talk Sleight discussed construction market conditions around the world, forecasts for the construction industry and trends in international work and regional hot spots.
Nicola Castenetto, director customer care, Terex Tower Cranes and Peter Jehle, CEO at P&J Arcomet, followed on from this with a presentation on "The perfect jobsite" and how manufacturers and contractors jointly manage modern day challenges. This was followed by a presentation from Thomas Stegmaier, product manager, HBC-radiomatic, who discussed radio remote control in tower cranes, including general safety aspects and the latest frequency management systems.
Other sessions at the conference include a presentation on quality control from Peter Juhren, national service manager, Morrow Equipment and a talk on how to improve customer experience in the tower crane supply chain, presented by Duncan Salt, director and general manager, HTC Plant.
This afternoon's programme includes presentations from Dominique Tasch, managing director, and Thorsten Hesselbein, head of tower crane solutions, Liebherr-Werk Biberach. Also on the agenda is a presentation from Huang Qun, senior engineer and general manager, Zoomlion Hoisting Machinery Branch Company (ZHMB) subsidiary of Zoomlion Group, China, who will discuss applications of top slewing tower cranes in a modular bridge construction project.
Other topics of discussion at today's event will include rope selection, delivered by Dr Oliver Fries, vice president global R&D, innovation and technology, WireCo Group Europe, and the financing of tower cranes, which will be presented by Dr Peter Schiefer, CEO Wolffkran / CECE. The day will be concluded with a presentation from Rémi Déporte, global product director, Manitowoc cranes on collision avoidance systems and crane rental and a discussion with Nabil Al Zahlawi, managing partner, NFT on the distribution in the middle east.
A final Q&A session will be followed by closing remarks and a drinks reception.