Italy's big show
By Murray Pollok18 March 2008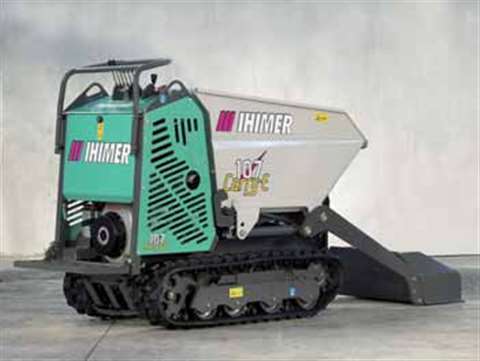 There may not be a special dedicated rental area at this year's SAIE, but that hardly reduces the interest level for rental companies looking for Italian-made products, and more. As ever, foreign manufacturers are debuting models in Bologna, and Italian suppliers are showing equipment clearly for export - and rental use. The following is our summary of exhibits of particular interest to rental companies, categorized as: earthmoving, access, telehandlers, and other.
Earthmoving
Leading the home country showing will be Messersi's M-28U zero-tail swing model. Coming in at just under 3 t in weight, the M-28U is fitted with a 28 kW Stage IIIA-compliant engine and digs to a depth of 2,62 m and out to 4.89 m.
Case will show the 4,87 t CX50B mini-excavator, whose minimum swing radius with a standard digging arm is 2,56 m. Maximum bucket capacity is 180 l, and its maximum digging depth is 3,9 m.
Bobcat's new excavator offering is an "enhanced" version of its 323 mini-excavator. Weighing 1,5 t with canopy, the machine has a maximum digging depth of 2,34 m, a digging reach of 4,04 m, and a dump height of 2,58 m.
Brand new is Bobcat's expansion at the lower end of its skid steer range, the 1,8 t S100. The S100 has a rated operating capacity of 453 kg and a tipping load of 907 kg. Compact dimensions (1,88 m high, 2,26 m long, 1,18 m wide) make it manoeuvrable and easy to transport. The company says it mounted the 25 kW, 4-cylinder Kubota 1505, Stage IIIA-compliant diesel engine transversely to increase service access.
Also on show will be Bobcat's new quick coupler, developed in collaboration with France's Klac Industrie to increase application flexibility. It is available in four sizes for Bobcat mini-excavators from the 319 to the 442 models.
Case's compact machine showing will also include the 440CT tracked skid steer loader. The 66 kW, 4,04 t machine features pilot hydraulic controls and has a tipping load capacity of 2,72 t and a maximum operating load of 1,36 t. A hydraulic quick coupler is optional.
Italy's IHIMER is calling one of its new machines at the show, the Carry 107, a mini-dumper, but its application flexibility might cause rental companies to want to rename it. Features include a self-loading shovel, bucket, and grader blade, and a power take-off drives a variety of attachments, including a concrete mixer kit.
It you add the "Hi-Flow" system, the dumper mates to several other tools, including breaker, hydraulic hammer-drill, manually-positioned hydraulic auger and water pump.
Messersi's new dumper is the TCH-2500 tracked model, with a payload capacity of 2,5 t. While 1,23 m wide, the TCH-2500 offers good stability, says the company. A 35 kW, Stage IIIA-compliant, Kubota V2403M 4-cylinder engine gives a top speed of 12 km/hr.
Getting its Italian show debut is Palazzani's Skyline wheeled loader series, with the company showing two models - the 8 t PL195, and the 10 t PL1105. Bucket capacities are 1,5 and 1,9 m3 respectively, while the same Stage IIIA compliant Perkins 1104D-E44TA engine powers both machines. Top speeds are 35 and 40 km/hr.
Access
Rental company buyers are sure to seek out the crawler access platforms for which Italy is renowned. Bigger ones at SAIE will be the 42 m working height Ragno XTJ 42 from Palazzani, previewed at Bauma, and a new 41 m working height machine from CMC.
Other, smaller models will be Tecchio's new 22 m working height K622DAT, the 16 m Spider 15.75 from Platform Basket, and the 15 m Elefant S15 and the 19 m S19 from SUP.
Hinowa has given its Lightlift 14.72 and 19.65 models new Honda engines that automatically match engine speed to the hydraulic flow requirements of boom movements. The engines are quieter, too, making them more attractive for rental, says the company.
Those wanting to see a new type of access equipment might want to visit Merlo's stand. It has mounted new articulated aerial platforms on 'Roto' type carriers to create the 20 m working height MPR 20, the 25 m MPR 25, and the 30 m MPR 30. They combine working envelopes comparable to conventional self-propelled booms but can travel at 40 km/hr on roads and also be driven from the basket at speed of 6 km/hr.
New Italian truck-mounts include the 27 m working height MX 270 from OP Pagliero and the 56 m working height TJ56 on a 32 t carrier from Socage. Crossing the border from Germany but clearly targeting rental companies are the Economy versions of Bison Palfinger's 3,5 t TA range, offering 14, 17, 21, and 25 m working heights.
Airo Tigieffe is launching a new range of six compact, vertical-mast platforms with working heights from 8 to 14 m. They are available in 90 and 120 mm versions.
At the lower end of the working height offerings on show is Braviisol. The Italian company is launching a 6 m version of its popular Leonardo mini platform.
Noteworthy, too, is mast climbing equipment at SAIE. Alimak Hek's Italian subsidiary is showing its new HEK Modular system lines in both light- and medium-weight models. Germany's Geda will have its new Multilift lightweight work platform and new combination hoist, the 200Z, at Bologna, too, exhibiting them through its new dealer LDS.
Telehandlers
The home country offering is strong: Faresin will proudly show its new 4,5 t lift capacity Storm 15.45 and 18.45 rotating telehandlers (see News this issue). They offer lift heights of 15 and 18 m.
JLG is launching a model at SAIE, but it says anyone wanting additional information will have to visit its stand. Could it be the smaller version of the compact 266? We'll have to wait and see.
Also debuting in Bologna will be Bobcat's 2,2 t lift capacity, 4,5 m lift height T2250 telehandler, which has been "designed and tested to the level of a loader", says the company.
Manitou will exhibit its brand-new Privilege line - the 4 t capacity MT 1440 and 1840. They have 13,5 and 17,5 m lifting height performance and come in versions designed specifically for the rental market.
Haulotte is launching into the Italian market its HTL telescopic handlers, and visitors to its stand can enter a lottery for the chance to win one of 10 mini motorbikes.
Case's telehandler on show will be the TX140-45, which has a maximum lift height of 13,6 m and a lift capacity at maximum reach of 4,5 t. The 88 kW machine has a top speed of 35 km/hr.
Other Equipment
GenSet will be showing the new, low-noise MPM 16/400 S-Y welding generator with a water-cooled Yanmar engine. Also on show will be the compact, low-noise MG 15 SS-Y and MG 23 SS-Y generators.
MB Crusher of Italy will have various versions of its bucket crusher system either on display or working in the demo area. Its showing will include the 1,5 t BF60.1, which is suitable for carriers over 8 t.
Those rental companies wanting to better manage equipment on rent should go by the 3B6 stand. The Italian company says its new 3B2 Black Box Datalogger has detection, storage, GPRS data transmission and GPS localization capabilities.
Remember that the show is not just about equipment. Although Assodimi, Italy's rental association, is not at SAIE this year, please visit IRN, exhibiting at Area 42, stand 20 with Mediapoint & Communication, the Italian agent of our publisher, KHL Group. Enjoy the show!