Liebherr innovates with truck mixer as semitrailer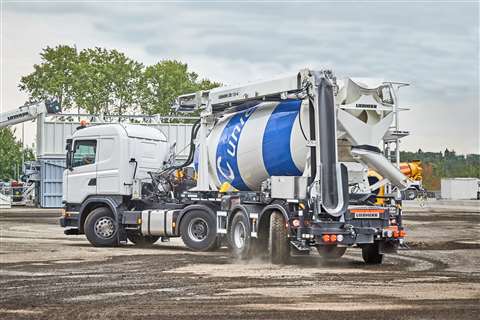 The new truck mixer HTM 1205 T / LTB 12+4 as a semitrailer with conveyor belt
Liebherr's new truck mixer has a few new tricks up its sleeve, including a semitrailer design and an optionally available telescopic conveyor belt, offering flexibility and time saving possibilities.
Liebherr says the new HTM 1205/LTB 12+4 is able to navigate narrow ground and has enhanced manoeuvrability, thanks to its rear steering axle.
The mixer has a 12 m3 mixing drum, which has been designed for optimum distribution of the axle loads, which also promises greater fuel economy.
Although they were developed some 15 years ago, Liebherr's telescopic conveyor belts have previously only been available on fixed-mounted truck mixers, now they will be offered as an option on the semitrailer and large drum model.
In addition to concrete, other materials such as sand, gravel, grit, screed and much more can be distributed directly on the construction site, without the need for a crane or wheeled loader, saving both time and money.
Another benefit for contractors comes with the flexibility of the semitrailer, as the tractor is able to take on other tasks on site, when order levels are low, such as driving a cement silo semitrailer or a bulk material tipper.
On the tractor, the last axle is designed as an electronically controlled steering axle, which, says Liebherr, ensures optimum manoeuvrability, both on the road and the site.
The narrow design of the HTM 1205 t/LTB 12+4, along with its tight turning radius and enhanced handling capabilities, will allow access to sites in city centres.
Furthermore, reversing on site or at mixing plants are made easier, with a steering axle that can be controlled manually via a remote control in the driver's cabin, instead of an automatic mode.