Making the break
By Lindsay Gale12 March 2008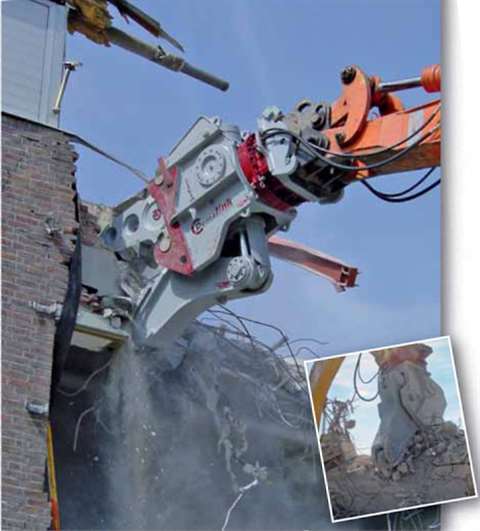 It would be nice to start this article by supplying a total figure for the number of demolition attachments (crushers, pulverisers, shears etc) currently out on job sites, or at least an indication of likely total annual sales, but to do so for this product type is even more difficult than it is for the tool type that usually is found on the same machine, namely hydraulic hammers.
However, after talking with manufacturers, the one thing that can be said about the market for demolition attachments is that demand is definitely on the up.
Eric Daubail, market director for Arden Equipment, reports sales up 20% on 2006, turnover has climbed from €25 million (US$36.6) million in 2005 to €40 million (US58.6 million) and he predicts a similar performance for next year. The primary reason behind this growth, in Mr Daubail's view, is the growth in recycling activities, as well as the development of new markets in central and Eastern Europe.
Mantovanibenne's export manager Christophe Jarin echoes this positive take: " Our demolition equipment sales will be up at least 15% on 2006 levels, and I predict a similar growth in 2008 [although he also predicts a small decline of around 7% in 2009]."
And Trevi Benne's sales manager Christian Tadiotto iseven more bullish: "Good is not the right word – it is really, really good. This year we have increased turnover for our primary and secondary demolition attachments by 20% on 2006 figures."
A similar annual growth is also reported by Rammer, whose Ollie Siltanen told D&Ri: "We have seen strong demand in the well established demolition markets in Europe – namely the UK, Spain and France, as well as Australia, which has seen our sales grow by around 20%."
But the star of the show may well be Dutch manufacturer Demarec, at least in the growth stakes. Marcel Vening told D&Ri: "In 2006 we sold 500 demolition attachments, and we have almost doubled this figure in 2007, and what is more, we predict that we will grow this by a further 40% next year."
Market trends
One reason cited for the growth in specialist primary and secondary demolition attachments is the need for quieter and more selective demolition, especially in urban areas, than traditional techniques and equipment can provide. This is now extending down to the use of hydraulic hammers.
As a result, manufacturers now are seeing a growing demand for larger and therefore heavier demolition attachments for use on even the largest high reach equipment, which traditionally were expected to carry tools weighing up to 2.5 tonnes (55,000 lbs).
How this demand is approached varies from attachment supplier to attachment supplier, but they all recognise the need for more powerful tools.
According to Trevi Bene's Mr Tadiotto: "Customers are now looking at 40-60 tonne excavators with a high reach boom and a heavier tool and we responded to this early. We are one of the few that specialise in really big tools." Indeed, Trevi Benne has just delivered its largest rotating pulveriser yet, the 21 tonne FR200, to a Spanish customer who will be using it on a Liebherr crane on a job in Romania.
Where size is concerned, Mantovanibenne believes it has reached its limits. According to Mr Jarin: "I think we have reached the limit with our MS130, but large shears may offer an opportunity. We have limited our size currently to 11 tonne (2,400 lb) but we might go up to 15 tonnes (33,000 lb) in the future, but I would expect volumes would be low."
Mantovanibenne also specialises in the production of large tools and has recently delivered an 11 tonne (24,200 lb) rotating pulveriser to its Dutch dealer, Dehaco. This unit will ultimately end up on the end of the 90 m (295 ft) high reach demolition 'crane' currently being built by Rusch in the Netherlands.
Arden's Mr Daubail recognises the demand for more power, but believes that there is another way to meet this need rather than just increase tool size. He told D&Ri: "New products in 2008 and 2009 will be geared towards 'huge' demolition – tools to process strong, heavily reinforced concrete. However, in my view the market for 20 tonne attachments will not be a big one. If you stay with tools weighing 7 or 8 tonnes (15,500 – 17,500 lb) that is where the volume will be. New designs will provide more power at a lower weight. New materials such as aluminium and the new hardox steels may play their part, but I believe the main improvements will come from improved tool designs".
New tools
Bauma in April saw many of the major new attachment launches of the year but there have been others. Here we take a look at some of the highlights.
At Bauma, Atlas Copco introduced an almost complete new product range. For pulverising applications comes the 2,930 kg (6,446 lb) BP 2900 bulk pulveriser for excavators weighing from 25-35 tonnes with a maximum jaw force of 114 tonnes. It is joined by the DP 2000 demolitin pulveriser, an extension of the range created with the launch of the DP 2800 at the end of 2006. The new tool weighs in at 2,050 kg(4,510 lb), is designed for use with carriers weighing 18-27 tonnes, and provides a maximum cutting force of 265 tonnes.
According to Matthias Holtgrew, product line manager – silent demolition tools, "We now have the core where our SDT range is concerned – we have attachments for the most popular carriers on demolition sites from 15 to 50 tonnes, which probably make up some 85% of the machines on site."
He went on "The tendency is for machines to get bigger and bigger and so we are thinking about that – for Europe at least we need to provide tools for machines up to 70 tonnes, and even bigger for the North American market. We are thinking about that and currently have tools under development that will meet this need." However, he would not be drawn as to when these new heavier tools will make their first appearance, apart from saying that a 5 tonne attachment would certainly be ready by the time of the next Bauma in 1010. The largest tool the company currently offers is the 3.5 tonne combi cutter for 40-50 tonne excavators.
NPK has introduced a new series of concrete crushers that offer 360 degree hydraulic rotation. Following on from the successful G-30JR, the five model U Series are said to ideal for crushing and cutting walls, floors and light steel structures. U-Series units can be carried by carriers weighing 18-50 tonnes, and weigh from 2150-4500 kg. The smallest, the U-21R, has a jaw opening of 800 mm, while the biggest in the series, the U-45R, provides a jaw opening of 1,130 mm. All feature NPK's integrated booster system, which automatically activates when the jaws meet resistance, resulting in faster cycle times and more crushing strength, claims the company.
Also seen at Bauma for the first time, Furukawa Rock Drill's VX crusher series, which should now be available in a Europeanised version, is this company's response to the demand for great power from a lower weight. The new tools are the result of improved processing at the company's Takasi factory, as well as featuring a new hardening system. The VX225 weighs in at 2,250 kg (4,950 lb), and with a jaw opening of 1,100 mm it provides a breaking power of 1,663 kN and a cutting power of 3,402 kN.
The CP350-CB, designed for use on 3.5 – 7 tonne mini and midi excavators, was one of the highlights of Arden Equipment's display at Bauma. Weighing just 350 kg (770 lb), it provides a jaw tip force of 95 tonnes when fitted with combi blades for concrete processing.
The first of Arden's products to be designed using input for an industrial designer whose initial specification was fully CAD designed in house, the new attachment features Arden's double ram cylinder and twin pin design (1 per jaw). The company has been testing aluminium jaw sets (combi and shear) and while not a quick-change design, the jaws can be changed over in less than one hour.
Cutting scrap
Arden has also introduced the AS-045R scrap shear that can be used on the first arm of 24/34 tonne excavators and on the upper arm of 35-55 tonne excavators. It provides a maximum cutting force of 710 tonnes.
Italian manufacturer Indeco has introduced the IRC Series Rotary Cutting Head to its line of non-impact demolition attachments in North America. Designed for use when conditions are too soft for a breaker but too hard for a bucket, the IRC is directly mounted onto the excavator for use in a wide range of earth processing and demolition functions. Three models are available, the 1,318 kg (2,900 lb) IRC 800, the 1,524 kg 3,350 lb) IRC 1000 and the 2,682 kg 5,900 lb) IRC 2000, and fit carriers from 15 – 50 tonnes.
In the USA, Genesis Attachments has added two new Logix multiprocessors to its line up – the LXP 200 and 400 – which will be premiered at the world of Concrete show (see p25, this issue). The two units are designed for use on excavators in the 22-25 tonne (50,000 lb) and 40-45 tonne (100,000 lb) ranges, and particularly in high reach applications.
Meanwhile, Ingersoll Rand (now of course owned by Doosan) has added a four-model range of rotating pulverisers that are designed for both primary and secondary demolition. The RPU units are designed for use on carriers weighing from 10 to 40 tonnes and provide a wide jar opening of 600 – 1200 mm. A three model range of fixed pulverisers also made their first appearance during 2007. Shears have not been ignored, and the new nine model HSS range, weighing from 1.6 to 9 tonnes, can be used on excavators from 9 to 110 tonnes.
Finally, in a drive to make its attachments handling even faster, Sennebogen has launched the Vario Tool, which provides a simple, fast and safe means of switching between various attachments on its new 830 D Series Green Line material handlers. It is a newly designed quick-hitch system with full automatic connection coupling that allows the operator to make changes without leaving the cab of the machine. It can handle most types of hydraulic attachments such as sorting grabs and breaking grabs, as well as offered as a package with a Stanley MSD2000R shear, although it can fit shears from other manufacturers.