Mammoet lifts, moves and places bridge structure
By Christian Shelton26 July 2017
Heavy lifting and transportation specialist Mammoet has completed what it describes as 'a first-of-its-kind project in Western Canada'. The project involved the lift, transport, and placement of a bridge structure in Edmonton for steel fabricator Supreme Group. It weighed 385 tonnes and was 57.25 metres long, 11.4 m wide, and 4.3 m high.
The bridge was built using the accelerated bridge construction method, which meant that it was assembled away from the bridge foundations in a controlled construction area. According to Mammoet, accelerated bridge construction is safer and more efficient than conventional bridge construction as it removes hazards associated with working near traffic and eliminates the need for working at heights. It also helps minimise congestion and traffic delays.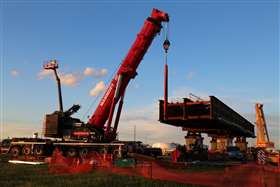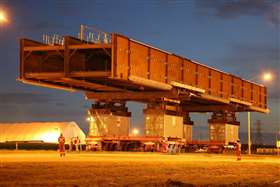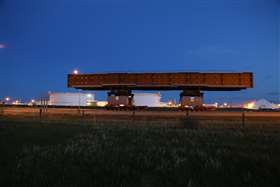 Once the bridge structure had been assembled, Mammoet used three cranes to lift the bridge onto 24 lines of self propelled modular transporter (SPMT) for transport and placement. A short execution window between 22.00 and 09.00 hours was given, during which a road was closed to allow for safe passage of the SPMT. Mammoet reported that the bridge structure was set on its abutments within the allotted time without any problems and that the road was reopened in time for morning traffic.