Mayrhofer adds new Rockster
By Leila Steed29 July 2019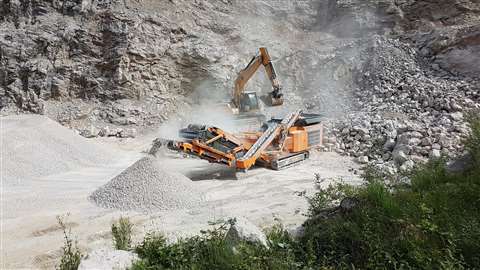 Demolition and recycling company Mayrhofer Erdbewegungen has upgraded its Rockster R1100D to the more advanced R1100S model.
The company, which uses almost all of its recycled material for its own building and civil engineering projects, said its decision to upgrade was based on its need for crushing rubble, asphalt and limestone.
Provided by Rockster Austria International, the track mounted R1100S impact crusher features the RS114 screening box, a return and stockpile function and a new radio remote control.
Josef Mayrhofer, owner of Mayrhofer, said: "Our Rockster R1100S produces about 250-300 t of final grain per hour. The recycled concrete is mainly used as a frost buffer in civil engineering and road construction. Recycling material from building waste is mainly used for fillings. Thanks to the good cubic grain produced by the impact crusher, the quality for further processing is excellent."
According to the manufacturer the impact crusher has a transport height of 3.2 m (10 ft 6 in), enabling it to be transported without special permission.