Mixed messages in a time of crisis
By Mike Hayes26 March 2020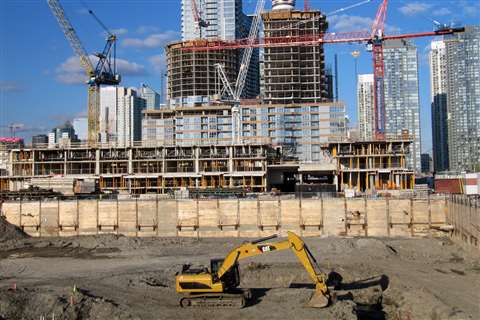 Countries throughout Europe are imposing drastic measures to prevent the spread of the coronavirus, yet a large number of construction sites remain active.
Questions are now being asked about whether construction workers constitute key workers, as there seem to be numerous instances, not only of projects continuing, but of the rules of social distancing being broken.
Currently, Italy, Spain, France, the UK and Belgium are in lockdown, with other major nations, including Germany, Portugal and Austria, imposing severe restrictions on the movements of their respective citizens.
The heads of most governments in Europe have stated that all but essential work must stop. Yet, after the Italian Prime Minister, Giuseppe Conte, called for a full lockdown, France's President Emmanuel Macron said last week, "We have to continue to produce and to keep the country running."
It's clear that identified key workers must carry on, ensuring those of us remaining in our homes can eat, as well as receiving medical supplies and care when needed.
But is construction work essential for European nations in lockdown?
According to a report by UK broadcaster ITV, at the UK's Hinkley Point C power station construction site, "workers have been photographed close to each other in the canteen and sitting shoulder to shoulder on the buses which transport them to and from the site."
This is the case, even though the number of workers onsite has been reduced from approximately 4,700 to 2,000 – it appears to be at odds with government advice to socially distance.
In fact, some in the UK construction industry feel they have been given tacit permission to continue, whether or not their work is deemed essential. Whether the different approaches taken by the governments of England and Scotland muddy the waters is a moot point.
It's true to say that many of the country's largest building firms have now chosen to shut sites down, but others remain open, either due to mixed messages from government, or simply because bills have to be paid and construction bosses have not explicitly been told to cease operations.
Following the UK Prime Minister Boris Johnson's 'lockdown' statement of March 23, Paul Hamer, CEO of contractor Sir Robert McAlpine, said, "We, like the rest of the UK, are adhering to government guidance and many of our sites and offices are now closed."
He added that, "For the Sir Robert McAlpine family and our entire team this was a very difficult action to take".
French construction giant Vinci recently stated on social media, "In countries where lockdown has been declared, our companies have immediately implemented telework for employees whose activity can be carried out remotely.
"We are mobilized around the world to participate in the fight against the pandemic and to prepare, alongside the authorities, the fastest exit of this health and economic crisis."
In Germany, however – a country which so far has not suffered with the virus to the extent of Italy and Spain – the government has allowed public infrastructure projects to continue, in agreement with some of the country's largest industry associations.
As reported by KHL, three associations – ZDB, HDB and BVMB – have jointly welcomed the government's decision for construction to continue despite the crisis.
Reinhard Quast, president of the Central Association of the German Building Industry (ZDB), said, "We very much welcome the decree issued by the Federal Ministry of the Interior, Construction and Home Affairs (BMI) and the Federal Ministry of Transport and Digital Infrastructure (BMVI) on the continuation of construction work in building construction, road construction and hydraulic engineering.
"The continuation and new tendering of infrastructure construction sites is an essential pillar of the domestic economy, which must be maintained."
Yet, as a London construction worker recently told the BBC, "It is impossible to maintain the 2m rule as most of the walkways are less than 2m wide," the worker, who did not want to be named, said. "This is like being cannon fodder."
The dilemma for governments mirrors that of construction workers: on the one hand, they fear for their jobs; on the other, they have genuine concerns about their safety.
The damage done to economies through the shutting down of major public infrastructure works is clear and immediate, but prolonging lockdowns – which could well be the result of allowing people to work in close proximity to each other now – will ultimately lead to greater pain in the long run.