More space in Hamm's HD+ compactors
By Chris Sleight30 September 2008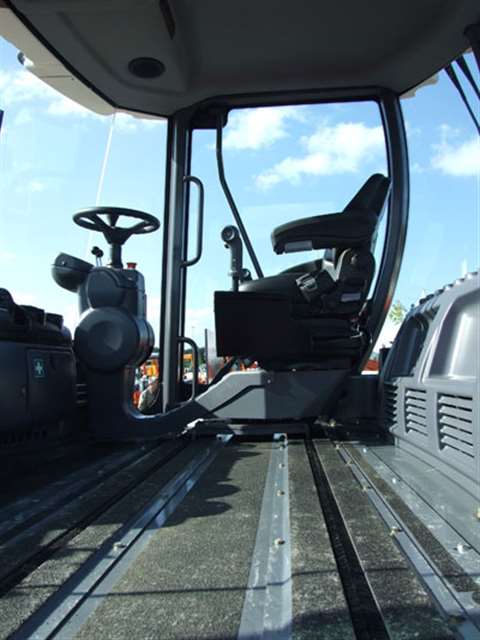 Hamm has launched two new versions in its popular HD range of tandem rollers. The HD range has been around for ten years and the updated '+' versions of the 12 and 14 tonne class machines should go down well with operators for their spacious cabs and intuitive controls.
Hamm describes the cab as being 'XXL' sized, and this helps it to accommodate the seat and controls that can both rotate and slide from one side of the machine to the other. With the steering wheel, dashboard and seat all part of the same unit, this arrangement allows the operator to position himself in the best working position on the machine and still have easy access to all controls.
Hamm says it ahs designed the control system to be as intuitive and simple to use as possible. "That's very important today because operators use a different machine every day," said marketing director Gottfreid Beer.
The '+' machines come with the company's Hammtronic control system as standard, which, among other things, matches engine revs to the work being carried out to key fuel consumption down. This also helps to limit noise, and Hamm says the +models are quieter than the HD machines they replace.
Handling and manoeuvrability has been improved with a +70% increase in the offset when in crab steering mode. Another change has been to add +30% to the water tank's volume, taking it to 1160 litres on both machines.
Both the 12,9 tonne HD+ 120 and 13,8 tonne HD+ 140 are available as vibratory rollers (VV), oscillating rollers (VO) or high-frequency machines, predominately for the US market. The HD+120 has a 1,98 m wide drum, while the HD+ 140 has a 2,14 m drum.
Although Ham wouldn't be drawn on the question, it seems highly likely the '+' enhancements will be rolled out from these two range-topping machines to other compactors in the HD line-up.