Morris plans new £6m factory
By Murray Pollok15 April 2019
Morris Site Machinery is preparing to develop a new £6 million head office and production facility close to Wolverhampton and just a few miles from its existing base at Four Ashes.
The plant, which the lighting tower and genset supplier hopes will be completed by summer 2020, will be located close to Junction 2 on the M54 motorway, next to a Jaguar Land Rover manufacturing plant. The 65,000 ft2 facility will be almost double the size of its existing factory and significantly increase production capacity.
"It will give us much more capacity", said Chris Morris, CEO, Morris Site Machinery, speaking to IRN at Bauma. "We've been looking for the right site for three years. This one was too good not to turn into our new base, and it feels good to be doing it during our 150th anniversary."
The business is forecasting a 14% increase in sales this year after two years which Morris described as "difficult". Its fortunes have improved in part thanks to a three-year supply contract signed recently with an Australian rental customer and a major deal with a UK rental company.
Morris said the outlook for the UK lighting tower market was positive, because there is continuing investment in LED towers to replace the metal halide units that still represent around 60% of the UK's 22,000 unit lighting tower rental fleet.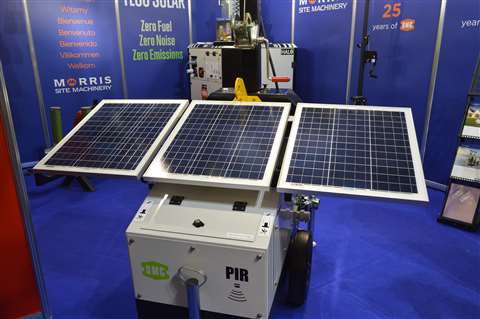 Morris said uncertainty over Brexit had not yet had a major impact on sales in the UK; "We are not hearing about battening down the hatches. The pipeline for the customers that we are talking to sounds positive. And if there is a meaningful drive to move metal halide towers out of circulation, then that will lead to an increased demand for LED, even if the market size remains stable."
He said Morris was doing everything it could to plan for potential negative effects of Brexit; "Ironically, since the referendum, our deliveries into Europe have trebled. We want to make sure that our sales strategy very much includes Europe moving forward."
The Morris Group was founded 150 years ago and now comprises three main businesses – care homes, property and site machinery. Its history includes 110 years selling lubricants, 96 years as a grocer and 84 years as a baker. "We don't do things on a short-term basis", joked Morris.