Naboen buys electric booms
By Leila Steed09 December 2020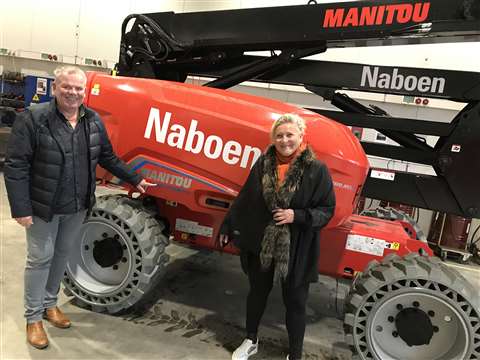 Manitou has delivered seven of its new electric all terrain articulating boom lifts to Norwegian rental company Naboen.
Naboen ordered the 200 ATJ E aerial platforms, from the Manufacturer's Oxygen line, as part of its drive to provide low and zero emission products to Norway's construction market.
Nina Aasland, CEO of Naboen, said, "This investment is one of the most important of the year for our group. With nine locations throughout Norway, we are convinced that these innovative and sustainable solutions will meet all of our customers' needs. Our objective is clearly stated: to become the leader in the rental of green equipment".
The 100% electric 200 ATJ E platform has a working height of 20m and an outreach of 11.5m. Equipped with a two-person basket capable of handling up to 230kg, the model has an articulated telescopic jib and is part of the Manitou's Oxygen brand.
It is powered by a 48 battery and is fitted with two electric motors. It is also equipped with non-marking tyres and is suitable for both indoor and outdoor applications.
The demand for more environmentally-friendly equipment in the region has increased substantially over the years, with cities such as Oslo adopting measures to eliminate the use of fossil fuels on construction sites.
Alain Becque, vice president global fleet sales for Manitou Group, said, "We are seeing a growing demand from our rental customers for low or zero emission solutions. With our 200 ATJ E platform, we are providing a concrete response to these expectations while reducing the TCO for users. Our partnership with Naboen is perfectly in line with this approach and we will continue to listen to our customers in order to provide solutions that are always more adapted to their needs."