New Manitowoc models at bauma China 2014
By Laura Hatton18 September 2014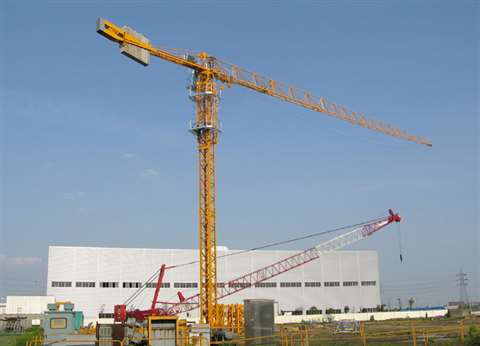 Crane manufacturer Manitowoc will launch two new Potain flat top tower cranes at the Bauma China exhibition in Shanghai from 25 to 28 November 2014.
One of the models will be the Potain MCT 205. The tower crane has a 10 tonne capacity and can lift 1.75 tonne at the end of its maximum jib length of 65 m. The complete upper works can be assembled in four lifts. In addition, the full 65 m jib can be placed in a single lift. For easy transport three jib sections fit inside a standard container, a spokesperson added.
The second new flat top crane on show will be the MCT 85. The model has a 5 tonne capacity and can lift 1.1 tonnes at the end of its 52 m maximum boom. For transport the entire top portion of the crane can be carried on two trucks, the manufacturer said. For easy assembly, the tower crane's upper works can be connected in two sections.
The MCT 85 can be operated as an internal climbing crane. It is mounted on 1.2 m mast sections and has a maximum free-standing height of 33.2 m. Both models are manufactured at the company's Zhangjiagang plant in China.
Leong Kwong-Joon, Manitowoc Cranes regional product manager for tower cranes, said, "In China and across the rest of Asia, we're seeing contractors wanting to place more tower cranes on job sites to accelerate construction schedule.
"Because topless cranes have no cathead at the top, it's easier to overlap them and overall crane working heights don't need to be so high. Topless cranes are also faster and easier to erect. As a result, we expect strong interest in the new MCT 205 and MCT 85 cranes at bauma China."
Also on display at the show will be an 80 tonne capacity Grove RT890E rough terrain crane. It has a 43.2 m main boom and a reach of 72.5 m when configured with a jib extension.
Teo Yew Boon, Manitowoc product manager for mobile cranes Greater Asia-Pacific, said, "The RT890E is popular on industrial sites across China for its ability to deliver consistent performance, even in the toughest landscapes. Maintenance is straightforward, and the crane delivers more than its competitors in terms of capacity, reach and power."