New booms in 2017
By Euan Youdale18 July 2017
There have been a good number of boom launches over recent months to coincide with the major exhibitions this year in North America and Europe. Then, of course, there have been the new ANSI and CSA standards in the US and Canada, respectively, which incorporate international ISO standards and ultimately bring global requirements for safe use closer together.
After safety, effective use is next on all manufacturers list of requirements, and this means the landscape is changing somewhat to accommodate new expectation and requirements when it comes to emissions. For example, we are seeing more developments in hybrid and electric machines.
Adding to that, potential growth of access equipment globally is not only providing opportunities for existing manufacturers but new ones too. And other manufacturers which haven't had full boom ranges in the past are working to fill them out.
New manufacturers
A company actively involved in just that is JCB, which launched its access division at the beginning of February with its series of slab scissors. The global debut of its first boom followed in March at ConExpo, in Las Vegas, US. The second sight of the AJ50D articulating boom was at Vertikal Days in the UK during May, representing its European debut. They join 27 self propelled models that are being introduced throughout this year and into the beginning of next.
The 500 (227kg) pound platform capacity AJ50D weighs 15500 pounds (7 tonnes) and has standard oscillating axles. The machine is powered by a Tier 4 Final JCB Diesel by Kohler engine, as are the remaining articulated and all telescopic platforms that will be launched later this year. Load capacities range from 500-550 pounds for the articulated range (227-250kg), enough for two occupants and tools.
The four diesel articulated boom models in the range have four-wheel drive and two-wheel steer, delivering up to 40% gradeability and a maximum stowed driving speed of up to 4.4 mph. These will be joined by a 45ft (13.7m) platform height AJ45E electric powered articulating boom model in the third quarter. The electric model has two-wheel drive and two-wheel steering, with up to 30% gradeability.
With its 27 products JCB hopes to cover 80% of a typical rental company's needs and says it is happy to leave the products that would make the remaining 20% to other manufacturers. It is still too early to get a clear indication of potential sales figures but the manufacturer will be using its vast distributor network, particularly focusing on the established access markets to start with. As Phil Graysmark, JCB sales director, says, the potential is huge although most scissor sales have gone to smaller and medium-sized rental companies so far, while the big players are set to follow once they have seen the machines in the market.
Another new manufacturer on the scene is GMG. Launched in May, the US-based company is led by CEO Jim Tolle, who left MEC Aerial Work Platforms to start the new manufacturer. So far seven slab scissors have been launched and there is the promise of pedestal mounted booms this year. The company is targeting products that can make good returns whether they are mass production items or not. Each product type will be produced in partnerships with different existing manufacturers depending on their suitability to produce those units. It will be interesting to see if standard self propelled booms follow soon in its product mix.
Mr Tolle's former company is also expanding its boom range and has entered into mass production machines with the recent launch of its slab scissor range. In the past it was focused on specialist machines which remains an important part of its product offering. David White, CEO of MEC, told AI that it will launch a new boom in September this year, along with two scissor products. The plan is also to expand outside its main territory of North America with new dealership partners across Europe and the Middle East, as a first call.
MEC currently only has one telescopic boom, the 60-J, which features 60ft working height. Weighing 17600 pounds (7980 kg), it is the only engine powered 60ft telescopic boom that can legally fit two on a truck.
"Our customers asked for electric-powered versions [of booms] and then quickly after, a hybrid version that has an extended duty cycle," says Mr Crook. "Increased platform capacities to 600 pounds unrestricted and 750 pounds restricted were further customer-driven options.
"The 60-J boom project taught us that there are still multiple unsatisfied customer requirements despite manufacturers that have been in the market a long time. We are evaluating the opportunities for greatest customer benefit within the telescopic segment."
Filling out
Many of the latest boom launches have been in the 20m to 30m working height range, as manufacturers upgrade and fill out their prime product areas.
In June Access International exclusively revealed that Haulotte had launched a new 26m articulated boom, the HA26 RTG Pro. It followed the HA28 RTG Pro presented at APEX, in Amsterdam, for the first time in Europe. It was originally launched at Bauma China in November last year and made its US debut at ConExpo in March. It's an example of how manufacturers are concentrating on global products
It was notable that Haulotte decided to concentrate on this model alone at APEX, with no other products on its stand. The idea was to demonstrate its latest set of Activ safety and operator aid systems that have all been incorporated into the new machine, as they have the HA26 RTG Pro and all others in the future.
It's worth noting these additions, as it reflects how important operator and lower cost of ownership aids are, and incorporated in the design of modern booms. To simplify loading and unloading, Haulotte developed the unique Activ'Lighting System-Safe Load. Lights are integrated into several points around the machine to illuminate the controls and area around the boom.
The machine also includes the company's new generation secondary guarding system; something that manufacturers, not just Haulotte, are increasingly incorporating as a global standard. The Activ'Shield Bar 2.0. has a push forward bar with a 'safety gap'.
The HA26 range is also equipped with the Activ'Screen on-board diagnostic system and the Stop Emission System which stops and restarts the engine automatically while operators are working at height. For fleet management it is equipped with a universal telematics connector as standard. It adapts to any type of telematic system and allows the operator to quickly connect their own telematics devices to the Haulotte machines.
Caroline Doman, international product manager for Haulotte, told AI that both machines summed up the manufacture's most recent innovations and reflected how its products would look in the years to come. "We plan to integrate these features across all booms next year. The object is to bring more commonality into our range, with maintenance and spare parts."
Turning to specifications, the new HA26 RTG Pro is the big sister to the existing 16m and 20m working height models and replaces the HA260 PX, which has now out of production.
It has a working height of 26.4m, up-and-over clearance of 9.3m and a 17.5m horizontal outreach. Rough terrain capabilities are provided by an oscillating axle, hydraulic differential wheel lock, high ground clearance, a smaller turning radius and frame designed to manoeuvre in confined spaces, as well as a 45% gradeability.
The company is also working on electric booms and may well have one on the market next year. "For example, in Northern Europe, there are lots of restricted areas, for example in Copenhagen or London, where you cannot use a straight diesel boom, so you need a green machine to work in these areas."
Certainly, by the time stage 5 emission regulations come in 2019/2020, this issue will be even more significant. However, there is no specific plans for products yet. "There is no hybrid planned at the moment. We are just working on several solutions to avoid the issue with diesel and we will decide exactly what to do."
Riser system
Skyjack unveiled its new SJ85 AJ articulated boom at the Rental Show in Orlando, Florida, during February, before it appeared again at ConExpo and then at APEX in Amsterdam. The new SJ85 AJ articulating boom fills out Skyjack's offering in the core 40ft, 60ft and 80ft boom classes. The SJ85 AJ offers a platform height 85ft (25.91m) and up and over clearance 34ft (10.36m), dual capacity rating of 750 pounds (340kg)/500 pounds (227kg).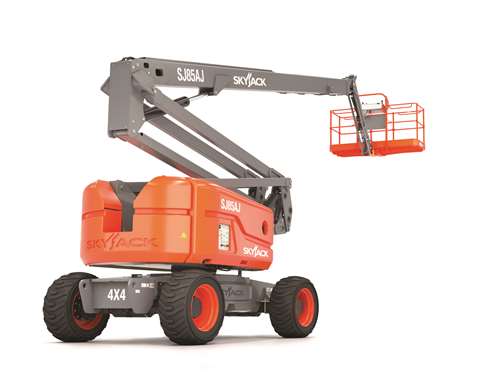 Skyjack's riser design is what sets its new boom apart from similar machines. "There is no need to worry about performing multiple functions to lift the riser," says Corey Connolly, product manager at Skyjack, "The SJ85 AJ's riser performs the same as all other Skyjack articulating booms – it goes straight up and down."
Telescopics in the 20m zone have also been making their presence known. Manitou has been gradually filling out its range of booms to complement its full telehandler offering.
Manitou launched the new 220 TJ at APEX. The 22m unit supplements the company's current 26m and 28m offerings. It will be offered in two versions; a light 220 TJ and a high-capacity 220 TJ+ which will have a basket fully rated at 350kg.
"Dealers and rental companies have been asking for an extension of our boom line," said Francois Desbriere, head of product marketing management for Manitou Group. Both models are equipped with a 2m pendula arm that folds up, reducing the length of the machine when transported. The booms can also be slung, with four chains from a single point for easy lifting without extra tools or equipment.
The 220TJ and 220TJ+ telescopic booms are both equipped with a 4-cylinder 26 kW diesel engine coupled with a variable speed pump and the booms are equipped with a system that automatically adjusts the power of the engine to reduce fuel consumption to total cost of ownership. There is also a hydraulic block, providing smooth, rapid movements with complete safety.
As yet Manitou has not introduced its booms to North America. Speaking to AI at APEX, Desbriere said the upcoming changes with the U.S. ANSI standards will allow for "more competition within the US" and that Manitou will soon bring its boom line to the North American market.
Design standards
On the subject of North America the boom lift industry is preparing for some hefty changes in the coming year, with the new US ANSI A92 standards dictating platform capacities, load sense and more.
The new design standards, which will be introduced sometime in the coming months, with a 12 month compliance deadline for OEMs, will lead to the use of platform load sensors, automatic envelope control systems and dual capacity ratings on booms.
The use of load sensors has been the practice in Europe for around 15 years, and will probably lead to the use of more sophisticated control systems and dual capacity machines with automatic envelope control.
According to Scott Owyen, Genie training manager explains, "ANSI and CSA both require periodic updates to all standards. The updating process incorporates the inclusion of international standards (ISO) which will more closely align products produced by North American aerial lift manufacturers, including Genie, with products offered in global markets like Europe, Australia and China. These updates may allow aerial equipment owners to more easily trade new and used equipment worldwide. It is important for the people working in the aerial access industry to understand for what will be different and start preparing now."
Complementary launches
Pertinent to this point, Genie has been expanding its range of Xtra Capacity (XC) booms with the launch of the telescopic S-80 XC and S-85 XC booms. Marking a European premiere, the Genie S-85 XC was on the Genie stand at APEX.
Both models feature automatic envelope control, providing the ability to automatically retract as the booms reach their operating envelope. They are also equipped with a load sense cell that continuously checks the weight in the platform and limits the operating envelope to match the load chart.
XC booms have a dual-envelope design to provide an unrestricted range of motion with a platform capacity of 660 pounds (300kg) and a restricted operating envelope capacity of 1000 pounds (454kg). With the dual lift capacity, they are geared toward heavy lifting in the construction and maintenance of stadium and sports arenas, gas and oil refineries, industrial and telecommunications applications.
Additionally, the booms have been updated with a new CAN-based ALC600 control system, replacing the earlier ALC500. Marking a significant improvement in terms of diagnostics and troubleshooting capabilities, settings and parameters can now be modified directly on the machine without the need for any additional tools. Overall connectivity with customer telematics systems is also enhanced and software updates can now be performed directly from the control panel.
The Genie S-80 XC model has a 26.38m working height with 20.83m of outreach, while the Genie S-85 XC has 27.9m working height with 22.71m of outreach. Both units are equipped with a 74-hp (55 kW) Tier 4F/Stage IIIB diesel engine. The XC design on these boom lifts also includes a 1.83m or an 2.44m tri-entry platform with side-swing gate.
JLG Industries used ConExpo to take the wraps off hybrid and redesigned boom lifts. Its latest hybrid model the H800AJ, uses the design of its standard 800AJ articulating boom. The only significant difference between the two is the power package and batteries.
It uses parallel hybrid technology, with an electric motor/generator and a Tier 4 Final fuel efficient engine. Together, the motor/generator and engine combination are designed to provide diesel-like performance. The machine can also run in electric mode through its maintenance free battery pack located in the counterweight, which are charged by the machine's generator during operation. The platform height is 80ft with an unrestricted platform capacity of 500 pounds.
Vice president of global marketing Alan Loux said, "With the ongoing development of aerial work platforms, we will see more innovative technologies becoming integrated in the aerial work platform industry. Aerial work platforms will definitely become smarter and stronger in the future."
An example of just that came from rental company Riwal, based in the Netherlands, which had converted a 38m working height JLG 1200SJP telescopic boom from diesel to electric to coincide with APEX. It follows the conversion of a 26m boom to electric three years ago, and a 28m unit soon after, which the diesel engine and the fuel tank were swapped for an electric engine, battery pack, charger and controls of the electric engine.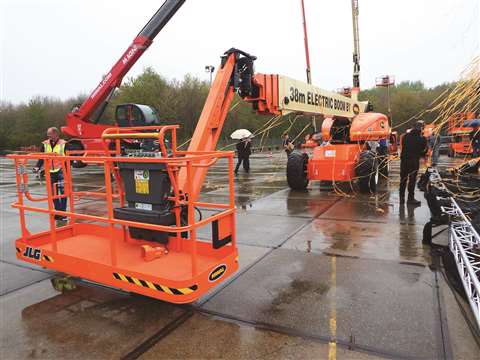 Named the JLG 1200SJP Electric by Riwal, with a 23m horizontal outreach, it was designed to enable customers to work at a much greater height inside, with zero emissions, or in areas where restricted noise levels apply, such as residential areas.
Since the launch Riwal sold the first three units to Norwegian rental company Naboen, which has nine depots in its home country and operates more than 11000 tools and machinery, of which 1200 are aerial work platforms. Naboen needs the 38m boom lifts for a range of jobs in construction and maintenance, with reduced noise levels and zero emissions.
The move to electric-drive booms is an inevitable one, as lower emissions are required. Until then the hybrid will provide a happy medium, with all the mainline manufacturers getting involved.
Hybrid future
At last year's Bauma Munich, Genie launched the articulating Z-60/37 FE boom that combines diesel power, four-wheel drive performance and the cleaner, quieter compact electric power.
The Genie Z-60/37 FE boom lift provides the choice of two modes of operation – full-electric or hybrid mode which, it says, provides more than a week of run time with a single tank of diesel. The 20.16m working height machine, has an 11.4m horizontal outreach and 7.4m of up-and-over clearance.
In May Niftylift set out its intentions to launch its first straight telescopic self-propelled boom lift, along with the 65ft HR22 S 4x4 Hybrid and an HR21E.
The industry can expect to see more booms, offering combined power options and application possibilities, over the next couple of years. And for a round-up of more equipment launched at APEX, see the review in this issue of AI.
Concept rough terrain
A static demonstration of a JLG concept boom positioned on uneven terrain was shown for the first time at ConExpo. It incorporated the machine's self-levelling chassis that automatically levels itself in a longitudinal and/or horizontal direction depending on the demands of the terrain. It reduces three-wheeling, allowing the machine to maintain traction on sloped or uneven ground. Machines equipped with a self-levelling chassis can traverse slopes up to 10 degrees with the boom elevated, which means greater uptime and less repositioning. This feature enables easier loading, unloading, and transport, as the chassis can be lowered to reduce the total height of the machine.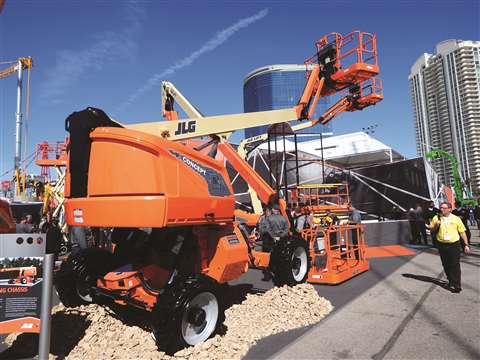 JLG also showcased its redesigned 600 series of telescopic boom lifts and showed its 600S at ConExpo. The company also has updated its 660SJ. Lift speeds on these new booms are faster, JLG says, with the ability to operate multiple functions at once. In addition, the machines are easier to transport. Their lighter-weight telescopic booms allow for multiple transport configurations. With a properly equipped truck, two of these units can be moved at one time without an overweight permit.
First sight at APEX
Dingli acquired 20% of Italian telehandler manufacturer Magni last year. Since then Magni has designed a range of boom lifts for the Chinese manufacturer that were launched at Bauma China last year. Up until now the booms have been introduced to the Chinese market but there are plans to bring them to Europe in early 2018, Eugenia Magni told AI at APEX.
APEX also marked the first time the new Dingli booms had been shown in Europe. Xu Shugen, chairman of Dingli, told AI the eight new articulated and telescopic booms, manufactured in China, reflected a new design concept, and said a new factory would be built specifically for the new booms' production in China. The 28m working height BA28RT articulated and BT28RT telescopic are the biggest in the range, with 24m, 20m and 16m working height machines filling out the rest of the two categories. The 28m and 24m machines come with jibs.
They have been designed for mature markets like Europe and North America and provide a unique counterweight design that is 1.2m lower than the manufacturer's previous booms with all major components, engine etc., placed below the chassis. This provides a 10%-15% lower weight across the range and greater outreach. For example, the BA28RT weighs 16.1 tonnes and has an outreach of 18.3m.
New tracked boom
New access manufacturer Catamout was exhibiting at APEX for the first time, with the launch of a tracked boom, the Catamount 25.10.
The machine has a working height of 10m, with a total weight of 2500kg. Its key advantages are that no outriggers are needed, and it is transportable using a tow capacity of 3500kg. It offers a fuel efficient Yanmar engine and the latest operator and safety technology.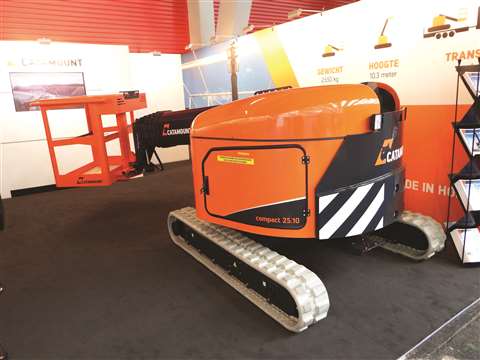 Company owner Caspar van Woerden grew up in Ontario Canada, and founded Catamount in the Netherlands in July 2015, after moving to country in 2007. The products are built in its production facility in the Netherlands and the planned product range for the foreseeable future will be several models ranging from 2500kg to 10000kg.
"There is a growing demand for a light weight compact aerial track lift in Europe," says Mr van Woerden, "In the last factory which produced similar machines in Japan has discontinued their line of aerial lifts. We saw this as an opportunity to fill the gap. Together with a group of engineers and end users we formed a team to design and build the ultimate compact Track lift which meets todays safety and market requirements."