Palazzani appoints sole distributor in Italy
Italian mewp manufacturer Palazzani Industrie has signed an agreement with Nolves for the distribution of its spider lifts.
In addition to the self-propelled and truck mounted platforms the company already provides, the offering of the manufacturer's spider lifts will complete its Palazzani offering.
Palazzani said the company's strong territorial presence and commercial organisation was what led it make Nolves its sole distributer in the Veneto, Friuli Venezia Giulia and Trentina Alto Adige regions in the north of Italy.
Matteo Bertiato, managing director of Nolves, says, "We have chosen Palazzani for their professionalism and for their wide and unique range. Now we can offer to our customers spider lifts up to 52m of max w/h and ecologic solutions thanks to the lithium batteries option which don't compromise their performances. This is possible thanks to the machines high technological and innovative level offered by Palazzani over the years."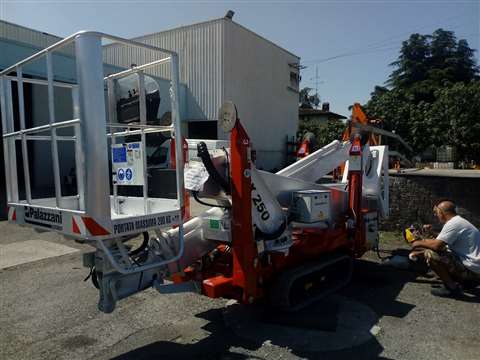 Palazzani said the high level of technology and safety standards of its models was well known by companies like Barni Romano – a construction and restoration company, which has just taken delivery of a Bienergy version of its Ragno model TZX 250/C.