Palfinger up nearly 12%
By Alex Dahm30 April 2019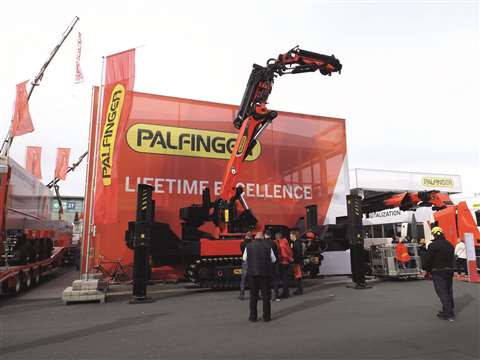 First quarter sales at loader crane and access equipment manufacturer Palfinger were €440.9 million, up 11.8 per cent on the €394.2 million in the same quarter a year earlier.
North America and the Europe, Middle East, Africa regions were the main contributors to the increase, Palfinger said.
Since the beginning of 2019 the Austria-headquartered company has implemented a new organisational structure and changed its segment reporting. The Land segment has been divided into Sales & Service Land and Operations Land. In the former the main contributors to the growth were given as cranes, timber and recycling equipment and the Hooklift range. Sales in this segment were €360.5 million.
The marine crane business comes under the Sea segment. The company reported a recovery in the offshore business but that its impact on revenue and earnings will not be noticeable before 2020.
Commenting on the figures Andreas Klauser, Palfinger CEO, said, "Our orders on hand are still high and incoming orders remained strong in the first quarter. Even in the marine business, the recovery of the oil and gas industry has been reflected in our order book. With our new organisational structure, we are now able to be faster and more focused in our actions."
In outlook, the company said it forecasts total 2019 revenue will increase to €1.7 billion and that the earnings before interest and taxes (EBIT) margin will be 9 %. By 2022, the forecast is for revenue to reach €2 billion and the EBIT margin to be 10 %.