Preventing and fixing problems
By Lindsey Anderson09 October 2018
Failing to properly maintain a mobile elevating work platform (MEWP) can create costly downtime for rental companies and contractors. With project deadlines to meet, losing the functionality of a boom, scissor or vertical lift can force project extensions, potentially costing thousands of dollars in extra expenses.
Most units require pre-operation inspections, periodic inspections and periodic maintenance, including an annual inspection. The required inspections and maintenance are outlined in operator and safety manuals and service and maintenance manuals.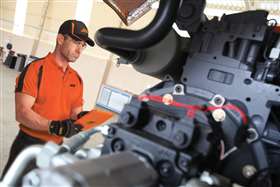 "Just like a car, maintaining your MEWP and following the manuals ensure that you keep your machine in safe, good working order," says Bill Dovey, senior product manager of booms for JLG Industries, Inc.
Manufacturers provide service manuals which outline proper inspections, maintenance and schedules that rental companies and contractors must follow. The manuals include key information on how to perform preventative maintenance to assist with preserving the life of a MEWP, resulting in longer uptimes during work shifts and higher resale values.
Performing inspections
Performing inspections is a crucial part of safe work practices when operating any aerial equipment. These tasks must be done according to the manufacturer's instructions found in their manual(s), by a qualified operator. Typically operator's manuals contain specific, detailed instructions on how to perform any inspections that need to be done before start-up each day.
First, a pre-operation inspection should be conducted. This is a visual inspection performed by the operator prior to each work shift. The inspection is designed to discover if anything is apparently wrong with a machine before the operator performs the function tests. The operator's manual contains information about how to perform this inspection.
When performing the pre-operating inspection, the person will need to check for unauthorized modifications, damage or loose or missing parts. If damage or any unauthorized variation from factory delivered condition is discovered, the MEWP must be tagged and removed from service. As a reminder, repairs to the MEWP shall only be made by a qualified service technician, according to the manufacturer's specifications.
Once repairs are completed, the operator must perform a pre-operation inspection again before going on to the function tests.
Next, a workplace inspection should occur, which helps the operator determine if the workplace is suitable to operate the MEWP safely. It should be performed by the operator prior to moving the MEWP to the work place. The operator's manual is a good resource for some of the recognized hazards the operator may encounter on the jobsite, but it's always a good idea to check with the site supervisor or safety manager for any others.
Manufacturers say to be aware of and avoid the following hazardous situations including: Drop-offs or holes; Bumps, floor obstructions or debris; Sloped surfaces; Unstable or slippery surfaces; Overhead obstructions; High voltage conductors; Inadequate surface support to withstand all forces imposed by the machine; Wind and bad weather conditions; The presence of unauthorized personnel; and all other possibly unsafe conditions
"Always remember that it's the operator's responsibility to read and remember the work place hazards, as well as to watch for and avoid them while moving, setting up and operating the aerial work platforms," says Bob Bartley, Genie senior director of product support and reconditioning.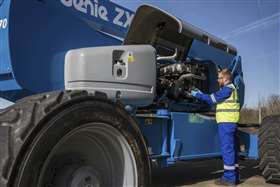 Preventative maintenance
Outside of the pre-start inspection and annual machine inspection, rental companies and contractors must frequently conduct preventative maintenance on their MEWP. By making sure filters are clean, oil is clear and engines are performing properly, emergency maintenance and service procedures can be minimized.
Because aerial equipment, including booms and scissor lifts, is some of the most frequently used machines on jobsites, these units' availability and productivity can be positively impacted by both the equipment owner and the equipment operator if they follow a manufacturer-prescribed routine for preventive maintenance and proactive inspections.
"Even if it's not always convenient to take the time to perform these duties, it's worth every minute if your aerial equipment ready to work and continues to perform productively in the field," says Bartley. "In theory, you know that preventive maintenance is the key to keeping aerial equipment running at peak efficiency and to getting a better return on invested capital (ROIC). But in practice, preventive maintenance routines are often postponed, or even neglected, in order to increase rental opportunities."
Bartley says the reality is that performing routine maintenance tasks can save companies a lot of money. Most regular maintenance tasks can be handled in-house, by anyone experienced in mobile elevating work platforms and familiar with a machine's particular sounds and performance.
"Preventive maintenance is a commitment that needs to be made before, during and after every rental," he says. "The maintenance tasks should be simple and easy to follow, yet provide attention to detail — it is easier to deal with things little by little rather than have something fail and face the consequences."
For example, before a MEWP goes out on a jobsite it is important to check the water levels in the battery. The condition of the battery is directly linked to the life and longevity of the machine. It is also important to check the oil and coolant levels.
The next step is to walk around the machine, checking for leaks and making sure all the machine's systems are lubricated and functioning properly; Bartley suggests having a grease gun handy to lubricate the systems if necessary.
While completing the visual inspection, be sure to also check: Tire wear and condition; Fastener tightness; Measurements of the wear pads; Hose and wiring routing for chaffing; Component cover latches and hinges; Decal legibility; Cable track integrity and banjo keeper bolt integrity
Also, at the end of a project, it is important to wash down the entire unit, including underneath the machine — removing any dirt, dust, sand or other jobsite material that can accumulate and contaminate the machine — and lubricate again, according to the manufacturer's lubrication plan. During this process, do a visual check for any external or internal damage, repairing and replacing as necessary. This is a good time to take care of paint touch-ups.
Good operating condition and extended life expectancy of MEWPs are largely influenced by regular care and maintenance. This goes beyond the daily care and feeding of the machine's systems, it also includes longer-term attention.
According to sources, every six months, owners, operators and service technicians need to have an open discussion about how the equipment is being used day in and day out, as well as how it's performing in the field. Also at this point, look at the maintenance records to spot any patterns — it is important to look at what components are failing and to determine why, how and when they failed. It is also important to know which components are holding up over time and to analyze those trends.
"Too often, the little things can be an indication of larger problems," Bartley notes. "These warning signs should never be ignored."
Some, or all, of these maintenance tasks will affect the residual value and on-the-job performance of the machine, as well as will influence customers' perceptions of the rental business and equipment.
After-use care
"Kicking the tires and lighting the fires isn't enough," Bartley says. "Aerial equipment just returned from a project is often scheduled to quickly return to the field. Before it does, though, it must be thoroughly inspected before the next project. The key word here is thorough."
Bartley suggests considering a 'ready to work' inspection similar to that of a quarterly inspection.
"And, if the machine is close to a service interval, get that out of the way before sending it back out into the field, since you never really know how many hours will be put on it before it is returned," he says. "Then, give the equipment a thorough inspection."
ANSI changes
Of course, it must be mentioned that all of this will be modified under the upcoming ANSI standards changes. Once implemented, users must ensure that maintenance and repair personnel are trained by a qualified person to inspect and maintain the MEWP, in accordance with the manufacturer's recommendations and ANSI standards.
"In the case where a MEWP is being rented, arrangements must be made by the owner to identify the entity that will be responsible for the inspections and maintenance activities described in the standard," Bartley notes.
These include but are not limited to:
Frequent Inspections — When the MEWP is put into service, has been out of service for three months, has been in service for three months or 150 hours, whichever comes first.
Annual Inspections — Performed no later than 13 months after the previous annual inspection, the annual inspection must be documented on the outside of the MEWP in the form of a decal or plate and must identify the person who performed the inspection and the date the inspection was performed.
Technology
Many companies are introducing mobile applications and technologically advanced options for diagnosing machines in the field.
Genie debuted its Tech Sight application just over a year ago to help assist people in the field. It has since been downloaded more than 1,000 times from the Google Play store. The application allows the Genie technical services and support team to troubleshoot technical issues using online video guidance for real-time visual assistance. The app enables Genie to engage in "live" interactions with field service technicians using video-enabled mobile devices, including smartphones and tablets — Android or Apple (iPhone and iPad) powered systems.
A rental store service tech can use the video call feature on the app to connect with the Genie technical service and support team. The visual component allows them to share "what they see" for immediate troubleshooting and response. The Genie team can then interpret and explain what is going on based what is happening on the screen.
"Customers and our product support teams both really like the visual component of this app which allows service techs in the field to share what they see with the Genie product support team for immediate troubleshooting and response," says Bartley with Genie. "Using the app, our team can quickly interpret and explain what is going on based what is happening on the screen, which has increased our ability to quickly handle and resolve issues our customers have in the field."
JLG and Haulotte have similar options with JLG's Mobile Analyzer and Haulotte's DIAG. The Haulotte application allows wireless access for maintenance technicians to program, troubleshoot, calibrate, and generally diagnose nearly all Haulotte machines with their own devices, and it's now available for download on Apple and Android devices.
The app aims to reduce intervention time in the event of breakdown and improve productivity by allowing technicians to find the right repair solution in all circumstances.
JLG's Mobile Analyzer is a tool that combines a free mobile application and a wireless access module to provide technicians with remote access to program, troubleshoot, calibrate, or customize JLG equipment performance.
"The JLG Mobile Analyzer is a Wi-Fi-enabled evolution of the JLG Analyzer Kit, allowing technicians to do the same analysis they are currently doing with the handheld kit. However, this new tool for Apple or Google operating system devices, allows for an extended operating range of up to 150 feet," says Chris Mellott, JLG vice president, customer support and aftermarket development.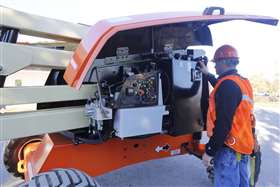 In addition to mobile applications, the use of telematics can be a huge benefit to fleet owners and managers as well as rental companies.
"Telematics can tell you when, where and how equipment is being used and how it's performing on a jobsite. Having data at your fingertips helps customers make informed decisions regarding machine performance and productivity," Dovey says. "The data from telematics can allow customers to stay up-to-date on routine maintenance and limit time lost due to low batteries and unexpected failures. As an example, JLG ClearSky monitors fault codes and other critical alerts, which can be sent via text and email to help manage fleets and aid in the diagnosis of components to ensure high machine productivity."
Skyjack joined the telematics move recently when it debuted Elevate, a fully customized solution for off-highway rental fleets.
Skyjack's Elevate solution is powered by Trackunit thanks to the partnership that began in October 2017. A key goal of their partnership has been to meet an increasing demand for machine connectivity from OEMs and to support the connected fleet goals of Skyjack's customers.
Another non-OEM option, however, comes from Triad Diagnostic Solutions, which is distributor of Cojali, USA. Cojali is an OEM and aftermarket diagnostic software developer in Europe with its Jaltest software that offers coverage and functionality in commercial vehicles, off-highway equipment, agricultural equipment and marine vessels.
"Triad focuses solely on the sales and support of Jaltest software for all four vertical markets which includes initial and ongoing training, technical support and optional technicians repair hotline for utilization of the software towards a successful repair," says Greg Reimmuth, president and general manager of Triad Diagnostic Solutions.
Jaltest is a single platform application that can combine commercial vehicle, off-highway and agricultural equipment on one laptop configured to a single vehicle interface adapter. Users simply plug into the diagnostic port of the vehicle or equipment and Jaltest will perform a total diagnostic scan and provide all diagnostic trouble codes, tens of thousands of troubleshooting and repair guides, tens of thousands of bi-directional testing capabilities, technical specifications and calibrations, Reimmuth says.
"Remote diagnostic is on the horizon in the North American market for Cojali," Reimmuth says. "Advantages include notification of critical faults and avoidance of unnecessary downtime and potential catastrophic failure."
Maintenance requirements continue to be more complicated and expensive, Reimmuth notes.
"The increase in electronically controlled systems related to emissions, safety systems, navigation, PTOs, TPMS and other systems requires a sophisticated diagnostic tool," he says. "Technician shortages exacerbate these repair requirements as availability of qualified techs continues to plague the industry."
Reimmuth says the advantage of Jaltest is that it is one application that covers multiple brands of equipment. It enables one diagnostic platform to cover virtually an entire rental company's diagnostic requirements for repair.
"OEM software often has limited availability and is expensive to procure and maintain," Reimmuth explains. "Jaltest supported by Triad can save a rental company literally tens of thousands of dollars over the course of a few years when compared to OEM software