Pumps primed for action
By Neill Barston12 November 2014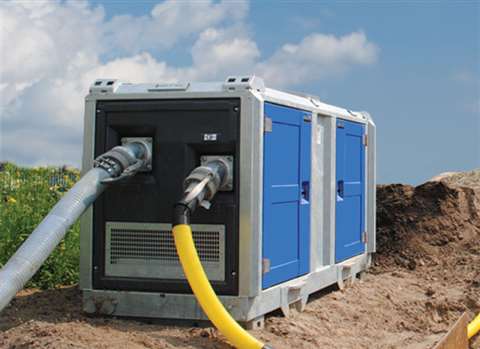 As Roland Berns, managing director of BBA portable pumps, explained, challenging market conditions have meant many companies are becoming ever-more budget conscious when selecting equipment.
Responding to contractor feedback, he said designing a durable product range capable of coping with the demands of wide-ranging construction sites and tighter environmental policies has remained a core priority.
BBA's pumps have been used in major ventures as diverse as dewatering projects at the Panama Canal, assisting with the management of water levels for a hydroelectric power plant near Moscow, to mining operations in Portugal.
Mr Berns said, "What we have seen is that our customers are experience rising levels of cost, which is why we have developed pumps like our PT150 which fit with a strategy of trying to lower the cost of ownership of equipment.
"So what we are doing is designing products that are meeting emissions standards and are also mindful of fuel economy and the environment. One of the main things that we have now done with this pump is shorten its service maintenance times."
He said the latest wellpoint PT150, which is said to have improved hydraulic performance and up to +14% increased efficiency, would prove a valuable addition to its range.
BBA has also released Stage IV/Tier 4 Final-complaint pumps across the 130 to 560 kW power range, to meet the 2014 European, Japanese and US emission regulations for diesel engines in off-road applications.
The units are driven by engines featuring a selective catalytic reduction (SCR) system, which BBA said had also resulted in lower fuel consumption. The SCR system uses a diesel exhaust fluid, called AdBlue in some markets, to reduce nitrous oxide (NOx) levels in the exhaust gas stream.
Electric vs diesel
One of the features of the pumps sector is that both electric and diesel-powered pumps are common, making for a fragmented market.
Atlas Copco vice president for pumps business development Per Rehn said that on the electrical side, there were some companies that could be described as global, but not when it comes to diesel-powered pumps.
His colleague, pumps product marketing manager, Abet Cantuba, agreed, saying, "At the moment there is really no dominant player. Our ambition is to be among the leaders in dewatering pumps."
An important step towards this was the introduction this summer of a new range of diesel-driven portable pumps. The 4, 6 and 8-inch (102, 152 and 204 mm) dry-prime units – PAS 4, PAS 6 and PAS 8 – are said to deliver high performance and operating efficiency for the rental and dewatering markets.
Atlas Copco already offered electric, pneumatic and hydraulic submersible pumps. It said the PAS diesel-driven pumps extended its dewatering range for tough environments or where electricity is not available.
The PAS dry-prime pumps are best suited to transporting or lifting water with abrasive solids in suspension. Applications include dewatering at construction and mine sites, floodwater or stream diversions, and sewage bypass.
Mr Cantuba said, "We understand our customers operate in critical situations. In order to get their job done, they need fast and reliable dewatering first and foremost.
"The PAS combines high performance with minimum operating expense. For rental companies and dewatering contractors, this is extremely important as it enables them to get a faster return on equipment acquisition costs, which is exactly what they require to stay competitive."
The PAS 4, PAS 6 and PAS 8 have an operating flow range of 50 to 600 m3 per hour, with a maximum head of 37 m. Their solids handling capacity reaches up to 76 mm, and they feature an environmentally-friendly, oil-free vacuum pump priming system, which Atlas Copco said automatically removes air from the water, and ensures uninterrupted, unsupervised operation.
Mr Cantuba added, "We have selected good components. "This includes a Kubota engine, which he said delivered high performance at full load operation.
He explained that Kubota was perceived as a good quality engine, but was seen by some as being expensive. The marketing manager claimed that other companies had found they had to compromise performance to increase efficiency, "but that is where we can bring value to the market".
He said, "Efficiency is as important as performance. What we do now is have a wide range of engine speeds so that the optimal speed can be selected.
Mr Rehn added. "It's performance first, and efficiency immediately after that. Reliability is the key thing."
Mr Cantuba said, "High performance will lead to high productivity, because if it runs for a long time without unexpected failures, it will finish the dewatering job faster. Pumps are machines to solve problems, so they must perform."
He said Atlas Copco had the manufacturing competence. "Other companies know what to do, but don't have the ability to do it on a large scale. With diesel-driven pumps, most – if not all – struggle with the exhaust emissions regulations."
The company's experience with producing generators has helped, with Mr Cantuba pointing out that a generator and a pump are basically very similar animals.
Compact pumps
With this experience, Atlas Copco said it was also able to make compact pumps with advantages for transporting them and for storage, which it claimed were simplified by the compact and robust canopy, forklift slots and lifting eye.
Japanese pump manufacturer Tsurumi has introduced a number of drainage models to the market this year, including a new level sensor KTZE pump, as well as two sand pumps – the GPN415, with a 15kW motor, and GPN 622 , with a 22kW motor.
The new drainage KTZE pump is based on Tsurumi's existing KTZ range, which the company said was tested and proven as a result of several heavy-duty applications.
The new model is available in seven variants from 1.5 to 3.7 kW at 400 V. They pump 430 to 1,440 litres/minute, depending on the model, and create a maximum lifting head of 36.5 m. The discharge of the pump can be adjusted either horizontally or vertically. Tsurumi said this helped to keep the pump standing in the direction of discharge, although the pump can run in any position.
It said that, in contrast to other models on the market, electrodes determined the level of control in the pump, increasing reliability with no moving parts.
This is said to be an advantage on a construction site if the ground is not flat, and the company said electrode type sensors were more reliable and long lasting, reducing the potential for damage.
The automatic pump can be left unattended, said Tsurumi, saving substantial operating costs. The pump starts when the sensor identifies the correct water level and stops as soon as the water level drops below a certain point. The user can manually adjust the level required in order to maintain the amount of water desired.
Tsurumi is a universal contractor pump manufacturer for dirty water solutions such as rain water, sandy water and groundwater.
Water contaminated with granular solids up to 8.5mm in diameter can be pumped away using the KTZE, it said.
The pump's housing is made of cast iron and is said to be resilient, with the semi-open vortex impeller made of chromium cast iron while the double mechanical seal in the oil chamber is made of ultra-hard silicon carbide. The pump is designed for longevity and Tsurumi said it could run all day, and is protected by a continuously cooled and lubricated mechanical seal by a patented oil-lifter and a thermal overload switch.
The company launched its new KTD pumps earlier this year – including the KTD22.0 and KTD33.0 models. The KTD pump is an agitator version of Tsurumi's most popular cast iron pump from its KTZ series.
Submersible pumps
Mody Pumps, a US-based manufacturer, claims to be one of the fastest-growing submersible pump manufacturers in the world.
It has a variety of products for the construction market, including a line of dewatering and sewage by-pass pumps. It recently introduced two new pump series to expand the line – the Mody G1200 and G1300 Series.
The family-owned company has its roots in India from where many of the dewatering and sewage pump components are manufactured to ISO 9001:2008 quality control guidelines. Mody Pumps offers its complete pump line via a worldwide network of qualified distributors/service centres, while it also offers their products direct to pump rental companies under private label and also direct to OEM companies.
Subaru's PKX pumps are now backed by Subaru's new 5-year limited warranty, covering both the engine and the pump.
Subaru centrifugal pumps are siad to combine a powerful overhead cam engine, heavy-duty construction and reliable performance for a variety of applications.
The self-priming pumps are available in 2-, 3- and 4-in (51, 76 and 102 mm) models. Each model is powered by a Subaru EX Series overhead cam engine, which the company said provided maximum performance, lower emissions and better fuel economy.
The 2-inch (51 mm) PKX220 is powered by the EX16, a 3.2 kW engine, and offers a delivery volume of 650 litres/minute.
Powered by the 4.2 kW EX17 engine, the 3-inch (76 mm) PKX320 provides a delivery volume of 1,100 litres/minute. Finally, the 4-inch (102 mm) PKX401 offers a delivery volume of 1,348 litres/minute and is powered by the 6.6kW EX27 engine.
Designed to offer durability for the most demanding job sites, Subaru centrifugal pumps are said to use high quality, heavy-duty materials.
An abrasion-resistant, cast-iron three-blade impeller helps ensure long life, while a hardened cast-iron volute is designed to withstand debris sucked through the strainer. The advanced volute pumps water straight into the cavity for fast priming. The carbon ceramic seal is self-lubricating and claims to provide many hours of trouble-free service.
Subaru centrifugal pumps feature a durable, heavy-duty strainer to protect the pump from large solids. The hole diameter prevents large debris from entering the suction hose. A strong aluminium die-cast housing is built to withstand the debris allowed. Suction and discharge nipples have standard NPT fittings for quick, easy hose connections.
Vibration isolators also come as standard and lessen vibration to keep the pump stable. For quiet operation, the centrifugal pump features a low-tone muffler and a sound-suppressing air cleaner.
The company said that routine maintenance could be completed in the field with common hand tools. Four stainless steel cap screws hold together the aluminium casings, and all wear parts are exposed when the cover is removed, making maintenance convenient.
The large plastic plugs make draining and filling easier and eliminate corrosion between the plugs and casing.