Rate rises assist Sunbelt to pre-Covid revenue
By Euan Youdale17 September 2021
Ashtead, the parent company of Sunbelt Rentals, announced rental revenue was up 22% in the first quarter of its financial year, ending 31 July, compared to the same period in 2020. More importantly, said the company, rental revenue rose 12% compared with the first quarter of its 2019 results, before the Covid-19 pandemic struck.
According to Ashtead, the revenue increases were helped by the incremental improvement in rental rates since March, resulting in higher rates than have been seen for a number of years.
The strong performance also reflected the group's long-term strategy to broaden its end markets, partly through acquisition, it said, while maintaining a strong balance sheet.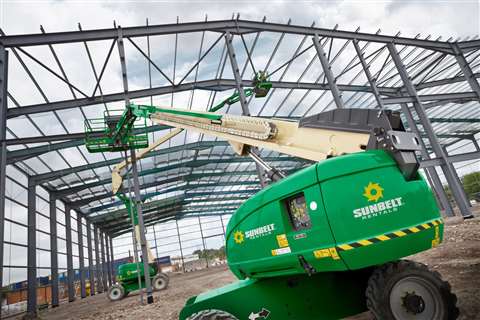 Group investment
In the quarter, Sunbelt invested $551m across existing locations and $123m on five bolt-on acquisitions, adding a combined 29 locations in North America, in line with its 3.0 strategy. A challenge in the quarter, said the company, came from new fleet deliveries, which were slower than expected due to supply chain delays. It resulted in the company deferring some fleet disposals to meet strong demand in the market.
Group total revenue for the quarter increased 23% to $1,852m over the first quarter in 2020. Again, compared to the same period in 2019, group revenue was up considerably, at 14%. This revenue growth resulted in adjusted profit before tax increasing 68% to $437m, year-on-year.
In the US, rental only revenue was 16% up at $1,102m and 7% higher than 2019. The company said the growth partly resulted from its strategy of growing its specialty businesses and broadening end markets.
The Sunbelt UK business generated rental revenue of £99m, up 24% on the first quarter last year. While the business continues to benefit from the support it provides to the UK Department of Health in its Covid-19 response efforts, the core business is performing strongly too, said the company.
In the quarter, the general tool business grew 14%, from the depressed activity levels in the previous year, while the specialty businesses, which grew throughout last year and by 22% in the first quarter of this year.
Higher forecasts
Canada's rental only revenue increased 81% to C$111m, which reflects the fact that lockdowns affected Canada more severely than the US, and the lighting, grip and studio business generated minimal revenue as most film and TV production activities ceased in the March to July 2020 timeframe.
Ashtead's chief executive, Brendan Horgan, said 2021 revenue should beat previous forecasts, "Our business is performing well in supportive markets with strong momentum. The benefit we derive from the diversity of our products, services and end markets, our investment in technology and ongoing structural change, enhanced by the environmental and social aspects of ESG, enables the board to look to the future with confidence and we now expect business performance this year to be ahead of our previous expectations."