Reduce, reuse, recycle: Mixing technology
By Katherine Weir18 October 2019
Last year, the biggest trend in the development of new mixing technology was flexibility. While this area is still important, this year it is laser-focused on the tightening of environmental standards. Lowering emissions and recycling an increasing proportion of used materials is now at the forefront of new equipment design.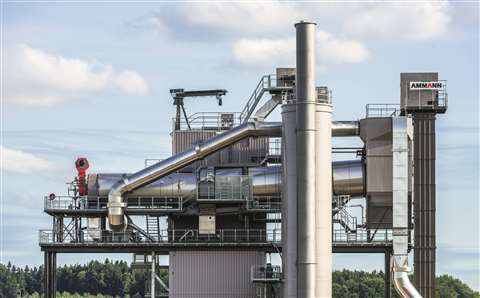 Switzerland-based Ammann celebrated its 150th year in business at the Bauma Munich exhibition in April. Günter Tesch, senior business development manager plants, Ammann, said, "In recent years, the focus is more aligned to saving resources and to reduce the CO2 footprint through measures such as low temperature asphalt. This results in developments around high RAP [reclaimed asphalt production] technology, which becomes more important in today's mixing world."
Reducing emissions
Looking to the future, Ammann says that there is a great deal of opportunity in production management tools that include plant control. Tesch added, "The Ammann as1 control system is connected to a jobsite planning and production tool that can greatly benefit customers and uncover value throughout the paving process – starting at the plant and continuing through the last pass of the finishing compactor."
For Italian manufacturer Marini, Bauma provided a platform to show its expanded mixing range with a 'revolutionary system' for using RAP in asphalt mixes.
Marini's Master Tower plant – said by the manufacturer to represent a new milestone in hot and warm asphalt production – is designed to cope with a high percentage of RAP, as much as 100% for some mixes. To achieve this, the company says it has had to rethink the way asphalt is produced.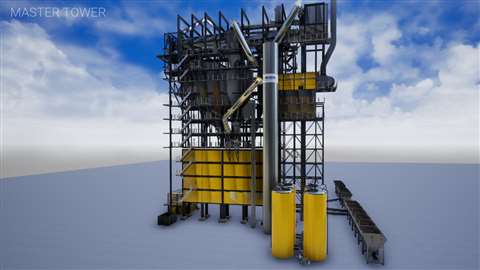 Firstly, the Master Tower plant has its two drums mounted end to end. The first drum is for drying the virgin aggregates and is heated by a burner. An internal tube carries the heat, stopping before it reaches the end of the drum. The hot gases then circulate through the drum, before passing through the heat exchange systems to the second drum where the RAP is added.
With this design, there is no direct heating of the bitumen. The plant can use a mix of virgin materials plus RAP or produce mixes from only recycled materials. Marini says that the three main benefits of the Master Tower are: low emissions, new performances for the usage of RAP and high energy savings.
Carbon-efficient cement
LafargeHolcim is increasing its efforts to improve the carbon-efficiency of its cements with the launch of the CO₂MENT project in Canada. The objective of the project – a partnership between Lafarge Canada, Inventys and Total – is to build the 'world's first' full-cycle solution to capture and reuse CO2 from a cement plant while also reducing greenhouse gas emissions.
This four-year project has three phases and is expected to be fully operational by the end of 2020. It will demonstrate and evaluate Inventys' CO2 Capture System and a selection of LafargeHolcim's carbon utilisation technologies at its Richmond, British Columbia, Canada, cement plant.
In the first phase, the partners will work on purifying the cement flue gas in preparation for CO2 capture. The second phase will focus on the separation of CO2 from flue gas using a customised for cement version of Inventys' carbon capture technology at pilot scale. In the final phase, the captured CO2 will be prepared for reuse and support the economical assessment and demonstration of CO2 conversion technologies onsite, such as CO2 injected and fly ash.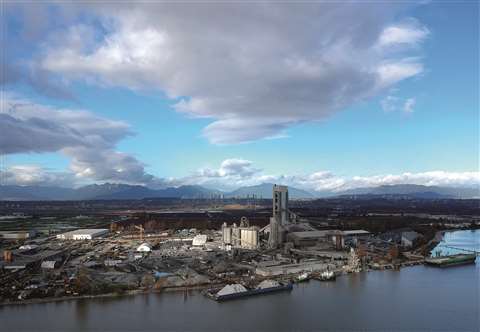 Lafargeholcim has launched the CO2MENT project to improve the carbon-efficiency of its cements at its Richmond,British Columbia, Canada, cement plant
LafargeHolcim is also investing in measures to reduce the clinker-to-cement ratio and consume less energy per tonne of cement by using lower carbon fuels.
René Thibault, region head of North America at LafargeHolcim, said, "We hope to discover ways to capture emissions from our production processes and reuse them in our products, advancing a circular economy even further than today."
Transportable mixing plant
Benninghoven's transportable asphalt mixing plant is now available with a recycling drum using counterflow action with hot-gas generator. The TBA transportable asphalt mixing plant covers the performance ranges 160–320 tonnes per hour, and is suitable for semi-mobile and stationary use.
The design of the main components in container format with plug-in wiring is said to allow for ideal transport options and reduced set-up times for the modular system.
The large storage capacities on the hot bin section and mixed material loading silo are said to offer added value. The intermediate storage of the dried, heated and sorted virgin mineral is available in capacities of 60, 80 and 130 tonnes in five, six or seven bins.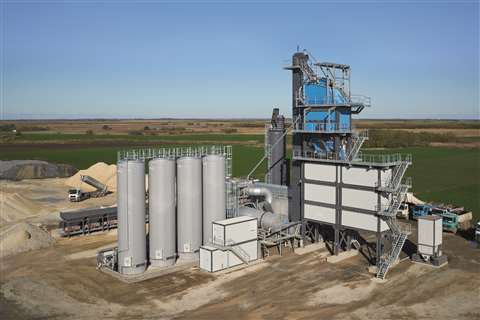 There is the possibility of combining or separating sand and bypass, discharging oversize aggregate outside or collecting it in the final bin.
Benefits of the hot gas generator are said to be increased energy efficiency, a reduction in emissions and greater efficiency.
Elsewhere, BHS-Sonthofen presented a new version of its current twin-shaft batch mixer, the DKXS 6.00, earlier this year at Bauma. The manufacturer says that the DKXS delivers 6m3 of hardened concrete per batch. The company's 4.5m3 version, the DKXS 4.50, has 'become the benchmark in mixing technology'.
Earlier this year, Unibéton, a French subsidiary of the HeidelbergCement Group, was producing specific ready-mix concrete for the Grand Paris Express project in France.
The company replaced a planetary mixer with a twin-shaft mixer (DKXS 4.50) from BHS-Sonthofen to improve the production process. The mixer was installed with frequency converters to enhance operations – said to be a first in France.
To ensure reliable and homogenous mixtures batch per batch, as Unibéton was using new concrete recipes that required longer mixing times, the DKXS was brought onto the project.
Alexandre Bernabé, technical engineer for the French market at BHS-Sonthofen, said, "Unlike other mixing systems with circular motion, the twin-shaft batch mixer offers a three-dimensional mixing concept that results in an intensive exchange of materials. This happens in the turbulent overlap area of the two mixing circles.
"This way, the twin-shaft batch mixer rapidly produces mixtures with consistently high levels of homogeneity. In the case of ready-mix concrete, cements and admixtures undergo optimal integration. Admixtures are rapidly and evenly distributed throughout the entire mixture. The three-dimensional mixing concept also leads to shorter mixing cycles with reduced energy consumption."
Monitoring the mix
Future Market Insights recently reported that the market for ready-mix concrete is rapidly rising, with many technological advancements within truck mounted concrete mixers helping companies gain a competitive advantage.
Various cement manufacturing companies are making use of volumetric concrete trucks to cut costs and see a reduction in downtime. The report uses CemenTech as an example, showing savings of 40% of concrete costs using a mobile volumetric mixer can be achieved.
At a recent press event, held at the company's facilities in Indianola, US, CemenTech CEO and president of the company, Connor Deering, said that, "This is a very special year, with CemenTech turning 50 years old." He also reaffirmed the company's intentions to, "lead the industry into the future."
The company also recently announced two new distributors for the US market, and the opening of a new factory in Manchester, England. The United Kingdom is said to be the second largest market in the world for volumetric concrete.
In August, Liebherr announced the launch of its new truck mixer with a semitrailer design and an optionally available telescopic conveyor belt (previously only available on fixed-mounted truck mixers). The HTM 1205/LTB 12+4 can navigate narrow ground and is said to have enhanced manoeuvrability, thanks to its rear steering axle.
The mixer has a 12m3 mixing drum, designed for optimum distribution of the axle loads, which also promises greater fuel economy, Liebherr said.
Talking about recent projects of interest, Klaus Eckert, head of marketing at Liebherr-Mischtechnik, said, "The concretes used in the production of wind power towers are at a very high level, but our customers want to keep this secret as it is a competitive advantage."
Speaking on the control systems of concrete mixing plants, Eckert commented that, "They are getting better and better. A continuous and high-quality concrete can be guaranteed, along with complete documentation. The trend with truck mixers and truck-mounted concrete pumps is the weight optimisation; compact design is also important."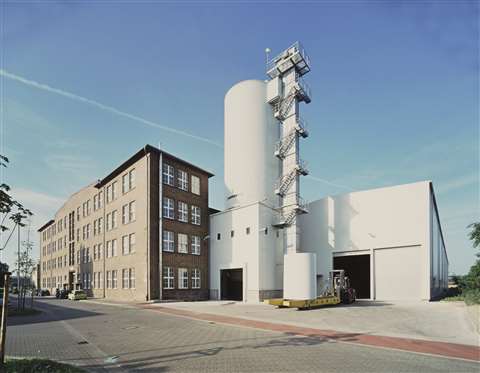 US-based technology giant Trimble has been developing advancements in mixed reality on the construction site, and says that its TrimFleet management solution 'benefits ready-mix delivery'.
Kevin Vonesh, worldwide strategic account sales manager for Trimble's construction logistic division, said, "The complete TrimFleet system builds on a reliable sensor suite and proven software platform.
"It provides real-time data of vehicle location and automatic event status (including loading, pouring, and adding water) throughout the entire delivery cycle, allowing improved efficiency and effective management of supply and demand."
An example given by Trimble is the water-add meter; a solid-state device that uses thermal changes to accurately detect and measure water flow.
The device creates a real-time event created for each water add occurrence, recording the time and water quantity automatically. This is said by the company to help eliminate operator errors and also stores the data in the local TrimView database, along with the ticket information.