SLD helps prevent dam collapse
By Leila Steed18 November 2019
Specialist rental company SLD Pumps & Power (SLD) has released details about how it helped to prevent a dam in the UK's Peak District from collapsing after it suffered some structural damage earlier this year.
In August, the Toddbrook Reservoir in Whaley Bridge, Derbyshire, which holds around 1.3 million tonnes of water, suffered a partial collapse after excessive rains in the region caused the water level to rise over the dam's already eroded spillway.
In a multi-agency response, SLD deployed 17 high-capacity Godwin and Xylem pumps and other related equipment in an effort to reduce water levels.
SLD's efforts were led by its Manchester branch and supported by three other local branches.
As the situation unfolded, the company quickly deployed additional equipment to help deal with the crisis.
A total of five Atlas Copco mobile generators with a combined capacity of 1MW, five large submersible pumps, Variable Speed Drives and 500 metres of 12-inch high-pressure hose, plus accessories were all used in the emergency.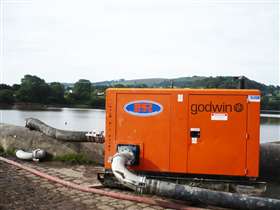 Richard Broughton, SLD's National Contracts Manager, said, "I received the emergency call at 3pm that the dam was in danger of failing and water levels had to be quickly reduced. By 4.30pm we had the equipment on site ready to go."
According to SLD, the combined multi-agency and local authority effort saw the water level reduced at a rate of 11m3/sec. After four days, the pumping operation removed an estimated 1.27 million m3 of water.
Broughton added, "It was one of the most important and high-pressure projects we have been involved with. The Environment Agency issued an evacuation order for the endangered area; however, not all residents would leave their homes.
"It required a huge team effort on the part of everyone involved to avert disaster."