Sarens Transports Marine Loading Arms at the Talara Refinery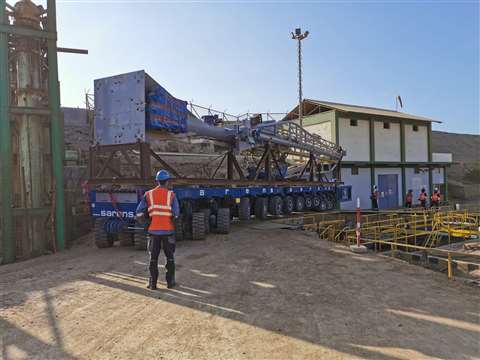 Technicas Reunidas asked Sarens to perform the challenging transport of the loading arms along the narrow curved passage.
The loading arms had to be moved through a very tight space around 3m wide. The transport had to be performed on the second fortnight of November during an outage of the refinery. Missing this time window, the team would have had to wait for one month onsite till December outage.
The team decided to deploy one Kamag24 SPMT (1x12) with 2 power packs to move the load smoothly. The SPMT was the only choice because of its flexibility. The equipment was brought in by ship and trucks from Houston in 10 days and was set-up in a few hours.
Sarens transported two marine loading arms measuring 25x3.5x3.5m and weighing 35T through a narrow passage around 3m with two curves.
Sarens KAM, José Mª Martínez Gutiérrez says, "It is always great to work for Technicas Reunidas, our main Spanish client by far and even more working at a job site again after 3 years." The Project Manager for Technicas Reunidas, Fernando Olmedo, adds, "Sarens did a very good job at Talara. The team was very professional and collaborative. The sales support before the awarding of the contract was as usual perfect, highlighting the support given at all times."