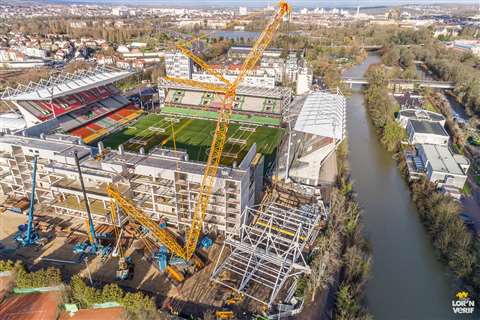 Construction contractors DeMathieu Bard and Costantini enstrusted international heavy lift and transport specialist Sarens with the job of installing steel structures for a new stand at the FC Metz sports stadium in Metz, France.
The steels weighing up to 242 tonnes for the new south stand were lifted with a 650 tonne capacity Demag CC 3800-1 lattice boom crawler crane.
To get the crane inside the stadium extensive matting was installed on the subsoil at the edge of the construction area. Julien Cavelius, Demathieu Bard site manager, explained, "With two layers (7 + 5 metres) of 20 cm thick Bongossi timber, we provided sufficient support for the crane."
Material for the ground preparation was brought in on 18 trucks and then the crane took 55 truck loads. "Since we brought eight to twelve transports to the construction site per day, just three Sarens employees, using two assist cranes, were able to assemble the crane ready for use in five days," Cavelius said. After assembly there were two days for acceptance and testing, so the crane was ready to lift in seven days.
Sarens set up the crane in SWSL configuration with 60 metres of main boom, a 36 metre superlift mast and 24 metre luffing jib. Superstructure counterweight was 165 tonnes while the superlift counterweight was the maximum of 325 tonnes.
The four steel structures were 45 metres long, 25 metres wide and 14 metres high. At first the crane lifted them to a height of 16 metres so they could be moved over a row of trees. Then the crane was slewed over the trees before lifting the load by a further 13 to 29 metres. It took the loads over the stadium's existing stand and then they were lowered directly into position for anchoring by technicians from Martifer, which made the steel structures.
"The lifting performed by the CC 3800-1 was an absolutely impressive spectacle for me. There has not been such a crane operation in Metz in the last 30 years," enthused Julien Cavelius.