Shell installation by Mammoet
By Alex Dahm11 March 2015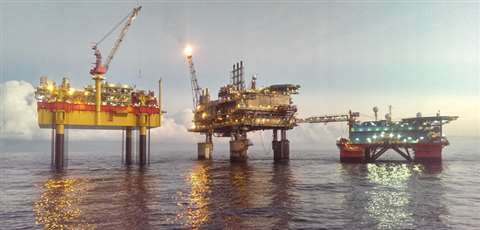 International heavy lifting and specialized transport company Mammoet completed the installation of a new type of oil & gas industry platform for Shell in the Philippines.
From construction to installation the Netherlands-based company worked on the Malampaya Phase 3 Depletion Compression Platform project for its client Shell Philippines Exploration. In the latest stage of the project Mammoet installed the platform in the West Philippine Sea in a 48 hour operation.
The Malampaya DCP is a new type of so-called self-installing platform, Mammoet said. It is floated into place over its final location and the legs are lowered onto the prepared seabed. A pre-installed jacking system jacks the platform on 80 metre legs to lift it from the water. It avoids the need for the large specialized vessels that are normally required for an offshore platform installation, Mammoet said, which means saving time and resources.
Mammoet was involved in the DCP's construction, assisting with lifting and lowering the platform during the fabrication process. During the platform's construction, the strand jacks were also installed to prepare for the jack down of the DCP's legs and to raise the platform into place.
Keeping a gas platform stable at sea, while installing the platform's legs on the seabed and being buffeted by waves, is a delicate process, Mammoet said. Movement is created when waves hit the floating platform. To keep it level, some of the strand jacks make upward movements at the same time as others are moving down. Helping to achieve this were "guying valves" and a new computer system to create tension and control platform movement on the water.