Shortlists announced for 2018 European Rental Awards
By Murray Pollok20 March 2018
More than 15 companies and individuals have been included in the shortlists for the 2018 European Rental Awards following the judging meeting in Brussels today (20 March).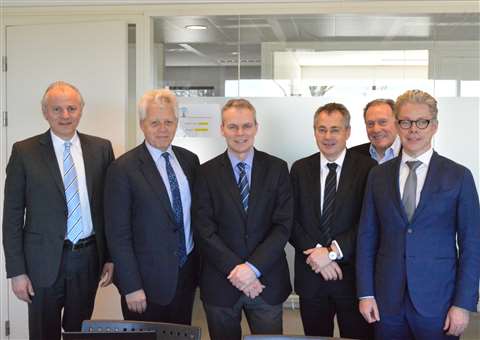 The winners will be revealed at the European Rental Awards dinner in Vienna, Austria, on 23 May, during the European Rental Association's (ERA) annual Convention. The awards are run jointly by ERA and International Rental News magazine.
The shortlists are:
Large Rental Company of the Year
A-Plant (UK)
Cramo (Finland)
Naboen (Norway)
Small/medium Sized Rental Company of the Year
Fast Rent (Switzerland)
Byggmaskiner-Gruppen (Sweden)
Georent (Georgia)
Rental Product of the Year
Arcotherm (Road Tow Heater) (UK)
Generac (Tower Light Cube+ Next) (Italy)
Hinowa (Lightlift 33.17) (Italy)
JCB (110W Hydradig) (UK)
Skyjack (SJ85 AJ) (Canada)
Wacker Neuson (AP1850e) (Germany)
ERA Technical Committee Award
Judged by the committee and announced at the awards dinner.
ERA Sustainability Committee Award
Judged by the committee and announced at the awards dinner.
Rental person of the year
To be announced at awards dinner.
Lifetime Achievement Award
To be announced at awards dinner.
The judges thanked the more-than 40 companies which entered the awards and said they were delighted that the high standard of previous years had been maintained, "After several weeks going through the award entries individually and then discussing them collectively today, it is clear that there is no shortage of innovative rental companies and equipment manufacturers in Europe's rental market.
"It is a very tough process, and it is always difficult to leave out companies who have performed well or who have developed interesting products, but we are happy that the chosen shortlisted companies have all done wonderful work. We look forward to giving them proper recognition at the dinner on 23 May."
The judges for the awards were:
Pierre Boels (CEO, Boels Rental & President, ERA)
Michel Denis (CEO, Manitou)
Gérard Déprez (CEO, Loxam)
Pierre-Nicola Fovini (President, CGT Edilizia)
Murray Pollok (Managing Editor, International Rental News).
Non-voting chair: Michel Petitjean, Secretary General, ERA
To book your place at the awards visit the ERA's website: http://erarental.org/en/events/convention/era-convention-2018
Shortlisted companies will receive two free tickets for the awards dinner.