Small wonder: compact telehandlers
By John Wyatt19 March 2008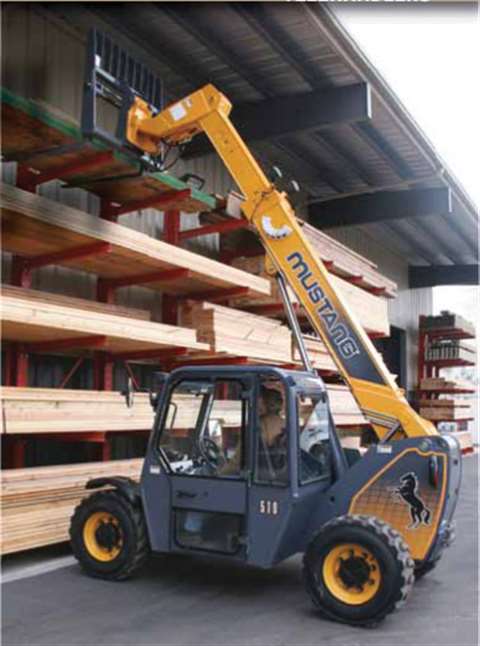 Easy to transport, cheaper to buy and highly maneuverable, the compact handler is one of the fastest growing sectors of the telehandler market. John Wyatt talks to manufacturers and rental yards about the strengths of the mini handlers.
Sometimes, less is more. The growth of the "European–style" telehandler, those compact units that have far less lift height and capacity, have built a reputation as both a pick and place machine as well as material handler. With the smaller unit's ability to maneuver into the tightest of jobsites and still offer a decent load capacity with several different attachments, such as augers, grapples and buckets, more rental yards and end users are asking for this sized machine.
As JLG's Product Parent, North American Telehandlers' Brian Boeckman tells ALH, AEM data H suggests that the less–than–5,500 pound class of telehandlers is the fastest growing segment in the market. Pretty much all the major producers have telehandler models in this range, the oldest being JCB's 520 and the most recent being the latest offerings from Mustang and Gehl, released this year. So, it hardly seems a niche market anymore but a versatile product that can be found in several applications.
When asked what advantages the smaller models have over the mid to large range machines, the obvious answer was that end users are asking for more compact sizes, narrower dimensions and lower heights. This is because anything larger is viewed as overkill. The applications for these machines include but are not limited to parking structures, nurseries, landscapers, some general construction and residential. That being said, it's understood why a larger range machine is too much.
"What end users want is a decent capacity on a small machine," says Boeckman. "On large job sites, they'll use this machine as a yard machine for material receiving and handling." JLG's smallest range models are the G5–23A the G5–19A, released in North America at World of Concrete in 2005. Boeckman says the G5–19A's 79 inch height is ideal for parking lot construction. The unit has a maximum reach of 19 feet with a total weight capacity of 5,000 pounds.
JCB prides itself as one of the first to introduce a smaller range machine in the US, roughly 10 years ago. Mid Range Product Marketing Manager James Blower says its 520 model, with a lift height of 161/2 feet and 4,400 pound maximum capacity, is found in parking job construction and "small barns, that's where it really shines." He says that customers are asking more and more for narrower and lower profiles to allow access through doorways and tight buildings. Blower says the company is looking into the production of a smaller model than the 520 but plans are at the "beginning phase." The company manufactures the smaller Teletruk, but this is more of an industrial forklift.
Another advantage to the smaller machine is its light weight. Mustang's Region Sales Manager Steve Challoner says this is important for a couple reasons. The company's 519 model weighs 10,000 pounds, meaning it is easily transported on a trailer hauled by a larger pick up truck. The other benefit is the high floatation tires that will not sink on muddy jobsites, whereas a larger telehandler could be stuck when maneuvering in this type of surface.
Challoner also says the unit is used as a "feeding machine," carrying smaller pallets of mortar and block to a crane or larger telehandler.
And of course, the compact machines are less expensive. According to Challoner, roughly speaking, the less–than–5,500 pound machines are two–thirds of the cost of the next sized range machine. Plus, the smaller machines he adds have further cost saving in maintenance.
"It has different components that are less costly than the larger machines to keep up," he says.
In St. George, UT, H&E Equipment Services has been selling several small units, in particular Genie's GTH–5519 and Gehl's RS5–19. Joe McKeehan, a sales manager at H&E, says in his region, landscapers are using the smaller machines complete with all the attachment options, such as buckets, rotating fork carriage and work lights. Most sales he says have gone to the brick and block masons, material yards and the cultured stone contractors. He says its strongest benefit is its ease of transportation.
"Since it is a 10,000 pound machine, it can be hauled on a trailer behind a pick up truck, which does not require a Commercial Drivers License license. Once you cross that line (gross vehicle weight is 26,000 pounds for your truck, trailer and cargo), the world changes: Insurance is more, vehicles cost more," McKeehan says. He explains his branch location is only miles from Arizona's border and that the branch does a lot of interstate work. When entering other states, there's a point of entry that requires permits to travel. Commercial transport drivers have to track miles and pay a highway tax based on the mileage.
"So, these little [compact telehandler] machines will go right behind a pick up truck and allow you to basically run exempt from those requirements that heavy haul trucks are encumbered with," he says.
In the Heartland, ACME Electric's rental division ACME Rents in Bismarck, ND doesn't carry a large number of handlers, but of the 10 it has in its fleet, the Genie GTH–5519 hasn't been idle since the company ordered two models several months ago. In June, the company ordered two more.
"The niche we've figured out is there is a great retail market there. People want to own those once they rent them. They're able to justify the purchase of that versus just renting it," says Blair Ihmels, general manager at ACME Rents. He says the end users have been quite varied, from roofers who can operate the machine on a driveway (a midrange would exceed the asphalt's weight), to asbestos abatement contractors that place pallets underneath the removal of the material.
Genie's Product Manager Luke Webber calls the machines "chameleons."
"Just a few years ago, you didn't see very many compact telehandlers on jobsites," Webber says. "Now you can find them on nearly every one. From the construction of garages, with access restrictions in some cases less than 6 feet 8 inches, to the running of augers and sweepers, to being a heavily utilized material mover, there are as many possible applications as there are jobsites." He says at this time, Genie has no plans to produce a smaller unit than its 5519.
The compact unit is not just an outdoor machine, and more and more contractors are utilizing these indoors, says Telehandler Product Manager Steve Kirst with Gehl. He says industrial for contractors doing interior renovation and restoration."
Far out east in Sterling, VA Sunbelt Rental's Profit Center branch carries the JCB 520, and each year within its annual budget, it makes sure to place an order of four to six of this model. Currently his branch has 20 of this model in the fleet. Manager Barry Holdcroft says the market for compact units in his region is 70% construction; 30% landscaping.
JLG's Product Parent, North American Telehandlers Brian Boeckman says "The market is excellent for these. It's very strong and continues to grow," says Holdcroft
The market does sound strong. As ALH reported in its first supplement ("Market maturity" feature, October 2006), the smaller unit is a rental machine, with 75% of sales to that market. However, all manufacturers and dealers say the machine is going to both, as the contractor finds the machine affordable and easy to transport. The compact unit is appearing on more and differing types of jobsites, from residential, commercial and industrial applications to agriculture and farming to meterial yards. It looks like the minihandler is definitely here to stay.