Speyser Sennebogen goes to work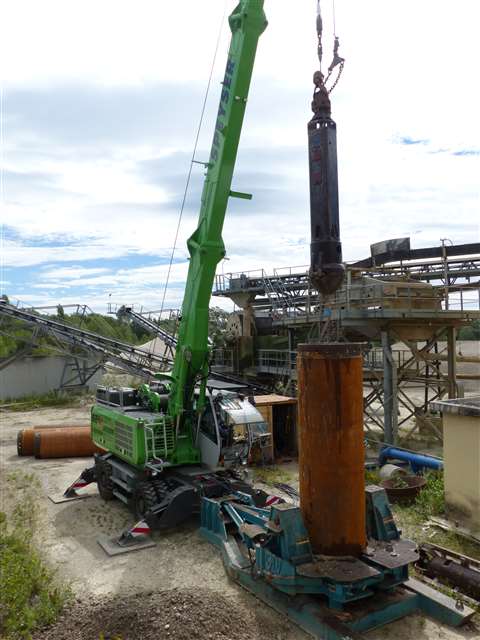 Drilling specialist Speyser in France put its new Sennebogen 624 E crane straight to work on a job near Strasbourg.
Sennebogen described its new model as a taxi duty cycle crane that follows a new concept. Family-run Speyser from Bas-Rhin specialises in large-diameter and deep drilling operations. An example of this application was on the gravel pit project south of Strasbourg where Speyser drilled large-diameter boreholes to allow commissioning of the gravel extraction system.
Christophe Sprauel, Speyser managing director, commented, "Our customers see great demand for drilling in inner city areas, in spaces that are becoming more and more confined. We were looking for a versatile, compact, and powerful machine that could be commissioned as soon as it arrived on site."
In response to this requirement Sennebogen changed the traditional format of a lattice boom duty cycle crane on crawler tracks. The boom was substituted with a foldable box-type designed to be easily and quickly assembled into the transport position. It has two axles with two wheels on each corner instead of crawlers.
Operating weight was given as 27 tonnes. A pair of 6 tonne free-fall winches are mounted in the upper works and there is an individually adjustable free-fall brake.