Success for first North American tower conference
By Murray Pollok20 June 2018
More than 275 delegates gathered in Miami, Florida, on 18 and 19 June for a very successful first Tower Crane North America (TCNA) conference.
One of the key messages from the event, voiced by two senior figures in the industry, was that although activity levels are currently very high, rental companies should aware that market conditions can change quickly.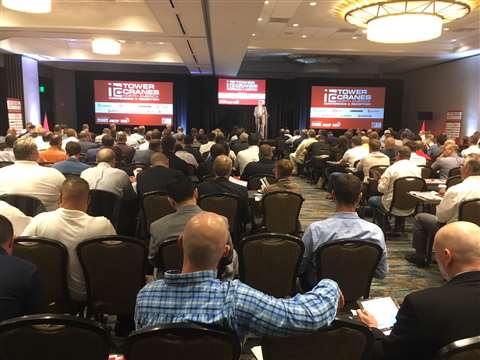 Keynote speaker Christian Chalupny, president of Morrow Equipment, said he was reasonably confident that the market would remain strong for the next 18 to 24 months, but that the market operates in cycles and that a slowdown would come.
Maxim COO Frank Bardonaro agreed that the pipeline of work was good, but sounded a cautionary note by citing the confidence and investment in cranes that was continuing in the run up to the 2008 crash. He said rental companies had to be aware of the value of their services and the expertise of their staff, and charge rates that reflect this.
Another area of keen debate was the use of hook block cameras. During a round-table debate Billy Smith of NBIS challenged Peter Hird of BlokCam and Chris Machut of HoistCam on the use of cameras, claiming that they could leave crane operators and crane companies legally exposed in the event of accidents.
Hird said cameras were a safety aid and were being adopted by more and more companies in Europe, especially the UK, and further afield, sometimes at the behest of the contractor on site. Machut emphasised that the normal requirements for operating cranes safely were not bypassed through the use of cameras, with cameras acting as an additional aid for operators rather than a replacement for traditional procedures.
Meanwhile, Peter Juhren of Morrow, and chair of the SC&RA's tower crane committee, outlined how crane companies should prepare their towers for hurricanes and other severe weather events. He emphasised the need to prepare well in advance: his message was that if you start preparing only when a weather warning is issued, then it is already too late.
Another key theme of the event was the challenges that taller buildings, often of unusual form, and faster construction schedules are having on tower crane suppliers. Both Wolffkran and Terex Cranes described some of the technical solutions they are developing with customers to adapt to the demands of contractors.
Marco Guariglia at Liebherr reported on the company's soon to be launched fibre ropes, jointly developed with Austrian rope manufacturer Teufelberger, which he said would extend rope life considerably and increase lifting capacity.
All of the presentations will be available for download from the conference web site: www.khl-tcna.com
The conference was organised by KHL Group and its magazines International Cranes and Specialized Transport and American Cranes & Transport (ACT), supported by official event partner Specialized Carriers and Rigging Association (SC&RA).
The date of the next TCNA conference will be confirmed in the coming months, while the International Tower Cranes (ITC) event will take place in Vienna, Austria in 2019, with the dates to be confirmed.