Sweet 16 for Cropac
By Alex Dahm27 March 2020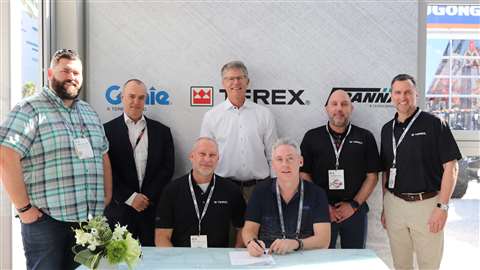 Canadian crane specialist Cropac Equipment has celebrated its first quarter business success with manufacturer Terex.
Orders placed for 16 new Terex tower cranes were celebrated with champagne at the ConExpo construction trade show in Las Vegas, early March.
Cropac, which has depots on the Atlantic coast and in Eastern Canada, said it continues to see growing demand for Terex tower cranes throughout its distribution territory. Bill Finkle, Cropac president, commented "Our latest orders reflect the strong demand in our territory for Terex Tower cranes from both existing as well as new customers which is a testament to Terex Tower cranes performance, reliability and continuous innovation that leads the market. Cropac Equipment prides itself in its after-sale service support and ensuring that we always have the right crane for our customers when they need it and the broad tower crane product offering from Terex allow us to do that."
Terex towers among the 16 ordered included the SK 415-20 and multiple units of the recently launched CTT 472-20 flat top model. Versatility is a key feature of this crane, the manufacturer said. Eleven jib configurations are possible, from 30 to 80 metres. Maximum load is 20 tonnes and capacity at the end of the longest boom is 4.48 tonnes.
Also among the new cranes were the CTL 272-18 luffing jib tower aimed at work in urban environments. Capacity is 18 tonnes with a 2.9 tonne capability at 61 metres with single line pull.
James Graham, Cropac business development manager, said, "We have seen an increase in demand for luffing jib cranes due to enhanced work area restrictions and having a comprehensive luffing jib offering from Terex ranging from 11 to 72 US tons as well as new Hydraulic luffer technology first introduced on the 13.2 US ton CTLH192-12 will allow us to continue to meet our customers' evolving lifting needs."