The 2018 TopLift contest extended
By Christian Shelton19 November 2018
Entries for this year's IC Top Lift contest include a strong selection of impressive lifts from around the world, all completed in the last 12 months. Readers are asked to pick their favourite lift from our selection of ten outstanding projects.
To place your vote, please download the voting form here and return it as soon as possible.
Make your opinion count…
Entry 1 - Overnight bridge dismantling

Equipment user: Schmidbauer
Lifting equipment used: Liebherr MK 88 Plus
Location: Germany
Schmidbauer used a Liebherr MK 88 Plus to dismantle a cable bridge at a Munich hospital on the banks of the River Isar. The crane hoisted the cable bridge off its two support points, turned the bridge in the air so that its length was parallel to the road, and then it was slewed between overhead tram power cables and road light guys. In addition, power to the area was switched off at 2:30 am so the crane provided the main light source for the job.
Entry 2 - World's tallest turbines
Equipment user: Max Bögl
Lifting equipment used: Liebherr LTM 11200-9.1 wheeled mobile hydraulic crane and a Liebherr 630 EC-H 70 tower crane
Location: Germany
Max Bögl erected four wind turbines in the north-east of Baden-Württemberg. The turbines stand on top of 40 metre high concrete water storage basins, creating an overall total turbine height of 240 m.
A Liebherr LTM 11200-9.1 was used to build the basins while a 630 EC-H 70 top slewing tower crane carried out the remaining work on the turbine towers.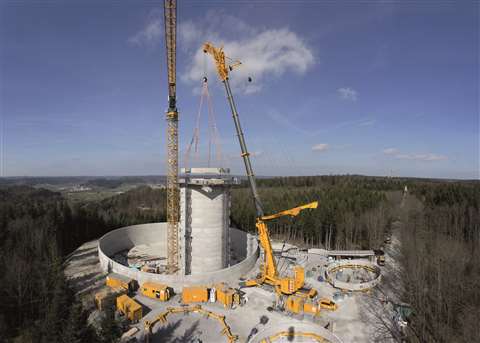 Entry 3 - Record vessel lift
Equipment user: Zagrebtrans
Lifting equipment used: Demag CC 3800-1 lattice boom crawler
Location: Croatia
Zagrebtrans used its latest acquisition, a 650 tonne capacity Demag CC 3800-1 lattice boom crawler, to assemble an offshore platform crane at the Uljanik shipyard. Lifts included components weighing up to 400 tonnes and were carried out over a period of six months, withstanding extreme weather conditions.
Entry 4 - Floating crane wind work

Equipment user: Asian Lift Smit Singapore Pty and Keppel Fels
Lifting equipment used: Asian Hercules III
Location: Aberdeen Bay, 3 km off the east coast of Aberdeenshire, Scotland
The 5,000 tonne capacity Asian Hercules III floating crane was used to lift and install 11 steel wind farm jacket foundations for the Aberdeen Offshore Wind Farm. Weighing 1,800 tonnes, the foundations were 77 metres high.
Entry 5 - Public library demolition
Equipment user: Smith Bros. & Wilson
Lifting equipment used: Terex CTL 430-24 luffing jib tower crane
Location: Canada
Smith Bros. & Wilson carried out the demolition and reconstruction of the eighth and ninth floors of the downtown Vancouver Public Library using a freestanding 24 tonne class Terex luffing jib tower crane which was anchored using a 'floating' concrete base.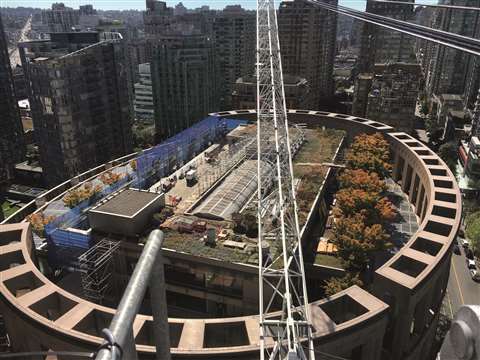 Entry 6 - African module lift
Equipment user: ALE
Lifting equipment used: AL.SK350
Location: Nigeria
ALE used its heavy-duty jib for the first time to lift a 1,276 tonne floating production storage and offloading (FPSO) unit in in Lagos. The AL.SK350 was rigged in its biggest configuration with a 124 metre A-frame main boom, a 49 m ballast radius, and the 38 m jib for additional outreach, along with a heavy winch system and 4,000 tonne ballast.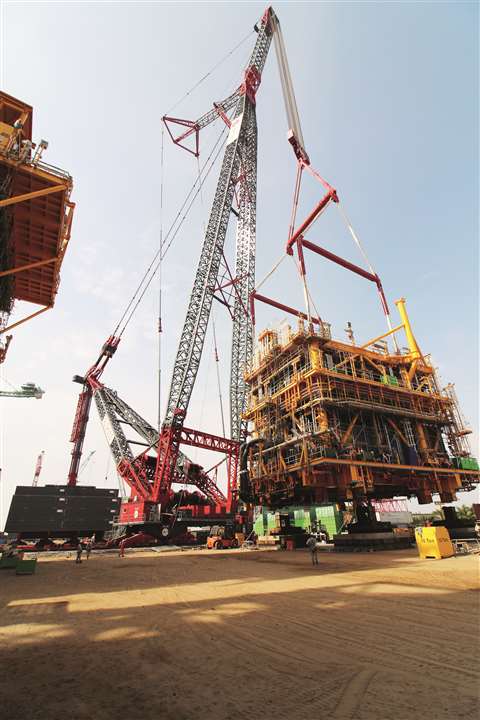 Entry 7 - Railway bridge replacement

Equipment user: Sarens
Lifting equipment used: Liebherr LR 1600/2 crawler crane
Location: Belgium
Two parallel railway bridges crossing the Sambre river in Tamines, had to be replaced by a single bridge. Sarens used its Liebherr LR 1600/2 crawler crane to remove the two old bridges, install foundations and then place the new bridge, which weighed 360 tonnes.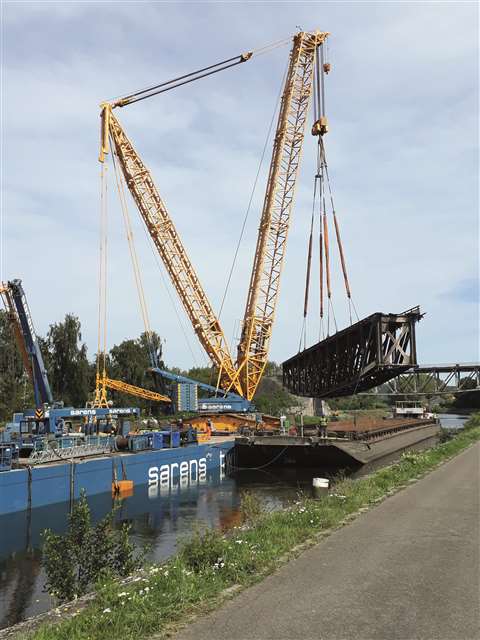 Entry 8 - Chemical plant completion

Equipment user: Mammoet
Lifting equipment used: Mammoet PTC 200-DS ring crane
Location: USA
Mammoet completed 62 heavy lifts at Lotte Chemical's mono-ethylene glycol project in Louisiana. The lifts ranged from 27 to 1,451 tonnes, the largest of which was a 100 metre high wash tower. Mammoet used its PTC 200-DS with a total reach of 217 metres.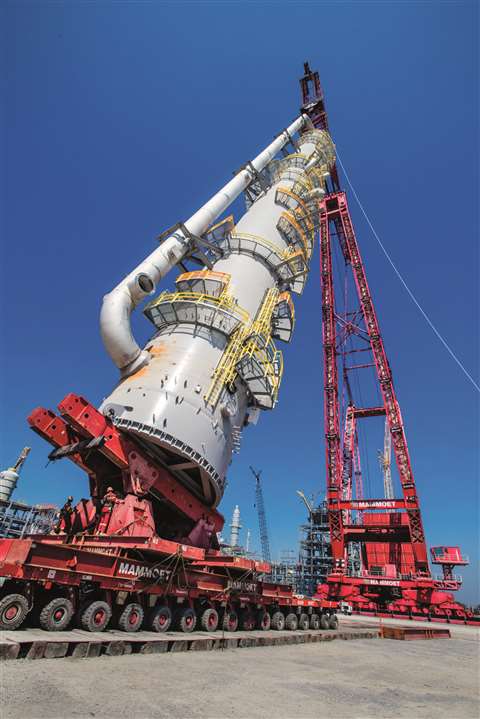 Entry 9 - Building bridges
Equipment user: Route du Littoral consortium
Lifting equipment used: Jack-up barge (the Zourite) with 4,800 tonne capacity, 30-metre-Enerpac overhead travelling crane
Location: Reunion Island
Supplied a barge-mounted overhead travelling crane (OHTC) to lift, move and lower concrete gravity bases, pile heads, and pier segments for the construction of an offshore highway on Reunion Island.
The OHTC had a lifting capacity of 4,800 tonnes. Enerpac used winches and a trolley system to manoeuvre the bridge parts into place, as well as a pier positioning system – to place piers with millimetre accuracy.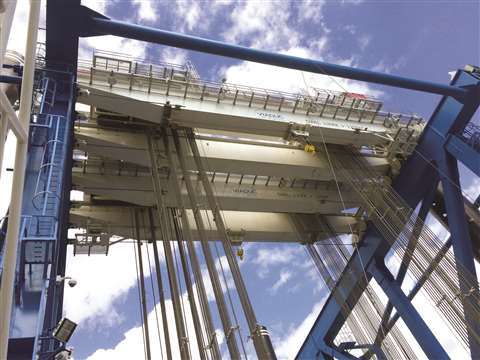 Entry 10 - Protecting Venice

Equipment user: Fagioli
Lifting equipment used: Fagioli in-house launching system
Location: Italy
Fagioli completed phase two of a project to install barriers to isolate and protect the Venetian Lagoon area from the Adriatic Sea. Fagioli used an in-house built launching system to install 19 gates, each weighing 450 tonnes. The launching system had a lifting capacity of 690 tonnes, a loading capacity of 870 tonnes, and contained a movable tower capable of rotating 180 degrees.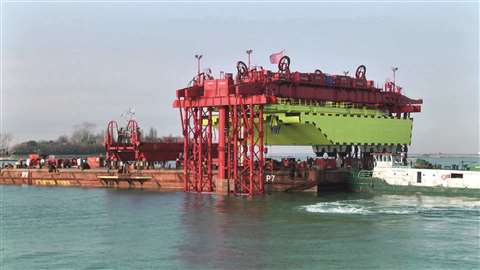 The winner will be revealed in the December issue of International Cranes and Specialized Transport magazine.
Supporting documents
Click links below to download and view individual files.