The start of something big signals the end of an era
By Steve Ducker28 June 2021
Spain welcomes first use of KTEG's KMC1200S demolition excavator.
The KMC1200S, built by German company KTEG and sold through the Spanish Hitachi dealer Hispano Japonesa de Maquinaria (HJM), went into service as the largest demolition excavator in Spain on 11 June 2021.
The machine, in service with the Basque demolition company Lezama Demoliciones, is supporting demolition work at the former Anllares coal-fired power plant in the northwest Spanish province of León.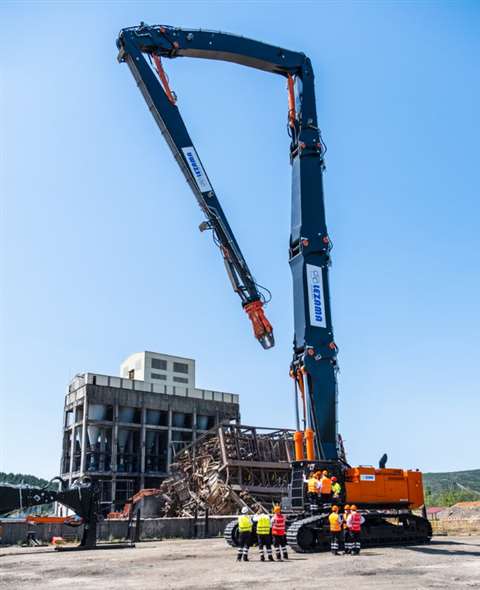 Coal-fired power plants are being decommissioned all over Europe, with the associated sites being revitalised, and Anllares went off the grid in December 2018.

Despite previous blasting, the work for the deconstruction is moving at 35 m (114 ft) and above, so utilising equipment like the KMC1200S is key for these type of operations .
KTEG develops and builds specialised tools, such as the KMC1200S, for such applications. The interchangeable boom system allows the reach to be varied from 27m to 51m (88ft to 167ft).
The entire hydraulic system of the KMC is designed to operate an impressive three tonnes of attachments at a height of 51m.

Thanks to the 30t counterweight, and the almost square footprint of the specifically-designed undercarriage, it does not falter during such manoeuvres.
This entire machine has been developed to deal with the toughest of conditions.

The frame construction on which the superstructure rests is unique. The slewing ring and the components employed are normally used in 250t cranes. The hydraulic cylinders come from Hitachi, which have been tried and tested thousands of times globally. Consequently, this machine is referred to as a "demolition monster".
KTEG project coordinator Timo Vestweber explained: "It arrived at the first site of operation only a week ago, and after a few days it was ready for use. It owes this to the well-thought-out transport concept.
"The track frames are removed before loading, which reduces the transport width to an acceptable level."
Vestweber travelled from Germany with managing director Harald Thum for the ceremonial hand-over of the KMC1200S to Lezama, with the "demolition monster" then put into action.
Thum said: "We work very closely with our dealer network on projects like this. In this case it's the company of Hispano Japonesa de Maquinaria, which supplies the whole of Spain.
"This is essential not only in the quotation phase, but also for aftersales.

"Like all machines that prove themselves in the toughest applications, our KMC1200S needs to be professionally maintained. We are very happy to have such a competent partner at our side in HJM."
Lezama Demoliciones operate a large fleet of Hitachi machines supplied and maintained by HJM.
Lezama Demoliciones owner José Fernández enthused: "The long-standing partnership and trust between Lezama and HJM was the basis for the investment in our new flagship.
"The first impression already convinced us, and the first days of the machine here in operation have underpinned this even more."
HJM owner Juan Rodriguez declared: "All of Spain is looking at this flagship project.
"We are very proud to have brought the first KMC1200S to Spain. We would like to thank Lezama Demoliciones for the trust that they have placed in us."