Unique market looks to China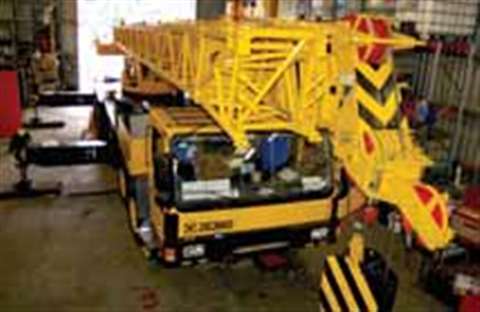 Long delivery times are nothing new and decades of previous government-imposed tariffs and import duties were often hurdles too large for many small to medium players in the crane industry. Second hand cranes were often the only option due to price and availability.
There is, however, an alternative source of new machines opening up to the worldwide market and Australian companies have been fast to explore products manufactured in China.
One of these, Australian Crane and Machinery (ACM), was the first to import products from XCMG, China's largest crane manufacturer.
David Potter, who started the ACM dealership in 2004, explained that the Australian market is totally different from many other parts of the world. Cranes in Australia can travel long distances between jobs, often in hot weather and on roads that are quite different from the autobahns and highways of Europe. A relatively low population for such a large land mass and the isolation of the outback areas make Australia a perfect proving ground for any new product.
ACM boasts an Australia-wide dealership and servicing network, employing a team of 53, including specialists in servicing and parts sourcing. The company will soon introduce a courtesy crane into its fleet where, similar to many automobile dealers, a crane of equal or similar capacity will be available to the customer while their machines are being serviced.
ACM is also providing a pre-delivery, six month and 12 month service, which expedites re-registration and re-certification, especially for customers who have to comply with Australian state Green sticker regulations. The sticker proves that cranes have been put through a safety assessment.
Just as the Japanese manufacturers did 30 years ago, XCMG and ACM are entering a new market for their products. Truck mounted cranes remain as popular as ever in Australia and demand for new products is on a par with the rest of the world. The acceptance of new Chinese players into the market is closely related to quality and costing. Potter believes his best salesmen are the owners of the cranes themselves.
Awarded the worldwide XCMG dealer of the year accolade in 2005, ACM has imported and sold more than 80 truck mounted hydraulic cranes in the 25, 35, 50 and 65 tonne ranges. The company has also begun importing smaller eight tonne truck mounted units, the first one being fitted to an Iveco 100.
Potter said initial faults with the truck cranes' computers had been rectified by replacing them with the PAT system, which meets military specifications. Gearbox shifting patterns have also been improved and Australia-delivered machines now have the option of being fitted with an Allison automatic transmission.
The QY50K and QY65K models are both fitted with ISE-350 Cummins engines built in the UK and meet current Euro 3 specifications, ACM said. The rear end is sprung and fitted with walking beams for a smoother ride, especially over unmade roads such as mine access and outback roads. The slew mechanism is by Rexroth, part of the Bosch group.
For its next development, in September ACM will unveil XCMG's new articulating 20 tonne pick and carry model, one of the most popular crane categories in the Australian crane market. (See News).