United Rentals maintains growth, trims outlook
By Murray Pollok18 July 2019
United Rentals has trimmed slightly its full-year revenue and capital expenditure forecasts as a result of the slower than expected integration of BlueLine and exceptionally bad weather in several regions during its second quarter.
The company nevertheless reported a 21.2% increase in revenues to US$2.29 billion for the quarter ended 30 June, with net profits flat at $270 million. EBITDA profits increased by 18.3% to $1.07 billion for the period.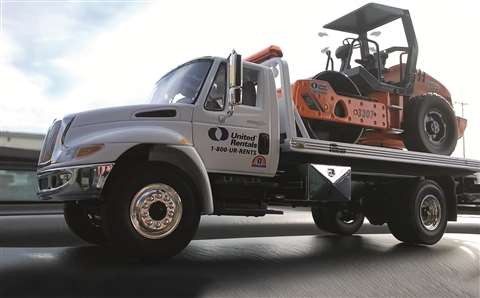 United said it remained "confident in the health of the cycle".
The new outlook for the year has revenues in the range $9.15 - $9.45 billion compared to $9.15 - $9.55 billion previously, while the outlook on gross rental CapEx shifts down to $2.05 - $2.15 billion from $2.15 - $2.3 billion.
United's specialty rentals business - Trench, Power and Fluid Solutions – continued to grow significantly, with 44.8% year-on-year growth to $433 billion, including an organic increase of 12.6%.
Matthew Flannery, CEO of United Rentals, said, "We were pleased with our solid growth in revenue for both our general rental and specialty segments and our adjusted EBITDA for the second quarter.
"Importantly, the market outlook for the second half of 2019 remains positive based on feedback from our customers and the field. The multiple integrations we have underway will continue to gain traction in the back part of the year."
He added; "Our updates to guidance reflect a slightly slower than expected pace for the BlueLine integration, as well as historically bad weather in several key regions this past quarter…We remain confident in the health of the cycle and are well positioned to serve our customers with the strongest service offering in our history."