Universal
By Murray Pollok18 March 2008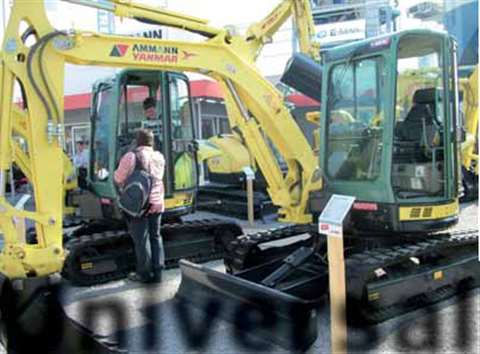 It must be one of the very few excavator manufacturers now on its fourth generation of zero tailswing models, but that is indeed what Ammann-Yanmar was showing at Bauma earlier this year in the shape of its new Universal ViO45 and ViO55 models, weighing around 4600 kg and 5200 kg, respectively. These models are the first of what will be an entire Universal range that will replace the third generation Global series.
And taking a close look at the two new machines it is clear there are some significant differences from the machines they replace. If the undercarriages are largely unchanged, there is an obvious difference in the boom shape, with a far less pronounced curve in the arm. This leads to some clear benefits, including a deeper digging depth and an increased loading height.
Other new features have been introduced to make the machines more rugged in the field. The hydraulic hoses and pipes are no longer on the side of the boom, but on the top, and are also now protected by steel plates. Similarly, the hydraulic rams and cylinders have been covered by steel plates.
Ease of maintenance is another area that Ammann-Yanmar has considered: the removal of two bolts on the right hand side panel is all that is needed to access service points, including the repositioned hydraulic tank. The air filter, fuel filter, fuel gauge, radiator, battery and pressure plugs are all now under the easily-removed rear engine cover.
Larger blade
The dozer blades on both machines have been lengthened by 20 cm, which increases productivity and also makes it easier to grip rocks between the blade and the bucket.
The ViO45 is the smaller of the two and likely to be more attractive to rental companies than the higher specification 55. The 55, for example, comes with a pneumatic seat as standard as well as air conditioning. The larger of the two also has a proportional third hydraulic circuit as standard, with the optional fourth circuit also proportional.
In total, around seven other Universal excavators will follow the 45 and 55s, with two or three likely to be introduced every year. At that rate, it won't be long before they get round to generation number five. Excavators grow up quickly these days.