Vögele re-categorises range
By Sandy Guthrie22 October 2018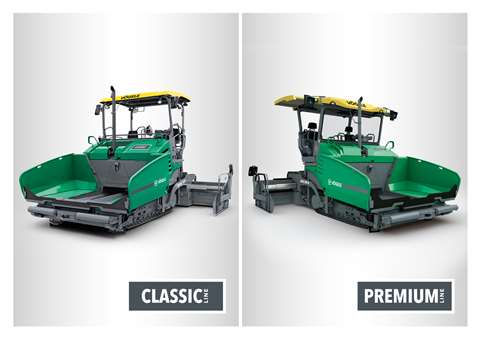 Wirtgen group company Joseph Vögele is restructuring its range of road pavers and screeds, dividing its range into two categories – the Premium Line and the Classic Line.
The company will also be subdividing its products into up to five classes within those lines.
The new Classic Line is for pavers equipped with the ErgoBasic operating concept, which Vögele said was "extremely easy-to-use".
It said these machines were hallmarked by "a very solid machine concept which offers a basic range of convenient features", while offering all the essential features required for daily paving work. All the machines are said to be equipped with engines and screeds that match the national requirements of their respective target markets.
Premium
Vögele is combining all pavers featuring "cutting-edge technology" and advanced mechanical engineering in its Premium Line.
Premium Line products are all equipped with the ErgoPlus 3 operating concept. This system is also said to be quick to grasp but to offer a number of additional features not included in ErgoBasic.
Many functions can be configured via a high-contrast display which Vögele said could be operated intuitively. The display also provides the operator with information that includes details on the screed or the conveyors and augers that can be called up and altered on request.
The automatic programs of Vögele's AutoSet Plus are also operated via the display of the ErgoPlus 3 console. If a customer has opted to use the RoadScan temperature-measurement system, the paver operator can monitor the temperature of the asphalt being paved on the display.
Customers additionally using the WITOS Paving process-management solution can also receive real-time information on the construction project on the display of their Premium Line machines.
Comprising the automatic functions of AutoSet Plus, the PaveDock Assistant communication system and the Vögele EcoPlus low-emissions package, Vögele's Premium Line are said to offer all the functionality of the latest Dash 3 generation.
Different classes
Vögele's Premium and Classic Lines are further divided into up to five different classes – the Mini Class, Compact Class, Universal Class, Highway Class and Special Class.
The current total of 48 machines and 26 screed versions offered by Vögele are categorised by their operating concept and equipment, as well as by their pave width, performance and areas of application.
Vögele said it would be unveiling the latest machines in the Classic Line and the Premium Line at Bauma 2019, in Germany, where they are set to make their world debut.