Waste management company looks to future
By Steve Ducker26 March 2018
A United Kingdom-based skip hire company is looking to the future after investing in a mobile waste recovery plant from Finlay Plant SW.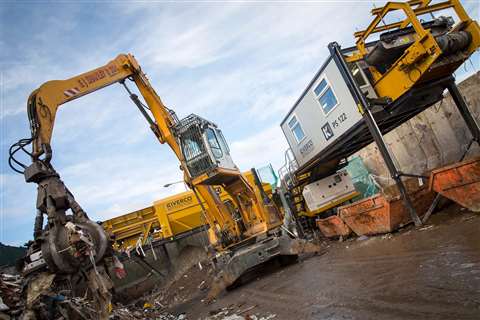 EJ Shanley and Son, which has its head office in Wiltshire in the south of England, took delivery of a Kiverco PS122 picking station and a FT620 feeder trommel after trialling the system.
The plant is already delivering significant productivity benefits, enabling the third-generation family business to process material from up to 40 skips a day.
EJ Shanley and Son runs the plant for eight hours a day, with a team of five operatives – one feeding material into the trommel and four working in the picking station.
The new plant also enables the company to move its staff from outdoors into an indoor environment.
The Kiverco plant is working at E. J. Shanley and Son's Trowbridge site which offers skip and grab hire, waste disposal, muck away, scrap and scrap car collection as well as the purchase of ferrous and nonferrous metals.
Keelan Shanley from the family-run business is looking forward to moving into new areas with the plant.
He said: "We had it out on trial and it never left the site as we found it so much easier to go through skips and separate the material.
"It's been so simple to learn how to use and it's a brilliant addition to the business.
"The future is recycling, and I think we can do far more with this plant and move into processing different materials."