A Liebherr a week for Ainscough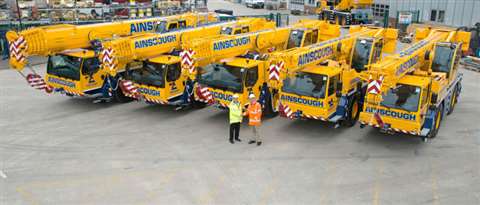 The UK's largest mobile crane rental company, Ainscough Crane Hire, ordered 54 new cranes from Liebherr in the last 12 months - more than one a week.
Total value of the orders was more than £26 million (US$ 38 million).
Included was a 750 tonne capacity LTM 1750-9.1 wheeled mobile telescopic crane to add to the two already in the fleet. Others are three units of the recently introduced 300 tonne capacity LTM 1300-6.2, three 130 tonne LTM 1130-5.1s and three LTC 1045-3.1s, a 45 tonne capacity compact model.
While some are replacements for older units, others are additions, for example to populate three new depots. Robin Richardson, Ainscough managing director, said, "We have a long standing history with Liebherr. This investment is to fuel the growth and expansion of our depot network, which will see three new locations open over the summer in Sheffield, Carmarthen and Exeter."