A-Plant wins rental award for second time
By Euan Youdale28 April 2015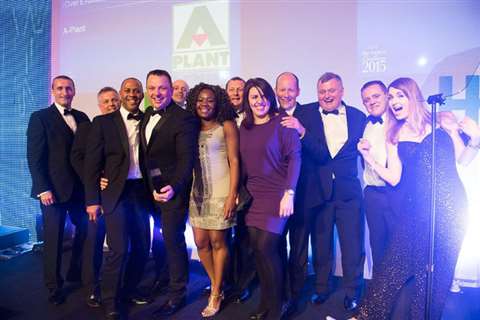 UK-based A-Plant has been crowned Hire Company of the Year for the second time in three years at the Hire Association Europe (HAE) Hire Awards of Excellence 2015.
The company was declared winner of the Hire Company of the Year (Turnover over UK£10 million) category at the awards ceremony hosted in London, UK. On announcing the award celebrity host Debra Stephenson said, "This was a unanimous decision from the judges who felt that A-Plant's entry this year was outstanding. When combined with a great philosophy associated with HAE SafeHire accreditation, there was no doubt that the winner of the 2015 Hire Company of the Year was A-Plant."
The Hire Company of the Year category was open to rental companies across the UK in the plant, tool and equipment sectors that could best demonstrate how they have applied their resources to achieve commercial success. In particular, the judges were looking for evidence of well-adopted company values and procedures, the provision of stimulating and supportive workplaces and the ongoing development of employees.
Commenting on the award, marketing director Asif Latief said, "We are absolutely delighted to have won this award. We won it in 2013, so to win it again is a great honour for us. The last year has been one of the company's most successful in its history and there is a real buzz throughout A-Plant. Commercially, our financial results have been outstanding and opportunities are endless for our workforce.
"We've recently announced that we're recruiting our largest ever intake of Apprentices on our Apprenticeship Scheme this year, taking the total number of A-Plant apprentices to over 250. Staff development is crucial to our success and over the last 12 months, our training department has held over 3000 training days for our own staff to help A-Plant colleagues reach their full potential. It really is an exciting time to be at A-Plant," he continued.
The 'Hire Company of the Year' accolade comes hot on the heels of another major award recently announced in Washington, DC, USA. A-Plant was declared 'IPAF Training Centre of the Year 2015' at the International Awards for Powered Access (IAPAs) hosted in conjunction with the IPAF (International Powered Access Federation) Summit.
Investment in new equipment has also been unprecedented. Over the last 12 months, A-Plant has spent more than UK£140 million.