According to business analyst MEED, the outlook for construction markets in the Middle East is generally improving.
The UAE is the highest-ranking market in terms of construction spend, with Dubai being the most high-profile emirate, continuing the significant development of its infrastructure ahead of its hosting of the World Expo in 2020.
The contract to develop the infrastructure required for the Expo 2020 site in Dubai was recently awarded to a joint venture (JV) between Orascom and Besix.
Cairo-based Orascom is working with Belgian firm Besix on the construction of amenities such as sewerage infrastructure, roads, underground pipes and cabling, and electrical and water services.
The contract is one of up to 47 expected to be granted this year, by the team responsible for delivering the Expo 2020 site, with an estimated total value of around $3 billion.
Recently, more than 4.7 million m3 of earth had been moved on the event site in Dubai South, with Tristar Engineering and Construction having already undertaken the deep infrastructure work on the non-gated area, known as Expo Village.
The completed Expo 2020 site will cover a total area of almost 4.4 km2, and is expected to host up to 300,000 visitors per day, between October 2020 and April 2021.
Another Expo-related contract, which was recently awarded to HLG Contracting, is the Expo Village towers.
The AED619 million ($170 million) contract, awarded by Dubai World Trade Centre (DWTC), is for the construction of five 16-storey residential towers.
The Middle East-based HLG – in which Australia-based CIMIC Group has a 45% stake – will be responsible for constructing the towers' concrete frames, masonry, facades, fit-out and external works.
Three of the Expo Village structures will be joined by a three-storey podium, with another similar podium connecting the remaining two.
HLG will also be involved with mechanical and electrical systems within the project.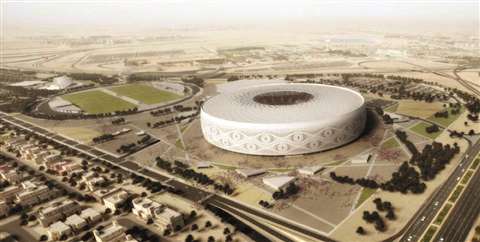 Work on the towers is just getting underway, with completion due by June 2019, in time to host visitors and participants for the 2020 event.
Ongoing projects
Beyond the Expo excitement, there are still plenty of ongoing projects in Dubai, including the construction of the ICD Brookfield Place in the emirate's Financial Centre.
Swissboring, a UAE-based branch of Italian contractor Trevi, is performing the foundation works for the project, as part of a JV with Investment Corporation of Dubai (ICD) and Brookfield Property Partners.
Swissboring, will be the subcontractor for the enabling work of the 54-storey, 282 m-high tower, which will contain more than 274,000 m2 of office space and connect to a 45,000 m2, five-storey retail centre. There will also be an 5,500 m2 public area, flanked by restaurants and featuring arts and cultural events.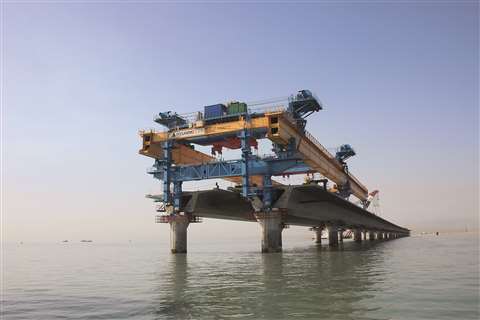 The scope of Swissboring's contract within the 14-month project is to construct 12,000m² of diaphragm wall, and bore 850 piles with diameters between 1,500 mm and 1,000 mm, as well as more than 2,000 ground anchors.
Meanwhile, Qatar is similarly gearing up to be the venue of the Fifa World Cup of football in 2022.
JV partners Qatari construction firm AlJaber Engineering and Turkish firm Tekfen Construction recently won the contract to build the Al Thumana World Cup stadium in Doha.
The 40,000-seater venue, set to host matches up to and including the quarter-final stage of the tournament, is the seventh stadium for which a main construction contract has been awarded.
Another Qatari firm, Arab Engineering Bureau, was also confirmed by SC as the design & construction supervision consultant for the project.
Of course, Qatar's plans for future growth go well beyond 2022; the government's Vision 2030 initiative aims to transform the state into one that can be sustained when oil revenues dwindle.
With this in mind, the new smart city of Lusail – soon to be home to some 250,000 residents – is being fitted with a district cooling system, featuring 175 km of piping – making it one of the world's largest central cooling systems. This will save an estimated 200,000 tonnes of carbon dioxide emissions annually, limiting the contribution to global warming.
A 24 km waste pipe is also being laid underneath the city, as an advanced and efficient way of carrying human waste to recycling and treatment plants outside of the city.
To encourage residents to adopt a sustainable lifestyle, a light railway, water-taxi system and underground pedestrian tunnels are also being constructed, promoting alternative means of travel.
Volvo machines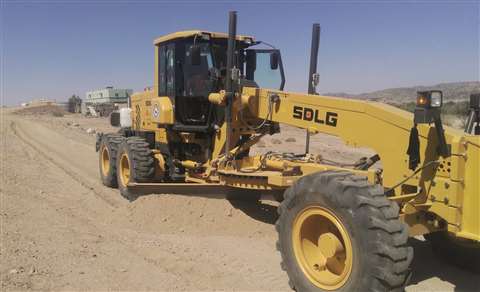 A large number of Volvo CE machines are currently involved in the development of Lusail City, where there are 45,000 workers on site each day. Each must be equipped with air conditioning, as temperatures can regularly reach 50ºC.
Mega events in the Middle East, such as Expo and the World Cup of football, do not only benefit the host nations; some neighbouring states are developing hospitality and transport network offerings in the hope of catching the tourism wave that will sweep through this part of the Middle East.
Saudi Arabia, for one, has recently unveiled its plans to create a tourism hotspot almost twice the size of Wales, along its Red Sea coastline.
Whether or not the Saudi government has any wish to attract football fans, or would rather focus on its own sizeable religious pilgrimage groups, remains to be seen. Regardless of that, construction firms from around the globe will hope to play a role in developing the 34,000 km2 region between the cities of Umluf and Alwajh, which includes 50 islands.
While there will be many hurdles to overcome before this mega project dream is realised, projects to upgrade and develop the country's transport infrastructure are already moving ahead. For example, the Ministry of Transport is currently funding an initiative that combines 20 road projects and spans seven regions.
Shibh Al-Jazira (SAJCO) is the contractor on the roads programme, as well as playing a role in a further 40 mega projects in the kingdom.
Last year, SDLG sold 58 machines – 30 SDLG LG958L wheeled loaders and 28 SDLG G9220 motor graders – to SAJCO, which are now working as part of the firm's 1,500-machine fleet, on multiple road maintenance projects across the kingdom.
Over the next three years, SDLG's product support department will work together with its Saudi dealer FAMCO to ensure optimum machine performance. "In addition to support from the dealer, our product support team will visit the sites every six months to review machine performance," said Paulo Cristiani, product support manager at SDLG, adding, "Some graders and loaders have already clocked an impressive 1,000 hours in under six months."
Road and rail causeway
Saudi Arabia is also planning to partner with Bahrain in the construction of a new $5 billion road and rail causeway project, aimed at strengthening the link between the two countries.
The new causeway will be built with the aim of reducing the traffic congestion on the existing 25 km King Fahd Causeway, which faced average daily traffic of 31,000 passengers in 2016. The average daily traffic in the King Fahd Causeway is expected to double by 2030.
The project will include a four-lane road causeway, running parallel to the current King Fahd Causeway. Also, a new 70 km railway track will be constructed, connecting a passenger terminal in Salmabad and freight facilities at Khalifa bin Salman Port in Bahrain with Saudi Arabia's railway system.
The railway link project – which is planned to be developed under a design, build, transfer, or design, build, maintain and transfer basis – is expected to be used by around eight million passengers per year by 2050.
Up-market projects abound in Abu Dhabi, where the incredible Formula 1 race track has become one of the most iconic in the world. The establishment of the New Real Estate Law in the emirate has created a more stable, robust and transparent legal platform for owning, investing in, developing and financing real estate projects in Abu Dhabi.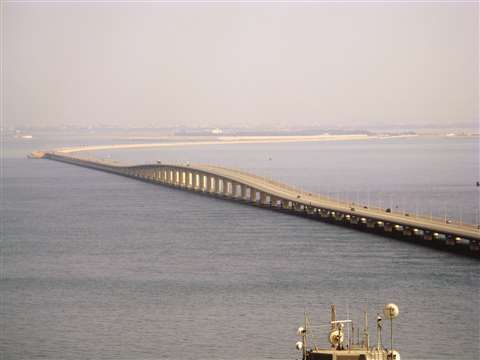 Aldar Properties PJSC, the biggest property developer in the emirate, is responsible for delivery of the $1.6 billion Yas Acres real estate project, and has commissioned Bauer Geotechnical Specialized Foundation to undertake the early works.
Bauer will carry out the ground improvements for the future buildings across an area of 400,000 m2, from the end of October. Among other things, the scope of works will include earthworks, general site clearance and the relocation of a temporary treatment plant. Bauer's part of the work is expected to take 10 months.
The project will see the realisation of a high-end residential villa community with retail buildings, schools, a mosque, leisure facilities and a golf course on 638 hectares of one of the biggest natural islands in Abu Dhabi.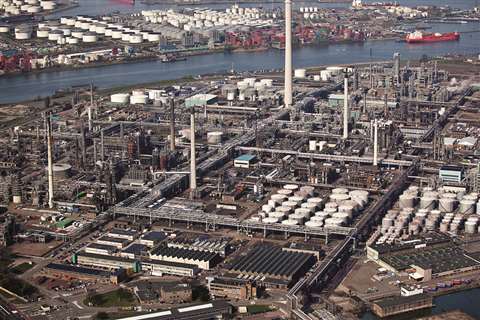 In Kuwait, another causeway project is underway. When completed, the Sheikh Jaber Al-Ahmad Al-Sabah Causeway will connect Kuwait City with an area across the Kuwait Bay, known as the Subiyah New Town, or Future Silk City.
This new settlement, expected to be completed by 2030, is planned as a significant point in China's One Belt, One Road initiative.
In November 2012, the Kuwait Ministry of Public Works awarded the design and build contract for the $3 billion project to a consortium of Hyundai and Combined Group Contracting (CGC). The scope of the work includes the construction of low-level bridges and embankments, plus 26 separate buildings and two artificial islands of 30 hectares. Other members of the consortium include Systra, based in France; AECOM in Hong Kong; Dar Al-Handasah (Shair and Partners), headquartered in Beirut, Lebanon; TYLN International; and SSH International.
Work began in November 2013. As the project team ramped up, members in Kuwait, France, Egypt, Lebanon, and San Francisco all required immediate access to project information. According to Mai Al Messad, the project engineer, the number of daily transmittals of inspection requests, checklists, approvals, and progress reports quickly rose into the hundreds.
She said, "It was critical for us to locate and retrieve project information quickly, and we needed to improve project control by automating manual processes."
Al Messad said the team settled on Aconex because the collaboration platform is project-wide, neutral and easy to use, and no single organisation owns the project information. Instead, each organisation retains control and ownership of its proprietary data, and determines which documents and communications are shared with other members of the team.
Road tunnels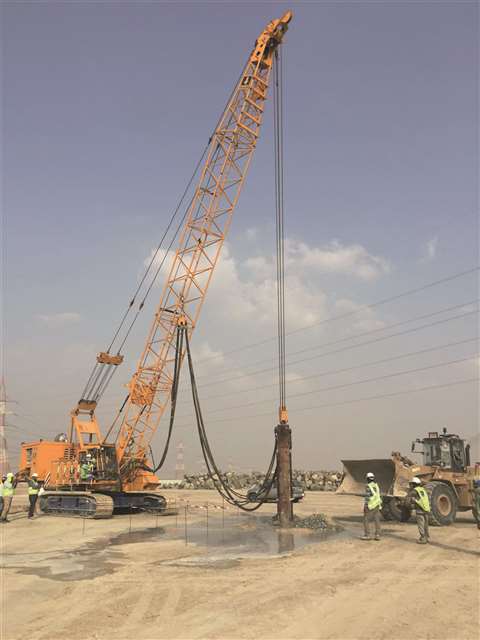 In Egypt, work continues at the spectacular Suez Canal, with two road tunnels currently under construction near the city of Port Said.
On behalf of the Egyptian armed forces, two work groups are erecting slurry walls with a total area of 520,000 m². Züblin AG and Orasom Construction form one group and Trevi S.p.A. forms the second group together with an Egyptian construction company.
The slurry walls – approximately 1.2 m wide and between 20 and 70 m deep – are situated to both the east and the west of the Suez Canal for access roads as well as shafts for subsequent tunnel excavations.
For the project, no fewer than nine duty cycle crawler cranes are being utilised, as well as one Liebherr crawler crane.
The construction of the tunnels is part of a huge ongoing infrastructure project. New tunnels are not only being built at Port Said but also further south at Ismailia. The project also includes the widening and deepening of the existing shipping lane of the canal, as well as the construction of a completely new lane with a length of approximately 35 km in the northern section. The total cost of the project is estimated to stabd at $4 billion.
Despite facing a number of challenges, including oil price depression and cash flow problems stemming from years of sanctions, the construction market in Iran is predicted to see strong growth over the next few years.
Oil is, of course, big business in Iran and South Korean firm SK Engineering & Construction (SK E&C) was recently awarded a $1.6 billion contract to modernise an oil refinery in northwest Iran.
The project involves upgrading outdated facilities and installing new technologies and systems at the plant, in Tabriz, in Iranian Azerbaijan. As part of the contract, a new desulfurisation system will be installed, enabling the plant to meet the new Euro-5 emissions standard.
SK E&C will undertake design, purchase, construction work and financing, with its Iranian consortium partner, Oil Design and Construction Company.
Construction work at the plant, which has a refining capacity of around 110,000 barrels a day, is expected to take 36 months to complete.
With infrastructure playing a critical role in Iran's plans to attract foreign direct investment into the country, the government has prioritised infrastructure development in its strategic plans. It is reportedly planning to nearly double the size of the country's 13,000 km railway network to over 25,000 km by 2025.
The country has also announced a number of construction projects for the development of dams, tunnels and industries. These projects include the construction of 745 km of freeways, 5,626 km of highways, and 2,970 km of main roads across the country.