A 'sold out' show
By Helen Wright03 February 2015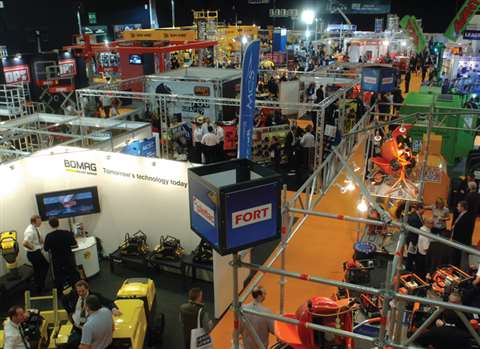 Executive Hire Show director Robert Aplin announced back at the end of November that over 150 exhibitors had snapped up all the available space at the 2015 exhibition – the 9th annual edition of the show – while the 2016 version of the exhibition was already 60% pre-booked.
"Exhibitors travel from all over the UK to take part in the Executive Hire Show and we are on course to set new records once again in 2015," Mr Aplin said.
"Last year we had a record 1908 visitors and 148 exhibitors but we are confident of beating those because of the response we have already had.
"To have sold out exhibitor space three months before the event takes place is extremely satisfying and underlines that this is a show which people in the industry are keen to attend and that the economy is showing signs of recovery," he added.

This year more than 29 new companies have committed to the event, with new companies including AJC Trailers, Atlas Copco, King Highway, Ranger Equipment, Securi-Cabin and Terex.


Generators


New launches in the dynamic field of generators include Firefly's plans to introduce two new hybrid models. The company was staying tight-lipped on the exact details prior to the show, but said the two new units offered advanced autonomy, increased power and operating capacity, longer run times as well as new battery technology.
In addition, visitors can view Firefly's current offering of Cygnus hybrid models, which range from 1.2kVA to 24 kVA.
Meanwhile, Pramac said it would use the exhibition to launch its New Rental Range of generators. Andy Durno, sales director Pramac UK said, "We will have a full range from 20 to 500 Kva dedicated to this market with the latest tier 3A compliant engines and long run integral fuel tanks.
"This new design will feature new canopy designs at each power node and the latest communication upgrades alongside the CoMap controllers so popular with the rental industry at present.
"The exact designs have yet to be realised but we know that the engineering team have been busy ensuring the range caters for the varied applications in which they will be used...so watch this space."
In addition to this new generator range Pramac will also feature the latest handling equipment from its Italian built Lifter range.
Morris Site Machinery, meanwhile, said it would showcase its four key brands, SMC, ArcGen, Denyo and Hilta at the exhibition.
Of particular note will be two new Denyo generators – the Denyo Eventa 50kVA generator, designed to be the ideal ultra-silent backdrop to any performance in the TV, film and events industry with an average sound pressure level of just 58dB(A); and the super silent Denyo Renta 50kVA, for industries such as construction, rail and petrochemical, with an average sound pressure level of 63dB(A).


Site equipment
Also new on the MSM stand will be the SMC TL-90 LED lighting tower, a five 240 watt LED lamp model, while the new SMC Solar-2 solar-powered lighting tower is said to provide 100% fuel saving and emits zero CO2 and noise.
Bobcat, meanwhile, said it planned to debut its new generation of 1 - 2 compact excavators at the show in the form of the E17, E19 and E20 models. Designed to be towable on trailers for up to 2000 kg, the company said transportability had been further enhanced by new tie-down points.
An expandable undercarriage, automatic slew brake and advanced diagnostics, instrumentation and hydraulics are just some of the many standard features included on all three excavators.

The new Bobcat range will be joined by products from sister company Doosan Portable Power and Montabert, including the 7/31E+ Tough Top portable compressor and the Montabert SC8 hydraulic breaker, together with a selection of air-powered Doosan breakers and tools.
JCB's new range of midi excavators will also be launched to the UK market at the show. The first models unveiled as part of the new line-up are the 8.5 tonne 86C-1 conventional tailswing model and the 85Z-1 zero-tailswing model – both designed to grab a bigger share of a market that is expected to grow by at least 16% over the next four years.

One of the major advantages of the new models is said to be the JCB Diesel by Kohler engine, which requires no DPF, reducing cost of ownership for customers and offering ease of maintenance.
For its part, nu-Star Material Handling said it planned to showcase its new electric mini dumper – the MUV Electric Wheelbarrow – at the show. This is a push-button operated electric dump is capable of tipping loads up to 350 kg, powered by either a 800W or 1,200W DC electric drive motors.
Portable accommodation and toilet rental equipment will also feature at the show. Genquip, for instance, said it planned to exhibit three products at the show – the GP360D mobile welfare unit, the Fusion Mobile welfare unit and the Fusion static welfare unit.
The Groundhog SWO8200 Fusion Static welfare unit includes the Hogloo20 waste management system. Designed for remote on-site applications, Hogloo technology is said to allow the evaporation of all effluent and grey water waste in locations where normal drainage or effluent services are prohibited or non-existent.
Clare's range of advanced electrical safety testers for the tool hire, service and repair industries will also be on display, including the specialist B255 hire industry tester. This bench top unit is said to enables the full suite of electrical safety tests, including earth/ground bond and hipot/flash testing alongside load, run and leakage testing.
Also featuring will be the SafeCheck 8 - a safety tester for use in workshops in hire outlets, rental stores and tool repair companies. This tester is said to enable all relevant electrical safety tests to be carried out on rental tools and equipment fast and in line with the recommendations of the HAE EHA electrical safety code.
Plenty of new software and technology will be demonstrated as well. Examples include MCS, which said it would demonstrate the latest enhancements to its MCS-rm hire management software solution, together with its suite of mobile apps for rental customer service, delivery and collections.
This is just a snapshot of some of the equipment that will be on show – editorial teams from IRN and its sister publications will also be pounding the aisles, so keep an eye on KHL.com for news from the event as it happens.
This is a show guide from the January/February issue of IRN. For the full feature, including extra images and box stories, please subscribe to the magazine: http://www.khl.com/subscriptions/