About the Rock Hawg
By Chris Sleight02 July 2009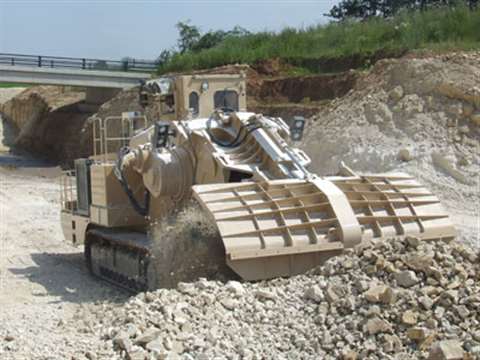 Tesmec makes a range of carriers for trenching a rock excavation and they are available with rocksaw, chainsaw, bucket or Rock Hawg attachments.
A Rock Hawg excavating drum is available for three of the companies four largest carriers, the 48 tonne TRS1150, 109 tonne TRS1475 and 122 tonne TRS1675. Each offers a slightly different configuration. As one would expect, the size of the cut increases up the range.
The TRS1150 has a maximum cut width of 2,9 m to a maximum depth of 610 mm. The TRS1475 has a 3,81 m wide drum and can reach depths of 762 mm. The TRS1675 meanwhile has a huge 4,27 m wide drum and can go down as far as 1168 mm.
Drum speed is adjustable allowing it to be matched to the type of material being removed. The operator can also influence the grain size of the spoil by adjusting the carrier's travel speed - the longer the drum spends in one place, the finer the excavated material will be ground.