Absolute E-Z Up partners with CTE
By Lindsey Anderson31 March 2016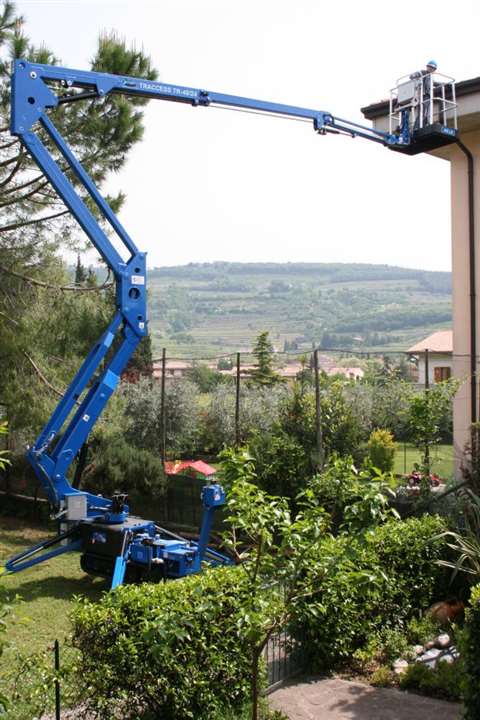 Absolute E-Z Up (AEUP) has partnered with Italy-based CTE lifts to distribute track-based aerial work platforms for the Americas markets.
The product line, branded Traccess, will consist of six different lifts with articulating booms, articulating jibs and True Zero tail swing, and offer working heights from 37 to 75 feet, horizontal outreach from 23 to 39 feet and platform capacities of 440 pounds. The line also includes a track-mounted winch, the TR-63/32MH – a basket-less unit that instead features a 550-pound capacity lifting hook to help easily move materials around the jobsite and a working height of 67 feet.
Designed and manufactured for AEUP by CTE, the line of Traccess products will be available in April.
"Our distributors have been asking for new products they can sell or rent to satisfy their end users so they are not losing them to their competition," AEUP managing partner Mike Buley told ALH. "This is the first product line (sux models) of many new products to be added to the AEUP product offering in the future. Some with this manufacturer (CTE), some with others."
Four of the track-mounted booms, the TR-37/23, TR-36/21, TR-49/24 and TR-69/39 and the TR-67/32MH track-mount winch are powered by 15 hp Honda gasoline engines. Two electric, battery-powered units are also available, the TRE-49/24 and TRE-69/39.
"The Traccess track-mounted booms are the ideal lifts for both indoor and outdoor applications in a variety of industries, including construction, painting, maintenance and landscaping," Buley said. "The units are lightweight, perfect for sites with sensitive floor loads, and their compact size can easily maneuver through standard doorways."
All units also feature non-marking tracks, easy-to-use controls, a remote coil cable to drive the units around the jobsite from the ground and can be easily loaded onto a trailer or hooked up to a hitch for quick and easy transport.
By month's end, AEUP will have three to four units imported and ready for sale, Buley said. Parts and service will be handled out of the company's Bowling Green, OH facility and Sanford, NC warehouse, comparable to what AEUP provides to its current customers. Overall, the market for track-based, compact AWPs appears to be picking up in the U.S. and surrounding markets.
"Frankly, we are very surprised on the reception of these units, having several sold, others pending and quoted, and we're just now finishing up brochures and getting them posted online," Buley said. "We informed our distributors about the upcoming new product offerings early this month via our quarterly e-newsletter, and interest has been very high."
AEUP has interest from dealers in North, Central and South America.