Access 50: Buying and booming
We have what could be described as a meteoric rise in the top five entries in this year's access50 listing of the world's biggest access equipment rental companies, measured by fleet size. When added together their total fleet size comes to an impressive 291,170, reflecting a 31% rise on the top five last year. There is one good reason for this - acquisitions.
While United Rentals completed its buyout of NES Rentals in April, lifting its fleet size by around 20000, another big leap this year was performed by Loxam, following its acquisition of Lavendon Group and Hune. Lavendon had a similar fleet size to NES of just over 21000, and generalist Hune had 5100 units, (as shown in last year's access50).
These investments brought Loxam into the top five in the table this year at number three, up from 12th position last year. Then, in July, TVH Group announced it had acquired German access rental business Gardemann. Loxam sold Gardemann a matter of months after acquiring it as part of its takeover of Lavendon Group earlier this year, and one that it contested with TVH Group in a bidding battle at the end of last year.
The deal means TVH will own the two largest access rental businesses in Germany, adding Gardemann to the Mateco business that it acquired in 2012. The combined fleet of the two operations will be approaching 10000 units, with the 3500 machines owned by Gardemann. It helps bring TVH into the top 10 this year, at seventh place.
Of course, we must not underplay the importance of NES Rental's sales to United. NES was in sixth position last year, just two places behind Lavendon. They represented the world's two biggest access specialists, both of which have been bought by generalist equipment companies. It changes the global access rental landscape significantly, as well as making the top five of the access50 look quite different too – without any specialists in it.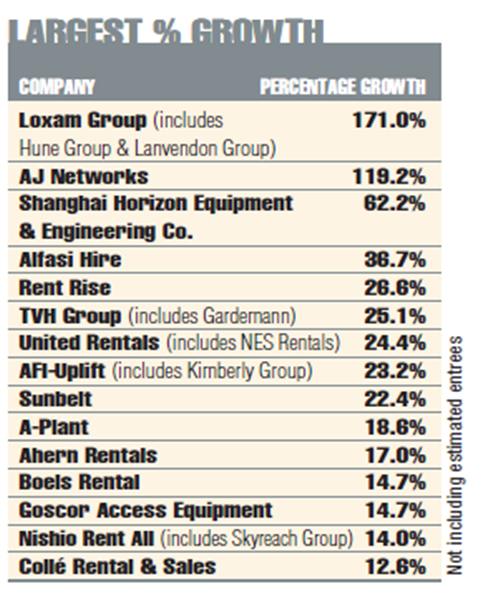 Upward trend
Indeed, the same is true until we reach Riwal in 14th position, which we will expand on later. Just ahead of Riwal in 9th place is US based generalist H&E Equipment Services. Its recent history is just as enthralling as the top five players, and involves one of them.
In July it too announced it was on the acquisition trail with its plans to buy Neff Corp, until August when Neff said it had received a superior offer from an undisclosed bidder. Neff also said it was still committed to the H&E negotiations, but a day later H&E reported it had decided to step away from the contest and said it did not plan to submit a revised offer.
Within hours, and just before this issue of Access International went to press, Neff 's new owner was revealed as United Rentals. Neff's fleet has not been combined with United Rentals' in this listing, in case there were any new developments in the story and because the added figure would not make a substantial difference to United's position in the table.
Returning to the subject of Riwal, it is now the world's biggest truly specialist aerial work platform and telehandler company. It has had a good year too with a 9% growth in fleet size, and in April this year, the Netherlands based company acquired German renter AFI GmbH, which had a fleet of 1300 aerial work platforms, telehandlers and forklifts from nine depots at the point of sale.
Norty Turner, Riwal's CEO, commented, "The acquisition of AFI GmbH allows Riwal to strengthen its position in Germany, one of the largest access equipment rental markets in Europe."
Bucking the generalist trend too is UK based AFI Group with its acquisition of Kimberly Rentals Group in July and its fleet of around 1500 units. In 2016, AFI also increased its business thanks to organic growth, with the opening of new depots in the Middle East, and through the acquisition of Rapid Platforms in October 2016. Combined, this lifted AFI's fleet by 23% over last year.
On the subject of organic growth, an impressive year has also been experienced by AJ Networks, based in South Korea, in 15th position. It has seen an incredible leap in fleet size of more than 100%, which the company has confirmed, saying it reflects its major growth plans in the region.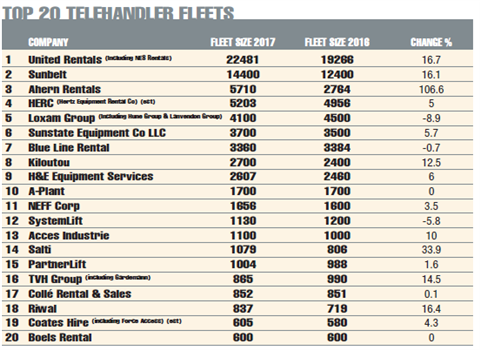 Strong potential
Asia, in general, it seems has almost unlimited potential for growth. Shanghai Horizon, China's biggest rental company has greatly expanded its fleet again over the last 12 months by more than 60% to just over 5000 units. There are also plenty more rental companies in China that are getting close and starting to exceed the 1000 unit mark. Another is Fenghe Rental, based in China and new to the list this year, with a fleet of 2350.
It has been a busy year in the rental sector, following on from a number of acquisitions in the previous year, which are documented in the 2016 access50.
It has also been a successful year for the list overall, with healthy growth throughout and a real indication that there is a global boom in the access equipment sector. Of course, major acquisitions bump up the figures at the top of the table and allow smaller companies to move up; that aside the industry is in a dynamic and exciting phase, a fact made clear in this year's access50.
Not to forget telehandlers, which are a complementary item for aerial work platforms, the access50 also includes the fleet sizes of this product type, shown separately in the main listing. It seems the overall fortunes of telehandlers were not as impressive as their AWP counterparts this year. Nevertheless, they remain a stable and strong part of the companies that offer aerial work platforms for rental. See also the break-out table on page 23, showing the top 20 telehandler fleet sizes of those companies in the access50.
It will be interesting to see how the rental sector fares over the next 12 months; perhaps there will be just as much to talk about this time next year. Keep an eye on www.khl.com/ai for all the breaking news as it happens.
The survey
This survey was carried out via an e-mail and e-cast campaign in the two months leading up to the publication of this list. Companies with AWP fleet sizes above 500 units were asked to provide quantities of each platform type in their fleet, along with the other details shown in this listing. This year, for the third time, we have also shown the number of telehandlers in each company's fleet. Where figures have not been available we have made an estimate.
Supporting documents
Click links below to download and view individual files.