Access: Electric feel
By Joe Malone21 June 2018
Electric and hybrid power has become a hot topic in the access industry, and it is a trend that was evident at April's Intermat exhibition in Paris, France.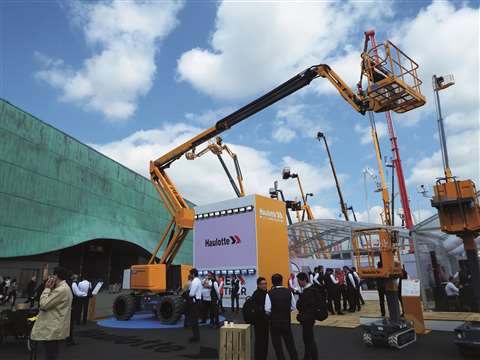 At Intermat, Haulotte announced that all its future rough terrain self-propelled boom launches would be electric powered.
The company's new Pulseo Generation range is first being represented by the 21m working height HA20 LE and HA20 LE Pro, with the former being launched on the manufacturer's stand at Intermat.
Haulotte is the first MEWP manufacturer to commit to all-electric powered platforms, which are designed to offer the same level of performance as their diesel counterparts.
Existing diesel models in the Haulotte line-up will remain available for customers who require them. Alexandre Saubot, Haulotte COO, said, "We don't know how long it will be before we get rid of all the diesel machines but it will happen."
Niftylift is well known for its hybrid technology thanks to its launch of the world's first hybrid boom 10 years ago. Last year the 21m working height HR21 4x4 (MKII) boom replaced the original HR21 4x4 (MK1) with a range of new features.
At 6,640kg, the model is very light, allowing it to be used in a greater number of locations and lowers transport costs. It also offers 41% reduction in fuel consumption compared to the first generation.
Niftylift has also just launched the HR12L (low-weight), all-electric, 12m working height boom. The HR12L is 1.79m wide and weighs just 2,540kgs, allowing it to be transported on a trailer, for low-cost transportation.
Joint-tallest
JLG has also just launched its largest hybrid boom, matching the world's tallest, which up to now has been from Niftylift. The rough terrain articulating JLG H800AJ has a 26.38m working height and horizontal outreach of 15.8m.
Up and over height is 9.78m, and it has a 1.83m articulating jib.
It can operate in electric mode only and has a 20.9kW (24 hp) generator, combined with an electric motor. It's a parallel hybrid which allows the motor to kick in during rough situations or when you need the batteries to charge.
"Jan-Willem van Wier, JLG's product manager for EMEA/Russia, says, the trend is towards being zone complaint, which has taken a further leap forward since the United Nations' Paris Agreement concerning climate change in 2016. "We have picked up on that trend like a couple of other [companies] have but we added one more thing, the rough terrain. We didn't want to compromise anything in regards to terrainability."
Genie brought out its parallel hybrid Z-60/37 FE boom in 2016 at Bauma, Germany and since then is seeing the market shifting to accommodate the technology.
Zach Gilmor, Genie product manager, Terex AWP EMEAR, says, "Hybrid customers are realising that they are not limited to divisions between diesel and electric machines.
"They are finding that it is now possible to use a single machine instead of an electric and a diesel-powered unit. Consequently, this is leading them to a new way of managing their fleets, to differentiate diesel machines with a separate division dedicated to hybrid or 'green' environment friendly access solutions."
Remaining on the subject of rough terrains, but moving on to scissors, JCB Access introduced a range of five electric scissor lifts, powered by Lithium ion batteries, at the beginning of this year – the S1530E, S1930E, S2032E, S2646E and the S2646E, offering working heights of 6.6m through to 10.1m.
Netherlands-based rental company Hoogwerkt has already placed an order for 420 of the innovative machines to form the company's new green rental business.
Its rental model is based around a web-based ordering system and hourly rental periods. Having a simple, safe recharging system was a critical component of the company's development plan.
JCB Access believes it has delivered a solution that will allow platforms to operate for up to 40% longer between recharging periods, compared to conventional lead acid units. Recharging times are reduced by up to 50%.
Getting bigger
There is also a trend for bigger and heavier electric models. Airo was expanding its electric range at Intermat. The 12m and 14m working height X12 RTE and 14 RTE are new electric versions of its two diesel units launched last year which, it said, reflected the need for environmentally-friendly machines.
Imer showed its new compact IM 180 E rough terrain electric series at the Paris show, based on the existing 180 diesel and bi-energy series. The first models are the 15m working height 13180 E and 12.8m working height IM 11 180 E.
The capacity is up to 600kg if stabilisers are used. The company said there is a very strong trend towards electric-powered equipment.
Although customers are asking for bi-energy equipment, so they can have diesel as a back-up, the future is for electric-only equipment.
Daniel Duclos, the CEO of France-based ATN, agrees the future is indeed pure electric. Speaking at Intermat, he said, "Technology is now ready for full electric, however not all of the market is ready for it yet. For example, rental companies are not ready to pay a higher price. But it does mean we now have a choice."
ATN was showing its new 12.65m working height 12E Max vertical mast with a zero tailswing at Intermat.
Turkey-based ELS announced at Intermat it would launch a new heavy duty electric slab scissor for indoor and outdoor work at the end of this year. The unique product has 18m working height and weighs 7.5 tonnes.
It is designed to replace boom lifts on construction sites. The capacity is not yet confirmed although it is likely to be 500-550kg.
The trend is not just apparent in self-propelled products. Ruthmann is set to launch hybrid truck mounts in the coming months.
The pair of machines will be part of Ruthmann Italia's lower specification Ecoline of truck mounts. the 16m and 18m working height Ecoline 160 Hybrid and Ecoline 180 Hybrid will be first shown at Platformers Days, taking place in Germany this September.
The announcement coincided with the launch of Ruthmann's flagship 90m working height Sky Performance Steiger T 900 HF at the show.
The new Multitel Pagliero 160 Hybrid truck mount made its first international appearance in Paris. Weighing only 2700kg, the aluminium model is designed to be light and still offers more than 25m of working height and up to 11.65m of outreach. The on-board batteries provide a full day of normal working and re-charging time is less than four hours.
The Italy-based company also launched a Lithium battery-powered version of its tracked access platform, the SMX 250 E. This unique platform has 25m working height, allowing it to be transported on a small trailer towed by a conventional 4x4 vehicle.
On the subject of tracks, Hinowa launched its 32.5m working height Lightlift 33.17 Performance IIIS at Intermat. The machine also won the lifting, handling and transportation category of the Intermat Innovation Awards 2018.
Power options include a bi-energy Kubota diesel engine and electric motor; or a Lithium-ion battery pack.
While bi-energy machines are not a novelty in the tracked sector the advancement of Lithium-ion batteries is playing an important role towards an electric future.
David Fracca, at Hinowa said in the last few years Lithium-Ion batteries had been improved in terms of productivity and reliability.
New standards
It isn't just emission regulations that are making their mark in the access industry. In the US, the new ANSI standards are set to be introduced this year and will follow the identical Canadian CSA standards adopted in 2017.
They form a new relationship between safety and productivity in the access market and tie in, to a large extent, with European EN280 standards for MEWPs.
In turn, both standards fall closely in line with international ISO standards, adopted by other countries too like Australia, and even China with its BS standards. Genie's Xtra Capacity models were a response to the new standards, as they provide more capacity in the basket to overcome the limitations from load sensors that are requirements of ANSI. However,
the models are global products and were represented at Intermat.
They included the 41.15m Genie SX-135 XC, 25.91m Genie S-85 XC or 19.84m Genie SX-65 XC, and 13.86m articulating Genie Z-45 XC booms lifts.
At Skyjack, its entire line-up of scissors is being redesigned as part of the incoming ANSI 92.20 standards.
Kristopher Schmidt, product manager, said, "These will all continue to have commonality across the product line with improved service features and a design aimed to improve rental companies' overall cost of operation."
Being the world's largest access market, North America is a target for all manufacturers.
France-based Manitou has finally introduced a line of diesel booms to North America, having previously only produced booms for Europe.
They are mainly based on its existing range. The ATJ 46 is an exception and introduces new features designed to reduce the total cost of ownership, including an automatic start and stop system and 24hp Kubota engine that does not require after treatment.
Mark Hanson, regional vice president of Manitou Group and CEO of Manitou North America, said, "All five new models were engineered to comply with the proposed North American ANSI standards. Significant changes include modifications to the electrical system, a swing door on the basket and new Tier IV engines for the diesel models."