Access equipment: a sector in good health
By Andy Brown01 April 2019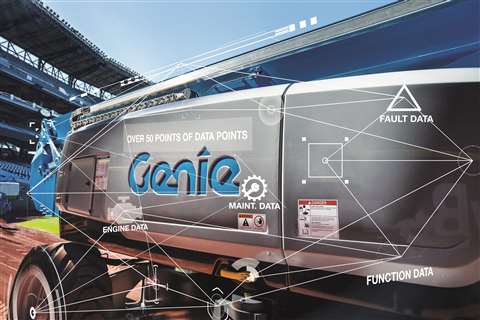 The access industry is a growing one, with new markets emerging as major buyers of equipment that hardly existed a decade ago, such as China and the Middle East.
One of the main players in the market, Genie (the major part of Terex Corp's AWP segment), recently reported strong financial results for 2018. In recent weeks the structure of Terex AWP has changed, as it was announced that Terex Utilities will become part of the division.
Terex AWP increased net sales by US$2.6 billion for the full year of 2018, up 24% compared to 2017.
Results were driven by strong growth in North America and the Asia Pacific region, although market conditions across the world are good according to Matt Fearon, Genie President, Terex AWP.
"Globally, the market is healthy. These are the times you wait for. For example, we see both growth and replacement in the North American market. In Europe, the recovery is broadening. The European market has been good the past couple of years, and we're starting to see Spain and Eastern Europe come back. In Asia, it's still all about adoption."
Regulations
With the new ANSI/CSA standards coming into North America, based on current ISO standards, there will be closer global alignment regarding regulations. This should allow for easier trade of new and used equipment around the globe. Another big change is the increasing adoption of new technology, with the most obvious of these being electric and hybrid power in response to progressively stringent emissions regulations around the world.
"Increasingly, hybrid machines are being substituted into jobs where a large diesel or a pure electric machine might have been used in the past. This flexibility is what makes these machines so attractive; each unit can stay out on rent longer to improve the machine's ROIC (return on invested capital)," commented Fearon.
"They also offer the flexibility to be dropped onto an unimproved jobsite before a structure is built, then with the flick of a switch to DC mode, move indoors for finish work." He also makes the point that, while customers are looking for these options, it is essential that they have the same features as traditionally powered models; that they are reliable and easy to service and operate.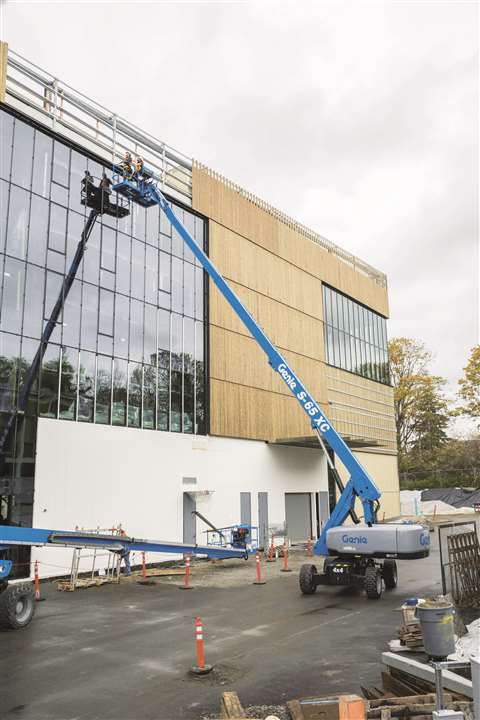 Genie's S-65 XC telescopic boom in action
Another key aspect of new technology is telematics – the amount of information that customers can receive is staggering. Fearon says that their customers are becoming increasingly "technologically savvy" and that, for firms with a large number of equipment, using telematics has numerous benefits.
"We are seeing a growing trend in the use of technology for fleet management. Telematics is a tool that many are starting to use to manage their equipment fleets, from basic location tracking to more sophisticated equipment monitoring.
"From knowing how equipment is performing or how often a piece is being utilised, to where each unit is or when it is ready for maintenance, machine data can provide a lot of insight to a rental business. Today's technology can help our customers gather, read and understand the information their machines are providing.
"In my opinion, we are in the early stages of the adoption of telematics, mobile applications and data-driven fleet management. I expect rental companies around the world to increase their use of these capabilities in the coming year."
Challenges and opportunities
While the access industry is in good health the world has – in its recent history – seldom been so politically unpredictable. This can lead to challenges for those in construction, such as the tariffs imposed by the Trump administration as a result of the trade war with China. Fearon says that the reaction of the US steel mills was to raise their prices, and that another challenge is an increase in manufacturers entering into the aerial equipment space.
However, Fearon says that they don't view the fact that they have more competitors as a negative. "We are seeing more competitors. We realise that that's both good and bad, we're not intimidated by it. We have manufacturing all over the world,
we have teams all over the world, we think we have years of expertise that some of these others don't and our intent is to make sure that we stay ahead by using that global team." When even trade wars and a rise in competitors can't dampen Fearon's enthusiasm, it is clear that these really are good days to be in the access industry.
Access industry news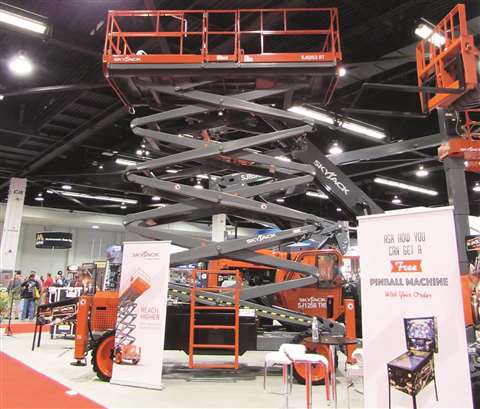 Skyjack unveiled its newest rough terrain scissor lift during the American Rental Association (ARA) show. The SJ9253 RT is Skyjack's largest scissor lift with a working height of 59 feet (18m) and is the first model in the firm's new full-size rough terrain range. This new range replaces Skyjack's existing 88-inch and 92-inch models and consists of the SJ9233, SJ9243, SJ9253, and SJ9263 RT.
Skyjack also has plans for an even larger rough terrain scissor lift that would make work at six stories possible. The SJ9263 RT, with a working height of 69 feet (21m), is in its final design phase and is targeted for launch late in 2019. Skyjack's newly redesigned full size rough terrain scissor lifts will be making their way onto rental yards in 2019.
Haulotte Group reported revenue for the 2018 financial year of €559.9 million (US$634.8 million), up from €499.4 million (US$568 million) in 2017 – a growth of 14%.
Growth was driven by Europe, up 18%. The Asia-Pacific region ended the year with revenue growth of 8%, driven by higher sales in China and Australia, despite a slowdown in the Middle East. In North America, consolidated revenue increased by 6%, with good platform sales growth throughout the year, at 13%.
The recovery observed in 2017 in all Latin American markets, except Argentina, continued into 2018, enabling the group to post 12% growth in this region. The current level of orders is said to be at its highest level since 2007.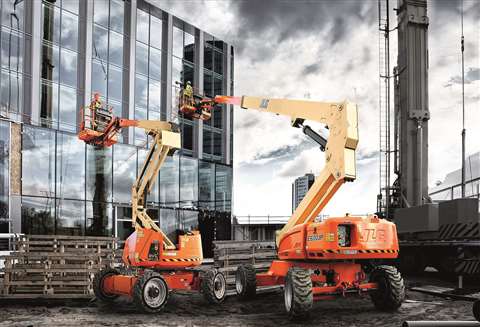 JLG used the ARA Show to round-out its R series of scissor lifts with the introduction of the 2632R and 3246R units. The 2632R allows operators to drive through a single doorway and work indoors at a height of 26 feet (8m). The new 3246R features a 32-foot (9.7m) platform height. Among the innovations is variable tilt technology, which allows operators to elevate to limited heights when working on slight slopes.
The 2632R offers several well-known features of the R Series, with an outdoor capability of 20 feet (6m).
The 3246R is said to be the lightest lift in its class. ANSI 92.20 compliant, the 3246R is ideal for applications that require a lightweight machine with a 32-foot (9.7m) platform height.