Acciona to build Texas wind farm
By Thomas Allen12 April 2018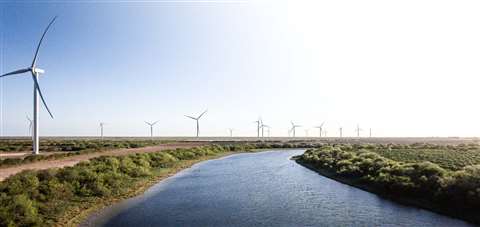 Acciona Energy, a subsidiary of Spanish-based contractor Acciona, has been awarded a US$200 million contract to build a wind farm in Texas, US.
Palmas Altas will be the ninth wind farm that Acciona has built in the US, and once completed it will bring the total wind power capacity of Acciona US to 866MW.
Located in Cameron County, near the San Roman wind farm that Acciona completed in December 2016, the Palmas Altas wind farm will be equipped with 46 of Nordex's AW3160 wind turbines with a rotor diameter of 125m and hub height of 87.5m.
With a capacity of 145MW, it has been estimated that the new wind farm will produce about 524GWh per year – equivalent to the electricity consumption of 43,000 US households. It was said that this would offsetting the emission of about 456,000 tonnes of CO2 from coal-fired power stations.
Rafael Esteban, CEO of Acciona Energy USA Global, said, "We are proud to undertake a new wind power project that consolidates the reactivation of our investment activity in the United States and confirms our commitment to grow in a controlled and profitable manner in a market that continues to offer very interesting opportunities for the renewables sector."
The project is expected to employ approximately 170 people at the peak of construction, and it is due to be operational by November 2019.