Acesso Motorizado AMÉRICA LATINA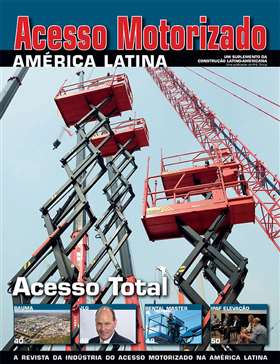 Skyjack apresentou uma nova tesoura para terrenos difíceis na exibição de máquinas da American Rental Association (ocorrida entre 17 e 20 de fevereiro). A SJ9253 RT é a maior plataforma tesoura da Skyjack, com altura de trabalho de 18 metros, e é o primeiro modelo da marca no segmento de terrenos acidentados com tamanho completo. Esta nov agama substitui os modelos existentes da Skyjack de 88 e 92 polegadas, e consta dos modelos SJ9233, SJ9243, SJ9253 e SJ9263 RT.
A Skyjack também tem planos para uma plataforma tesoura para terrenos difíceis ainda maior, que tornaria possível o trabalho a sexto andar. A SJ9263 RT, com altura de trabalho de 21 metros, encontra-se na fase fi nal de projeto e tem lançamento programado para o fi m deste ano. As plataformas tesoura de terreno acidentado tamanho completo recentemente redesenhadas pela Skyjack começarão a se dirigir aos pátios de locação em 2019.
Supporting documents
Click links below to download and view individual files.